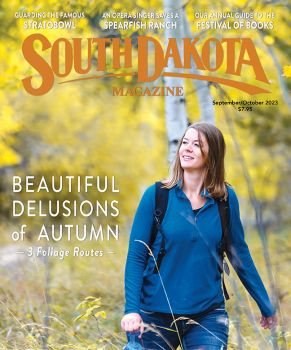 Subscriptions to South Dakota Magazine make great gifts!
Subscribe today — 1 year (6 issues) is just $29!

The Best of a Bad Growing Season
Aug 21, 2017
By Fran Hill
It has been a fickle farming year for my husband and me. Early on, while temperatures remained quite chilly, beautiful, soaking rains fell. The fields were prepped and planted with great anticipation for a successful year. Then, it quit raining for a long time. A long, long time. A long, long time with 100+ degrees for days on end. Crops stalled, withered and attempted to survive on high humidity and morning dew. Finally, the clouds opened again and corn, cane and alfalfa hungrily drank up the welcomed moisture.
Things weren't great, but it was shaping up to be a passable harvest. Then, the thing that all farmers and ranchers fear almost as much as drought happened. The clouds once again built up, and this time along with that much needed rain came hail. Leaf-stripping, earth-pounding hail ravaged those fields. In one evening, the crops were gone.
We are hopeful that some sun will nurture the stalks that remain and at least some silage can be chopped. Harvest 2017 won't be a banner year, but with some adjustments, we will survive.
Thankfully, not everyone has had our bad luck with Mother Nature. Some excellent sweet corn grew just a short drive away. I snagged some for my annual freezing routine (so we can enjoy it all winter) plus a few extra ears to savor now.
Fresh corn on the cob is hard to beat, but I have also been shaving kernels into just about everything else that hits our plates. A new winner for us has been Sausage and Corn Cakes. Through rain, drought and hail, Sunday brunch has been a constant for us, and the add-ins in these pancakes make them a delicious option. Of course, I couldn't resist putting an egg on it. The combination of runny yolk with all the sweet and spicy flavors is a success, even when the weather isn't.
---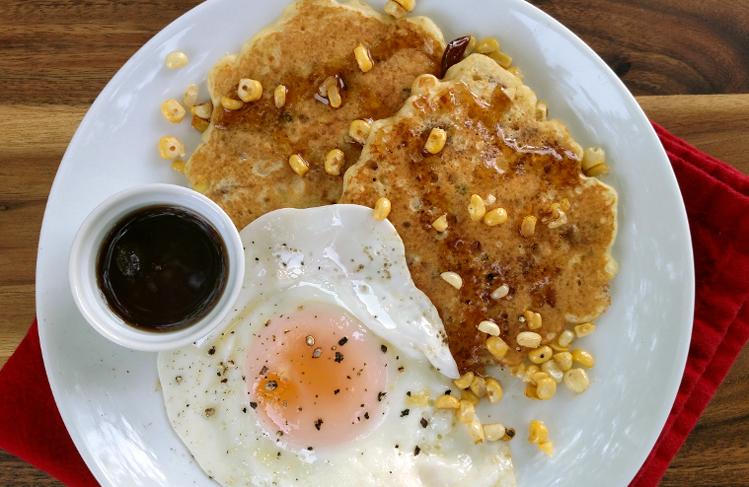 Sweet corn is a pleasant treat after a summer of drought and hail.
Sausage and Corn Cakes
(Adapted from Cooking Light)
1/4 pound spicy breakfast sausage
1 cup fresh corn kernels
1 cup flour
1 teaspoon sugar
3/4 teaspoon baking powder
1/2 teaspoon baking soda
1 cup buttermilk
1 egg
2 tablespoons butter, melted
1/4 cup pure maple syrup
2 teaspoons adobo sauce from canned chipotle peppers
Brown and crumble the sausage. Stir in the corn kernels and cook, stirring often, until the corn is crisp-tender. Remove from heat.
Whisk together buttermilk and egg. Gradually add flour, sugar, baking powder and soda. Stir in the sausage and corn. Gently add the melted butter. Let stand 5 minutes.
Preheat a griddle and lightly coat with cooking spray. Spoon batter for each cake onto the griddle; gently spread. Cook until golden brown on each side. (Can keep warm in a single layer on a baking sheet in oven at 200 degrees.)
For the syrup, whisk together maple syrup and adobo sauce. Drizzle over cakes when serving.
(Of course, don't hesitate to try serving with a fried egg.) Serves 4.
Fran Hill has been blogging about food at On My Plate since October of 2006. She, her husband and their three dogs ranch near Colome.