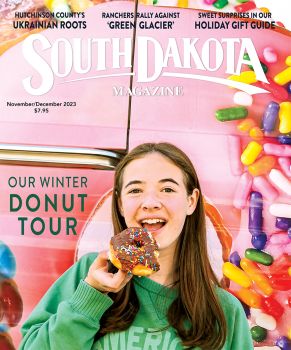 Subscriptions to South Dakota Magazine make great gifts!
Subscribe today — 1 year (6 issues) is just $29!

The Season's Last Bit of Sweetness
Sep 27, 2018
By Fran Hill
This past year, I have been introduced to many area gardeners and produce farmers who work hard to cultivate locally grown crops. They diligently research seeds and seedlings, weigh the needs and benefits of each plant against their resources, and ultimately offer amazing fruits and vegetables for the community.
Some delve into vintage crops that South Dakota's early settlers grew to sustain their homesteads. Others forge into plantings not native to the area, but that are prominent components of other cultures and cuisines. None make me as happy as the farmer that staggers his sweet corn crop to produce plump and juicy ears right up until frost.
Of course, those much-anticipated first summer ears always seem the sweetest, but who can deny the pleasure of freshly harvested local sweet corn on the cusp of autumn? It is pure delight.
One of the joys of having an extended period of fresh corn is trying new recipes. Homemade Creamed Corn topped with Cajun Shrimp could easily be prepared with frozen corn, but the special sweetness of using fresh is an amazingly pleasing juxtaposition to the spicy shrimp. It is a wonderful dish that comes together quickly and is sure to impress everyone when it hits the table.
---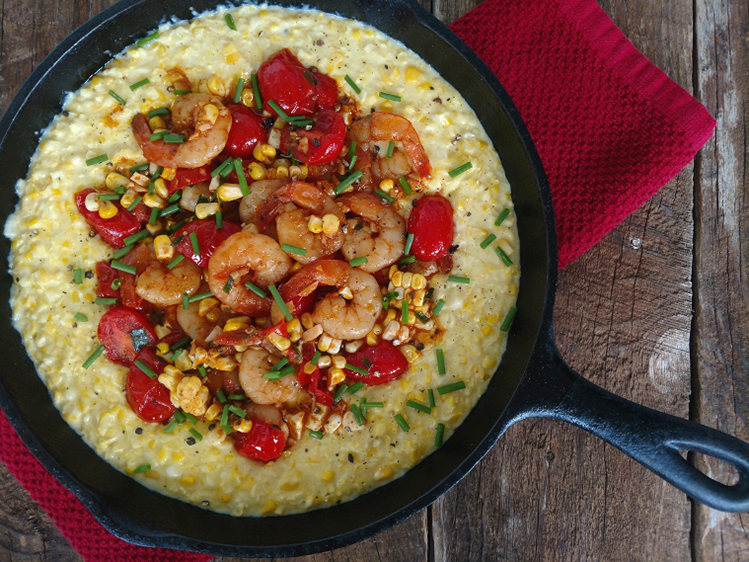 South Dakotans love summer sweet corn, but it's an extra special treat paired with spicy shrimp in autumn.
Homemade Creamed Corn with Cajun Shrimp
(adapted from Cooking Light)
4 cups fresh sweet corn
1 1/2 cups half and half (or heavy cream)
2 tablespoons cornstarch
2 tablespoons butter
1/4 teaspoon kosher salt
1 pound raw shrimp, peeled and deveined
2 teaspoons Cajun seasoning
3/4 teaspoon smoked paprika
1/2 teaspoon freshly cracked pepper
2 tablespoons olive oil
2 tablespoons butter
1 cup cherry tomatoes, halved
1 tablespoon fresh thyme leaves
1/4 cup chives, chopped
1/4 cup chicken stock
Set aside 1 cup of fresh corn kernels. Pulse remaining 3 cups in a food processor until almost creamy, about 5 or 6 times. Pour processed corn, cream and cornstarch into a pan. Bring to a simmer, stirring often. Reduce heat to low and simmer, stirring occasionally, until thickened, about 5 minutes. Stir in 2 tablespoons of butter and season with salt. Remove from heat; cover and keep warm.
Combine shrimp, Cajun seasoning, smoked paprika, and pepper. Heat oil and 2 tablespoons butter in a large skillet. Add shrimp; cook without stirring 1 minute. Add tomatoes, thyme, garlic, and season with salt. Cook, stirring occasionally for about 3 minutes. Add reserved corn and cook until shrimp are done, about 2 more minutes. Add the chicken stock and stir to loosen browned bits. Serve shrimp mixture over creamed corn and top with chopped chives. (Serves 4)
Fran Hill has been blogging about food at On My Plate since October of 2006. She, her husband and their three dogs ranch near Colome.