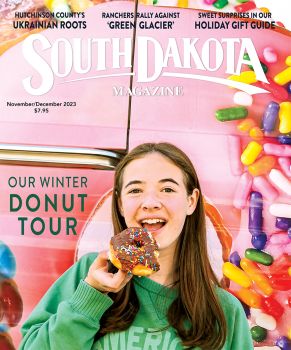 Subscriptions to South Dakota Magazine make great gifts!
Subscribe today — 1 year (6 issues) is just $29!

Searching For Color
When leaves change color, our state photographers take to the highway. We figure they are our unofficial fall foliage experts, and so we asked six photographers from around the state to tell us where they head when the leaves change. The chosen drives are unexpected foliage destinations from the buttes of Harding County to the Missouri River breaks in Charles Mix County.
"There's roadside beauty across the entire state, from the Black Hills to Sica Hollow to the Missouri River breaks, or wherever deciduous trees congregate," says photographer Greg Latza. "But since open prairie is my favorite subject, it stands to reason that I find my favorite foliage drives there, too."
Autumn's brilliant colors are treasured because of their impermanence. Some years the foliage lasts only a couple of days. Others, a couple of weeks. So don't waste time. Choose a route from this guide, grab a map and see what the day has to offer.
---
Chad Coppess
Vistas Along the Missouri
A six-mile stretch of Highway 44 west of the Platte-Winner Bridge over the Missouri River provides a variety of autumn colors and big vistas. Several scenic overlooks and wide shoulders on the highway make it convenient and safe for photographers to stop and get good shots of the valleys that form the Missouri River breaks.
Cottonwoods, sumacs and cedars create a colorful tapestry cascading into the river valley. The rolling hills filled with yellows, oranges and light greens remind me of Great Smoky Mountain National Park in Tennessee, but much more compact and a lot less crowded. If a photographer is lucky, wildlife can be spotted amongst the leaves as well. Deer, turkeys, vultures and more make their home here.
Chad Coppess is the senior photographer for the S.D. Department of Tourism. He lives in Pierre with his wife, Lisa.
---
Greg Latza
Prairie Pigmentation
One of my favorite drives is Highway 79 between its intersections with Highways 20 and 34. While most people are heading into the Black Hills for their colorful photos, I am usually heading in the opposite direction.
Starting from the south, the prairie colors can be framed with the Black Hills or Bear Butte as a distant background element (this photo shows Bear Butte), and the contours stay lively as you pass over at least five waterways on your way toward Slim Buttes. Then these famous buttes become the backdrop, making a nice variety of potential subjects and geological formations within a beautiful 100-mile prairie drive.
If you're in the Black Hills with a camera and some time to kill, I couldn't think of a finer way to spend a late September morning than heading north on this route, turning west on 20 and coming back south on Highway 85, which offers similar topography on its way back to the Hills.
Greg Latza lives in Sioux Falls with his wife, Jodi. They have three children.
---
Johnny Sundby
Follow Nemo to Boondocks
The Black Hills are sometimes a tough place for a photographer to find fall color because we're lacking deciduous trees except for a few groves of aspens with some birch. There are a few oaks here and there, but for the most part there isn't a lot of color compared to other parts of the country. One of the best drives is Nemo Road from Rapid City to Boondocks restaurant (just south of Deadwood). The road follows Box Elder Creek, and besides finding some great watering holes and beautiful stretches of river, Nemo Road is full of cliffs, old barns, broken down cabins and even an old water wheel within a stone's throw of the road.
Johnny and his wife, Stephanie, live in Rapid City with their two children.
---
Lisa Duncan
Rapid Creek: A Complete Spectrum of Fall Color
While most folks in the Black Hills head to Spearfish Canyon each Fall, I head toward Rimrock Highway (also known as Highway 44 West). As a temporary resident of Minnesota in the '80s, I grew fond of the oak trees in autumn for their red and orange colors. After returning to the Black Hills in '91, I was always searching for those vibrant colors. I only needed to go as far as Rapid Creek. With the brilliant sumacs I found reds and oranges, and combined with the peach colors of the birch and golden yellow of the Aspen trees, my spectrum of colors was complete.
Lisa Duncan's love for photography grew from countless trips spent in the family station wagon gazing out the windows at the hills and plains of South Dakota. She lives outside of Rapid City.
---
Christian Begeman
Seldom Traveled Roads
Last fall I was in Mitchell for work and we got done early, so I began to explore the James River on backroads north of town and up to Forestburg. It was a beautiful fall day and I had several hours of daylight left. I lived in Mitchell for 10 years and never really took time to explore the fall colors, even though I was often impressed by the number of trees along the James. I finally took time to do it and was rewarded with fine fall foliage views.
Christian Begeman grew up in Isabel and now lives in Sioux Falls.
---
Bernie Hunhoff
Badlands: Far From The Forests
Proximity to a forest would seem a prerequisite to a great fall foliage drive, but trees play second fiddle to the grasslands and sandstone buttes of South Dakota's Badlands. Autumn's subtle allure can be enjoyed throughout Shannon and eastern Pennington counties, but I especially recommend exploring between Highways 44 and 18. Take Hwy 33 south of Scenic past Sheep Mountain Table and descend into the White River valley, where cottonwoods, cedars and pines create a medley of color among the little bluestem and buffalograss. The foliage and few trees blend delicately with the ancient pinnacles and sand temples, especially near the milky waters of the White River, once called the Smoky Earth River by the Lakota.
Bernie Hunhoff is the editor-at-large and former publisher of South Dakota Magazine. He lives along the Missouri River in Yankton with his wife, Myrna.
Editor's Note: This story is revised from the September/October 2012 issue of South Dakota Magazine. To order a copy or to subscribe, call (800) 456-5117.