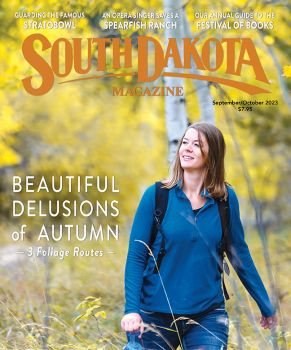 Subscriptions to South Dakota Magazine make great gifts!
Subscribe today — 1 year (6 issues) is just $29!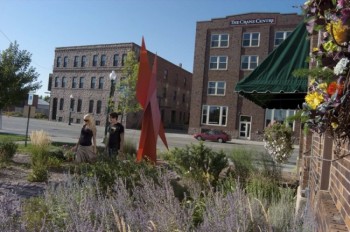 A Sioux Falls Bias?
Mar 30, 2012
Do rural South Dakotans have an "us agin' them" attitude about Sioux Falls? Or does paranoia plague people in cities large and small?
The issue arose last weekend when the Sioux Falls Argus Leader published a lengthy article related to negative reactions from the South Dakota High School Activities Association about moving more state tournaments to the soon-to-be-built events center in Sioux Falls. The paper's editorial began like this:
We're still in an us vs. them mode in South Dakota. Sioux Falls vs. everyone else. East of the river vs. west. Big vs. little. City vs. country. Perceived winners vs. losers. Reminders of this pop up in some unusual places sometimes, and it is hard not to wonder whether those attitudes hold us back from our potential as a state.
The Argus raises a legitimate question. And if the editors feel that way, then I'm glad they expressed themselves.
But we just don't see a Sioux Falls bias in our extensive travels from border to border. And that's because Sioux Falls leaders and citizens haven't been pushy. They haven't been bullies or braggarts.
The Sioux Falls metro area now has about 230,000 people, nearly 30% of South Dakota's total population. But the city hasn't pushed its weight around either the state or the region. Like a wealthy and kindly uncle, it's just nice to have around. It hasn't overwhelmed the state politically or commercially.
Usually the metro citizenry votes much the same as the rural population. Sioux Falls lawmakers are gaining strength in the state capitol due to the city's growth, but they haven't visibly formed any sort of metro caucus, formally or informally. And many if not most of them have roots in smaller towns and cities.
Sioux Falls has an excellent education system, but the city also hasn't dominated in that department because the two biggest public universities are an hour's drive north and south.
Culturally, the city isn't the epicenter of prairie life, either. It has too much concrete, too many lights, too much neon. South Dakota's culture is rooted in the bawdy Black Hills, the displaced Lakota and Dakota Indians, the struggling farmer and rancher and the dwindling small towns. We write poems and songs about adversity and hard times. Sioux Falls doesn't seem to inspire those popular South Dakota themes.
Economically, Sioux Falls is crucial to South Dakota. It has become the city of opportunity for thousands of young people who couldn't find a good job in the small towns were they were born and raised. Their parents are glad they didn't have to go further from home to be successful. But again, Sioux Falls doesn't rule the state. We don't all cash checks at branches of Sioux Falls banks. We don't all eat at restaurants created and based in Sioux Falls. From a business standpoint, the city is important and supportive but not all-powerful.
Sioux Falls has a colorful history, but it lacks the characters that forever will link Yankton and Deadwood and Fort Pierre with the Old West. Sioux Falls didn't build its reputation on shootings and hangings. In the early years, its leaders tended to business and grew a city on the prairie.
Claiming bias is an easy excuse for not getting your way on any particular issue. Democrats and Libertarians seldom get their way. Conservationists and sportsmen sometimes feel ignored. Farmers believe they are overtaxed and underappreciated. Women didn't even get to vote until 1918, and our Native American neighbors don't always feel like they get a fair shake.
There are pros and cons to playing all our basketball tournaments in one city. The debate shouldn't be short-circuited by a "nobody likes me" excuse because l) it's not true and 2) even if it was true, it wouldn't be very effective in our rugged, fight-for-yourself culture.