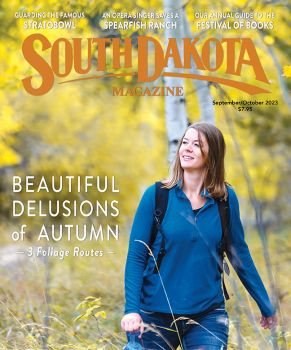 Subscriptions to South Dakota Magazine make great gifts!
Subscribe today — 1 year (6 issues) is just $29!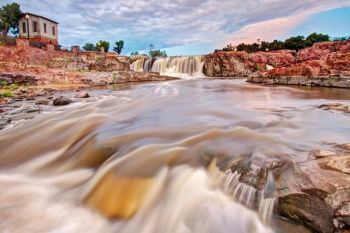 Sioux Quartzite's Ancient Beauty
Jul 22, 2013
Last December I turned 40. I guess I'm supposed to be "old" now (at least to anyone under 40, that is). Other than some achy knees and various aches and pains I don't feel old — especially now that I've done a little research on the landmark that helped shape Sioux Falls and the surrounding area. Sioux quartzite, the hard stone that the Big Sioux tumbles over at Falls Park in Sioux Falls, is ancient. I mean really, really ancient. Those that study rocks say it was formed around 1.5 billion years ago. That is older than old — I mean it is really hard to fathom. The last dinosaurs are supposed to have been around 60 million years ago. That's a drop in the bucket compared to our Sioux quartzite. This rock formation has been fairly stable and in existence for roughly a quarter of the time Earth has been a planet.
I first visited the falls of the Big Sioux when I was a young teenager. For a West River kid, it was like a whole new world. Back then, the park hadn't been cleaned up nor was there much for walkways, but nonetheless, I still remember being surprised that such a thing existed in South Dakota. I later learned that Sioux Falls is not the only place to see outcroppings of Sioux quartzite. Palisades State Park just south of Garretson may be small in terms of size, but it packs a large punch in terms of unique and stunning scenery. There, Split Rock Creek cuts through a section of Sioux quartzite, leaving dramatic cliffs and standing stones seemingly in the middle of rolling farm hills.
Just upstream, on the other side of Garretson, is Split Rock Park and Devil's Gulch. Legend holds that this is where outlaw Jesse James escaped a posse of armed men after fleeing from a botched robbery attempt in Minnesota in 1876. James and his horse supposedly leaped the narrow gorge leaving his pursuers behind. A small walking bridge marks the spot today. Whether the legend is true or not, the area is a great place to hike and see the quartzite formations.
Another place that shows off the beauty of the quartzite is just south of Dell Rapids. Here the Big Sioux divides into two streams with the smaller channel cutting straight through cliffs of Sioux quartzite called the Dells of the Big Sioux. There is a small park and overlook to check out, or if you have a more adventurous spirit, there is a sort of natural staircase to the north of the picnic area to climb down into the gorge. In visiting the area earlier this spring, I also found it to be a great place to bird watch. Insect catchers swoop through the canyon picking off their prey and the cliffs allow for nests for all sorts of swallows as well. The abundance of trees provide nesting and resting areas for many species too.
This summer I was introduced to a couple of Sioux quartzite areas that were brand new to me and very worth visiting. Arrowhead Park on the east side of Sioux Falls is a great place to take a short hike with family members in around some quarry pools. The waterfowl are used to people and many folks like to take some bread along to feed them on the edges of the pools. Along the South Dakota-Iowa border is another pool in the Gitchie Manitou preserve that is a little more off the beaten track but well worth the visit as well. I went there on a hot July afternoon and basically had the place to myself. My task was to take a portrait or two of ancient beauty over a billion years in the making. Makes me feel young and spry just telling you about it.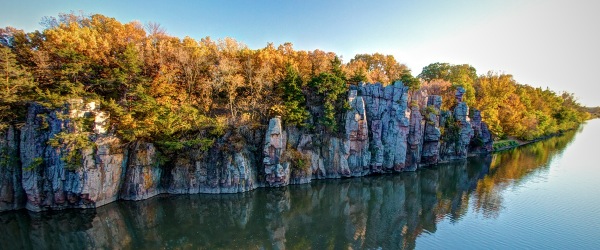 Christian Begeman grew up in Isabel and now lives in Sioux Falls. When he's not working at Midcontinent Communications he is often on the road photographing our prettiest spots around the state. Follow Begeman on his blog. To view Christian's columns featuring other unique spots in South Dakota's landscape, visit his landmarks page.