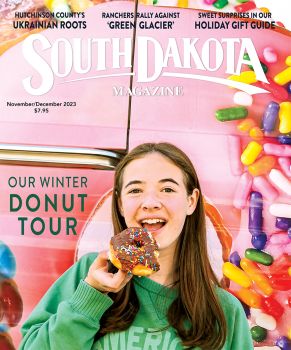 Subscriptions to South Dakota Magazine make great gifts!
Subscribe today — 1 year (6 issues) is just $29!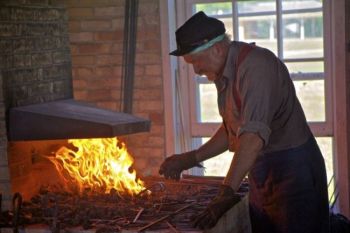 A Trip Back in Time
Jun 11, 2012
I'm not sure about you, but sometimes I'd like to take a trip back in time. Just to be clear, I don't want to do this to interact with history and/or change something. I've watched enough science fiction movies to know that is a bad idea. I'd just like to see how things actually were back in the day. I often wonder what our prairies, rivers and hills looked like before the plow, dams, highways and power lines of today.
Unless there is really a mad scientist genius somewhere who has figured out how to make Doc Brown's flux capacitor really work, actual time travel remains impossible. Fort Sisseton State Park in northeastern South Dakota has a pretty good alternative option for those of us who are history buffs and interested in South Dakota's frontier days. Every June, the park hosts the Fort Sisseton Historic Festival where the past comes alive. Calvary charges on the parade grounds, cannon fire and even a working Gatling gun highlighted the Saturday afternoon I was there. Not only can you see what the frontier fort looked like but you could also try your hand at learning old-timey skills and tricks like hatchet throwing and cracking the bullwhip like the old time cowpokes.
The fort itself, which sits atop the Coteau des Prairies (or hills of the prairies), was originally a frontier army outpost called Fort Wadsworth. The South Dakota Game Fish and Parks website says that the site was chosen because it provided a strong natural defense, an ample supply of lime and clay for making bricks, an abundance of lake water for drinking and a thick stand of trees for timber and fuel. The park's buildings have been restored with great care and as you make your way through the fort, the actors and information stands give you every kind of detail on what frontier life was like back in the late 1860s. For a photographer, all this provides many opportunities to make an interesting image. I had particular fun using a long telephoto lens in order to get compelling candid and action shots of the participants.
The area itself is a unique bit of South Dakota landscape. It seem to me as if all Marshall County borders a lake or body of water. Kettle Lake borders the park and, like most of the glacial lakes in the region, the last few wet years have taken their toll on shoreline trees and even some structures. I saw a beautifully painted red barn mirrored in still, overflow lake water. If you are into wildlife (bird watching in particular) then the area is a must see. I saw Egrets, Blue Heron, Pelicans, various duck species and a lone bald eagle all in a matter of an hour and a half of cruising the back roads near the park.
Later on in the evening, as the last light of the sun dappled the fort's parade grounds with warm, yellow beams, folks dressed in their frontier finery lined up for the military ball. As the authentically dressed couples paraded by for a half hour or so, it was almost as if you really did step back in time. Like most summer festivals in South Dakota, Fort Sisseton's is simply a fun time to hang out with family and friends. I ran into an old high school pal that I hadn't seen in a few years. He and I and his daughter ended up spending the rest of the afternoon reminiscing, learning and simply enjoying a slice of South Dakota culture and a little of the good old days… and I didn't have to accelerate a tricked out, flux capacitor DeLorean to 88 mph to do so.
Christian Begeman grew up in Isabel and now lives in Sioux Falls. When he's not working at Midcontinent Communications he is often on the road photographing our prettiest spots around the state. Follow Begeman on his blog. To view Christian's columns on other South Dakota state parks and recreation areas, visit his state parks page.