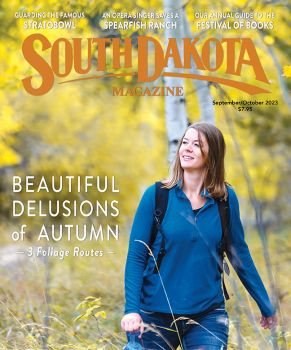 Subscriptions to South Dakota Magazine make great gifts!
Subscribe today — 1 year (6 issues) is just $29!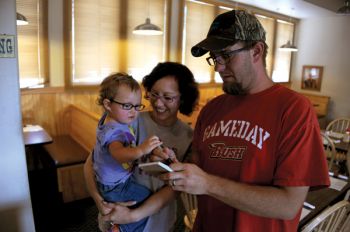 Dreaming in South Dakota
Jan 13, 2015
Have you ever gone on vacation and thought, "It would be fun to buy a cabin here?" Or maybe it was a houseboat or villa. Closer to home, have you thought about owning a Victorian mansion, a cafe in a Black Hills mountain town or renovating a 1930s apartment building?
One of our magazine's popular new departments is built around such dreams. So we named it "South Dakota Dreaming," and in each issue we write about a place for sale that make us imagine, "what if?"
Our first dream-worthy property was Olive Place, an 1887 Queen Anne Victorian mansion just north of Watertown. It has three fireplaces, 14 stained glass windows and three chandeliers. The house was built for local banker Homer D. Walrath and his wife Emma. Constructed for $15,000, it was once called the finest house in South Dakota. In 1966 the house was moved from its historic location to an intersection just outside town. The property is edged with pines and lilacs and current owners, Mike and Darlene Gudmunson, planted lindens, maples, birch, ash, elm and locust. A four-stall heated garage sits behind the house.
While touring the home, we saw ornate woodwork, including hardwood floors with parquet borders, three granite fireplaces and a curved cherry wood stairway. The house has four bedrooms and three bathrooms. There are even maid's quarters, which were built for the Walraths' faithful employee, Tina Olson.
Three hundred miles or more west of Watertown, we found a little Black Hills cafe called the Wrangler that inspired our next "dreaming" story. It sits on Mount Rushmore Road in the little city of Custer. We envisioned rising early each crisp mountain morning to start coffee. We'd fry some eggs and chat with regulars for a few hours. Walk to the bank with a deposit during the lull after breakfast, and return to help staff with the noon rush. Then spend the afternoon hiking or trout fishing in a clear mountain stream.
A visit to the cafe revealed our dream wasn't too far off the mark. The Wrangler does a bustling business, full of regulars and tourists. It is one of Custer's oldest eateries, dating back to the 1950s. Owners Steve and Amanda Blume serve over 100,000 meals a year at the cafe — leaving little time for trout fishing. He and Amanda's two children are regulars at the cafe. Their son Connor, 7, draws pictures and sells them to customers for a quarter (the cost of a gumball from the machine).
Steve says that after 24 years at the Wrangler, and with two small children to raise, it's time for a change. So they listed the Wrangler for sale with a local realtor. But Steve is attached to the place and says he may even work for the new owners. "It's rewarding to serve good food and to know that people enjoy it," he says.
Our current "dreaming" features a 1930s luxury apartment house in Yankton that has fallen on hard times. The Hudson has seen better days — and hopefully there are better years ahead — but through its ups and downs the big brick structure in Yankton's historic residential district has always had benefactors who've kept the roof from leaking.
Our new feature might sound like we're in the real estate business but nothing could be further from the truth. We are doing it purely for entertainment value, and we would never accept any monetary benefits from sales of properties we feature.
If you find yourself dreaming about a South Dakota property as you're traveling our state, give us a call. All we're looking for is something with a price tag and an interesting story.