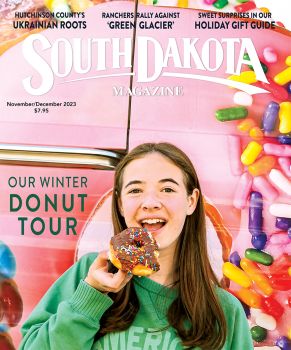 Subscriptions to South Dakota Magazine make great gifts!
Subscribe today — 1 year (6 issues) is just $29!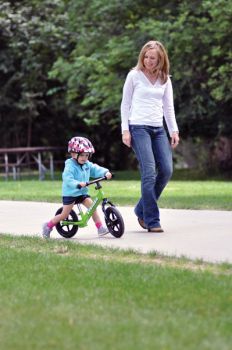 Riding in Stride
By John Andrews
Learning to ride a bike can be tricky, involving close encounters with parked cars or pavement before you master it. Ryan McFarland, of Rapid City, was helping his son through the process when he decided there had to be a better way.
McFarland modified his son's bike to allow Bode to sit on the seat yet have both feet on the ground. With his hands on the handlebars and no pedals in the way he was able to push himself along; balancing and turning became much easier.
People remarked on the little bike, says McFarland, which gave him an idea of its potential. He formed a company to manufacture and market the Strider, and the first one shipped in November 2007. Since then the growth has been nothing short of phenomenal, with expected sales of 350,000 units this year.
The Strider stands 12 inches tall, and is designed for kids from 18 months to five years old. After the original Strider came out, McFarland heard from the parents of older kids and kids with special needs who had trouble working the pedals on a traditional bicycle. In response, the company introduced the 16-inch Super Strider, which can accommodate bigger kids and adults up to 120 pounds.
Editor's Note: This story is revised from the March/April 2013 issue of South Dakota Magazine. To order a copy or to subscribe, call (800) 456-5117.