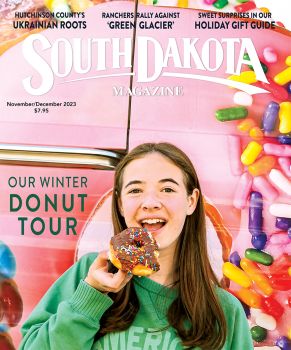 Subscriptions to South Dakota Magazine make great gifts!
Subscribe today — 1 year (6 issues) is just $29!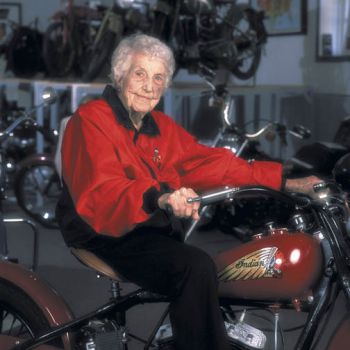 First Lady of Sturgis
Editor's Note: Carl Edeburn, a retired SDSU professor, is the author of Sturgis: The Story of the Rally, published in 2003. While researching the book, he spent time with Pearl Hoel, the woman many consider the matriarch of the rally. He wrote this story about Hoel for our March/April 2004 issue. Hoel died in February 2005 at age 99, but she is on the minds of many of the nearly 500,000 bikers descending upon the Meade County town for the annual rally, which runs Aug. 4-10.
Many of the thousands of bikers who make the annual pilgrimage to Sturgis would be surprised to learn that the much-heralded event now dominated by Harley Davidson was hatched at the workbench of an Indian motorcycle shop in Sturgis. They might be even more surprised that a steadying hand behind the rally for nearly six decades was a 98-year-old woman in a spiffy white pantsuit.
Pearl Hoel is a South Dakota living treasure. Closing in on a century, she is chipper, gracious and excited by life, an interesting person to visit, if you can catch her at home on Baldwin Street. "Any day but Wednesday is good," she said. "On Wednesday I play bridge with my friends." Of nine women in her bridge group, four are over 90, including Lillian Lushbough, who is 100.
Pearl and her husband, Clarence "Pappy" Hoel (pronounced "Hoyle"), were instrumental in initiating the Sturgis Motorcycle Rally in 1937. She and Clarence were married 61 years before he passed away in 1989. Before they met, Pearl taught school in Mystic and Piedmont. She and Clarence met at a dance in Piedmont, and married in 1928. Their only child, Jack, was born seven years later.
When electrical refrigeration arrived in Sturgis and Ft. Meade in 1936, the Hoel's ice business began to wane. That's when Clarence decided to open a shop in their garage, specializing in Indian motorcycles. To enhance the new business, Clarence organized a riding club similar to a larger club in Rapid City supported by the Harley Davidson dealer. One Sunday the club was picnicking in the Black Hills when an automobile tourist said they looked like a bunch of Gypsies, and the Jack Pine Gypsies was born.
During the Depression of the 1930s, Pearl assisted needy rural families with the WPA. She drove the countryside in an old car, delivering clothing and food. One night she was driving a lonely country road with the backseat and trunk filled with fresh beef when she had a flat tire. By the time she had dragged a couple of hind quarters out of the trunk to get at the spare tire and jack, a pack of coyotes had surrounded the car and begun to howl. That was more exciting than riding two-up with Pappy, Pearl said.
After the WPA era, Pearl went to work as deputy to the Meade County clerk of courts, and when the boss retired, she was appointed to the job. Later she was elected register of deeds, and still later, county auditor. In the lean years of the motorcycle business, during World War II and in the 1950s when the Indian motorcycle was fading, the Hoel family stayed well fed through Pearl's jobs at the courthouse.
Pearl still lives in the Hoel home on Baldwin Street. Her son Jack checks in with her every morning after he stops at the post office. "Last year she asked me to get her a bigger snow shovel," he chuckled as he introduced himself to me on my first visit.
I was writing a book about the Sturgis Rally, and knew Pearl could provide a wealth of information about its history. When she discovered that I was staying in a motel, she insisted that I stay with her "to save money." Great hospitality and hot breakfasts.
After my book, Sturgis: The Story of the Rally, was published last summer, my wife Cleo and I stopped by Pearl's house to deliver a copy. Pearl was excited about the book, but more excited about the pending 63rd Rally. "I'm going to have 24 people here this year," she said. "Last year it was down — only 18 showed up."
For years, people have arrived on Pearl's doorstep on the Thursday and Friday before the motorcycle rally. Eight to 10 people roll sleeping bags out on the beds and on the floors of her two spare rooms. Another group sleep in the garage, two couples park motor homes in the yard, and others sleep in tents on the front lawn. Needless to say, Pearl's one bathroom is well used that week. Another dozen bikers stay next door at Pearl's neighbor's house, and mingle with her two dozen guests.
For Pearl Hoel, Rally Week retains its excitement. Monday evening she attends the short track races, and on Tuesday the half-mile races at the Meade County Fairgrounds. Last summer she took an honorary lap around the track in Neil Hultman's sidecar. Everyone stood and clapped, while Pearl smiled and waved to the crowd.
Wednesday is long and busy for Pearl. It begins with the Sturgis Hall of Fame breakfast, held in Spearfish last summer because Homeland Security closed Fort Meade's Assembly Hall for the week. The breakfast honors motorcycle journalists, engineers, politicians, and racers who have made significant contributions to the sport. For this event, Pearl generally buys a new outfit and gets her hair done. This year was no exception; she dazzled the crowd in an exquisite white pantsuit. "I want to look good for this party," she chuckled. First-time attendees who know little of the history and legacy of dirt track racing at Sturgis are suitably impressed when nationally-significant motorcyclists stand to honor the grand dame of the motorcycling world.
On Thursday, with help from local ladies and visitors, Pearl hosts her backyard breakfast for The Retreads, a national organization of motorcyclists over the age of 40. In 2002, former Sturgis racing champions from Ohio, New Mexico and California showed up, a delight to Pearl, who hadn't seen them for years. Then the party was crashed by a television crew from the Travel Channel, who were taping a show on Sturgis.
In 2003 the surprise visitors were authors Jean Davidson and Marian Hersrud. Davidson, the granddaughter of motorcycle manufacturer Walter Davidson, was signing her book, Growing Up Harley Davidson, and Hersrud her novel, Sweet Thunder. Ms. Davidson's book was in such demand that she ran out of copies. I even got to sign my book.
Friday begins with the White Plate Flat Trackers Association Breakfast in the Gypsy Club room at the J. C. Hoel Short Track. The WPFTA, conceived and organized by Pappy Hoel and Al Burke in 1979, is dedicated to the memory of early racers. Fearing that these legends would be forgotten by contemporary riders, Burke and Hoel organized an annual reunion for White Plate (Expert) Riders at the 1980 Rally. Pioneer dirt track racers who are able, ride a lap at the half-mile race. Pearl helps plan and cook for the event.
By Saturday, the downtown rally crowd is pulling up stakes and roaring out of Sturgis. But Lady Pearl and other true dirt track fans are attending the last short races at the Jackpine Gypsy Club grounds.
On Sunday, Sturgis feels like a ghost town. The crowd is gone, and Pearl and other club members and locals start talking about next year's rally.
In the early rally days, Pearl and Clarence Hoel pitched a circus tent in their back yard to provide a place for visiting riders to meet, visit and sleep. The Hoels and the Jackpine Gypsies provided coffee and donuts in the evening, after riders returned from daytime tours.
The Gypsy Tours were initiated by the motorcycle club in 1938 to add an extra day to what was then a weekend rally, and to introduce visiting riders to the exquisite scenery of the Hills. On Friday, bikers rode to Sylvan Lake, Mount Rushmore and the State Game Lodge. Later, a northern tour to Wyoming and Devil's Tower was introduced. At the end of the day, bikers returned to Sturgis for the Friday Night Feed. The Gypsy Tours were so popular that by the early 1970s the train of motorcycles reached eight miles long. It became necessary to break riders into six, and then 12 separate tours.
When the touring groups were smaller, Pearl and a couple of other Gypsy wives provided a midday picnic for the riders. To plan for the event, they went downtown Thursday evening and counted bikes, guessing that two-thirds of the riders would take the tour. They bought the makings for baked beans, potato salad, wieners, coffee, iced tea and watermelon. They packed the food in an old pickup truck, and Friday morning led the bikers south toward the designated picnic site. Lunch was 65 cents, Pearl said, "all you could eat." The truck followed the riders back to Sturgis and picked up motorcycles that broke down along the way.
Once Pearl helped an automobile tourist whose old Ford was stopped in the middle of the Needles Highway, its radiator "steaming like Old Faithful." Pearl offered the man her remaining iced tea, assuring him that it contained no sugar.
By the late 1950s, crowds had grown so large that Pearl had to give up providing lunch. But at 98, she still hosts breakfast for the Retreads and the Flat Trackers. When somebody asked what her favorite downtown rally food was, Pearl replied that she had been so busy cooking and providing for her company that she hadn't had time to visit the Main Street vendors.
Pearl Hoel is the unsung hero in the birth, growth and long-term success of the Black Hills Motor Classic. It's hard to imagine Sturgis without her.
Editor's Note: This story is revised from the March/April 2004 issue of South Dakota Magazine. To order a copy or to subscribe, call 800-456-5117.