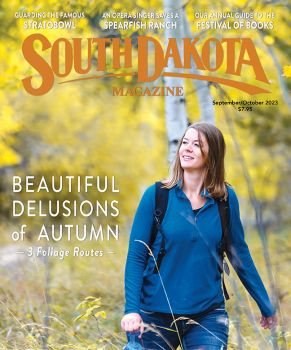 Subscriptions to South Dakota Magazine make great gifts!
Subscribe today — 1 year (6 issues) is just $29!

The Rally Ritual
By Debora Dragseth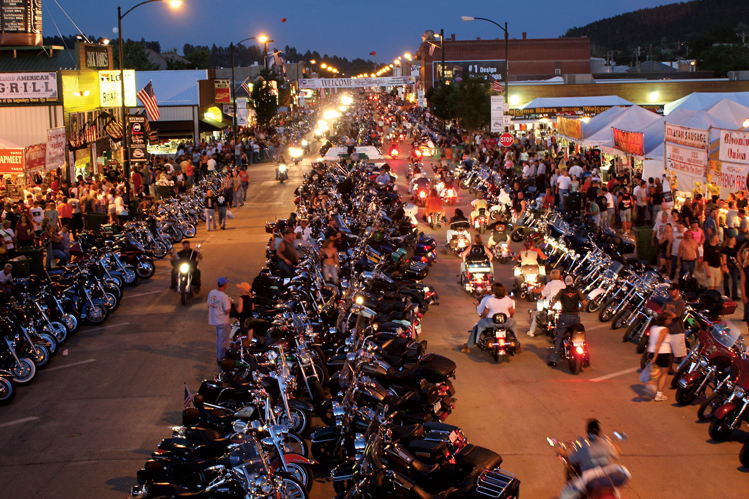 Each year, when motorcycle enthusiasts gather in Sturgis, the town's population swells from 6,500 to 500,000. Photo by Ron Linton
The outrageous phenomenon known as the Sturgis Motorcycle Rally has evolved into a week-long, $987 million party for nearly half a million people. Every August, the city of Sturgis in the northern Black Hills hosts biking enthusiasts in a combination carnival, racing event, party, music festival and shopping mall.
It's the oldest, biggest, loudest, most authentic and out-of-control motorcycle rally in the world. Sturgis' small population, 6,500, skyrockets to become the largest city in the state by a factor of three. That equates to each household in town hosting 183 "guests." Consider this for comparison: New York City: 26,402 persons per square mile. South Dakota: 9.9 persons per square mile. Sturgis (projected): 160,427 persons per square mile.
If past rallies are any indication, nearly 500 festivalgoers will land in jail. Hundreds more will receive tickets for violations such as indecent exposure, open container or driving on the sidewalk. Some 350 will require emergency room visits, two or three will die of heart attacks and a half-dozen or more will die in traffic accidents. Keeping its guests safe costs the city of Sturgis over $1 million in insurance, increased law enforcement, attorney costs and fire and ambulance services. Nobody has tabulated the costs to the state's judicial and state prison systems.
The town's temporary denizens come clad in skullcaps, sunglasses, boots, sleeveless shirts and black leather. Tattoos are standard, piercings optional. Body paint, thongs and pasties will do for women. For men, cleanliness is not a virtue; grimy grubbiness is fine and chest hair encouraged. Don't come to Sturgis looking for metrosexuals — they're as rare as pedal bicycles.
The streets are thick with beautiful, scantily dressed women, but the real beauties are the motorcycles, their chrome sparkling in the sun as though they had just left a showroom floor. Even visitors who don't live the motorcycle culture will marvel at the thousands of custom-painted Harley Davidsons parked four rows deep and lined up for blocks. Many are true works of visual art, and they make beautiful music. Few noises compare to the undulating river of 700-pound motorcycles. Hunter S. Thompson described it as "a burst of dirty thunder."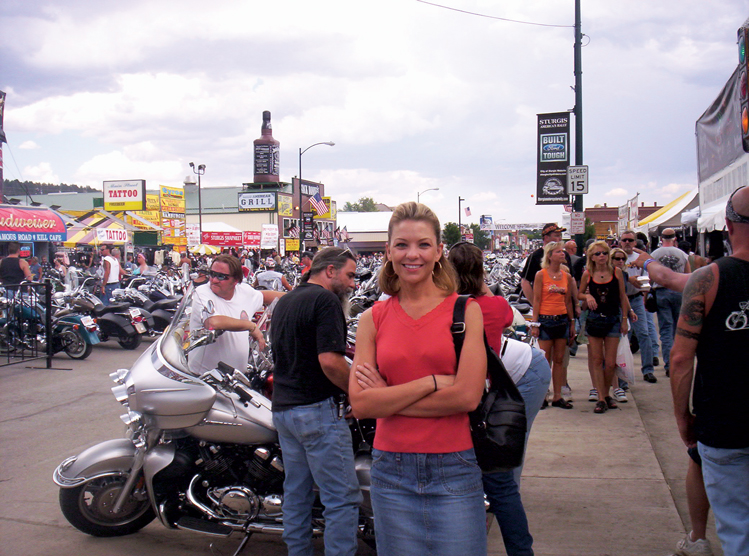 Author Debora Dragseth may live in Sturgis, but during the rally she looks like an outsider next to the thousands of tattooed and bearded bikers.
But strip away all the aesthetics and the Sturgis Rally is an economic engine that drives state tourism and represents capitalism at its finest. According to a survey funded by the Sturgis Motorcycle Rally, $987 million comes into South Dakota annually from the event. Rally-goers pay an inflated $5.50 for a beer at the world's largest biker bar. Fortunately, a free pancake breakfast is served daily by the Son of Light Ministry, whose sign proclaims, "Flapjacks along with the word of God. And the best part — they're both free!" In the same vein, the Christian Motorcycle Association will bless your bike while offering you a free bike wash, coffee and pancakes.
Tens of thousands of people get "inked" at the rally. "A decision that will last a lifetime," warns the tattoo artist who works in a small concrete building that just last week was a beauty parlor. Many local businesses are "repurposed," in other words, closed down and rented out to vendors for handsome sums. Grocery stores, gas stations and a local department store remain open for business; high demand items include sunscreen, pillows and energy drinks. The only liquor store in town is city-owned, a smart move on the part of Sturgis' founding fathers given that rally-goers drink an estimated 3 million gallons of beer. On average, visitors stay 5.5 days and spend $180 per day. "It's like a really loud relative comes to your house, stuffs your pockets full of money and leaves a week later," quipped one Sturgis citizen.
Demand exceeds the supply of hotel rooms, camping spots and bathrooms. Hotel rates double and triple, climbing as high as $300 a night for a room — and most lodgings within 50 miles are full. It seems as though every square foot in town is rented to someone: locals rent their homes for $3,000 to $10,000 a week; some even rent their yards to campers who pitch tents or park bikes. City law limits homeowners to 19 renters per property.
Three types of people come to the Sturgis Rally. First, the casual observers who ride occasionally or not at all. They're easy to spot — they point a lot and look awestruck, like kindergarteners on the first day of school. They carry shopping bags filled with T-shirts as proof to the folks back home that they risked the mayhem and rubbed shoulders with the black leather crowd.
Next are the recreational riders. Mostly in their late 40s and 50s, they own bikes but don't belong to biker clubs. They ride their Harleys only on sunny and mild weekends. They trailer their $35,000 bikes to the rally behind big pickups with heated leather captain's seats. This group offers the best opportunity for vendors. They look like walking billboards for the Harley-Davidson brand, and buying the fantasy of the biker subculture does not come cheap.
Finally, there are the bikers whose leather jackets have a cracked "been there, done that" patina that matches their sunburned faces. (You don't get that look by hauling your bike on a trailer or riding on weekends.) Their bikes have never seen a trailer, they do their own tune-ups, they sport socially offensive tattoos and they don't own rain gear.
Although it's impossible to determine the exact number of people at the rally, city officials use several metrics, including traffic counts and taxable receipts. Over 700 temporary vendors set up in the city, hawking everything from $2 rubber bracelets to $125,000 custom-made motorcycles. For a more ingenious method of estimating crowd size, the locals measure the quantity of what's left behind. Over 500 tons of "rally garbage" was hauled away in 2011, and the town doesn't expect this year's guests to leave any less.
The rally has been held annually in Sturgis since 1938 with the exception of two years during World War II when gas rationing prevented recreational travel. Nine racers participated in the first rally, competing for $750 in prize money in front of a small crowd of racing enthusiasts who paid 50 cents admission. Attendance hit 800 in 1960 and 2,000 by 1970. This year, the city expects 500,000.
Campgrounds (empty fields during the rest of the year) pulsate with rock bands from high noon to early morning. The largest, the infamous 600-acre Buffalo Chip, has been estimated to host 25,000 rowdy revelers, transforming overnight into the third largest city in the state. Like several local campgrounds, it doubles as a concert venue. The Buffalo Chip also offers less conventional entertainment — topless beauty contests, redneck games and a shooting arcade for grownups billed as the ultimate Second Amendment experience. Participants can choose from World War I, World War II, Korean and Vietnam War era weapons and receive the training required for a 35-state concealed carry permit.
All the entertainment provides for some unusual entrepreneurial activity in South Dakota. Zackiary Crouch, a third-generation hair stylist, has the enviable job of making female bartenders look pretty. During the rally he works 14-hour days beginning at 5:30 a.m. "The rally isn't as glamorous as it sounds," he insists. "Girls who have been living at a campground and haven't showered for a week are like a Monet, pretty from far away, but close up — a bit nasty." During the 2011 rally, Crouch saw a heart attack and a stabbing both on the same day. At One-Eyed Jacks Saloon, where he has headquartered for the past five years, the self-described "gay kid of Sturgis" defines his job as a combination of hostess, hairdresser and psychologist.
The Sturgis Motorcycle Rally seems like an anomaly to South Dakotans, but such events hearken back to ancient times. The Romans celebrated what anthropologists call rituals of reversal, times in the yearly calendar that allowed patricians, plebeians, and slaves to abandon the constraints of an ordered culture. The society enjoyed a "time out" during these festivals when people could break the rules without fear of recrimination. Reversal rituals included a strong sexual focus, anonymity, costumes, feasting to excess and some form of intoxicant to reduce inhibitions.
Tony Bender, an avid biker and former news director and publisher of Sturgis' local newspaper, The Meade County Times-Tribune, spoke to what the Sturgis Motorcycle Rally really means. "I think it is one of the great expressions of American freedom. The open road, the sense of rebellion, the pulse of the V-twin motors ... and yet, a real sense of brotherhood."
Want to unleash your id? Come to Sturgis. My 6,500 neighbors and I are happy to see you, but to be honest, we'll be kind of happy to see you safely leave as well. Go home, shower and shave, put on your khaki Dockers and your loafers, and squeeze back into your cubicle. In other words, get back to work — you will need to pay off your August credit card bill.
Editor's Note: This story is revised from the July/August 2012 issue of South Dakota Magazine. To order a copy or to subscribe, call (800) 456-5117.