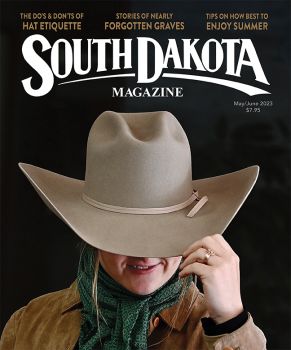 Subscriptions to South Dakota Magazine make great gifts!
Subscribe today — 1 year (6 issues) is just $29!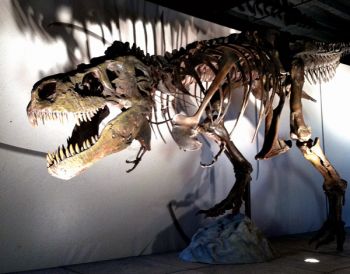 Sue's Back in South Dakota!
Oct 28, 2013
By Rebecca Johnson

The saga of Sue the T. Rex began in the summer of 1990 when a team from Black Hills Institute hunted fossils near Faith. While the rest of the crew went to town for a truck repair, Sue Hendrickson discovered the first of the largest and most complete Tyrannosaurus rex skeleton ever found.
Ried Holien wrote about the dramatic story that followed in our May/June 1999 issue.
Pete Larson, BHI's director, took the specimen, nicknamed Sue (in Hendrickson's honor), to Hill City to clean, strengthen, and prepare the bones for display. Two years later, after the Institute had invested hundreds of thousands of dollars and countless man-hours in Sue, Federal agents seized the fossil and arrested Larson.
Sue was found on land the Institute believed belonged to rancher and Cheyenne River Sioux tribal member Maurice Williams, who had given them permission to dig. In fact, the land was held in federal trust for Williams. Technically that made Sue government property, and gave federal agents the power to seize the fossil. It also was their justification for initiating a massive criminal proceeding against Larson and the institute.
After a lengthy trial, Larson served 19 months in federal prison. He was released in September 1997, only to find that the dinosaur was on the auction block. Sotheby's sold Sue in October for $8.36 million. She debuted at Chicago's Field Museum three years later.
Folks have the opportunity to see the controversial skeleton this winter in Sioux Falls. A replica of the ancient bones is part of an exhibition called "A T. Rex Named Sue" at the Washington Pavilion through January 5. A major renovation of the Pavilion's 4th floor was completed to accommodate the enormous bipedal carnivore and create room for future traveling exhibits. Sue is 42 feet long and 17 feet high at her highest point. "The tail meets the ceiling almost," says Erica Lacey, Kirby Science Discovery Center Director at the Washington Pavilion. "It needed every inch."
Along with the replica, there are nine hands-on stations to learn about Sue's eyesight, movement and sense of smell, and a 23-minute film in the Wells Fargo Cinedome called Waking the T. Rex. "The exhibits help you understand as a whole how she lived when she was alive," Lacey explains. "It also allows us to bring out some of the walking demonstrations we already had on hand related to our Stan the T. Rex permanently on exhibit in the third floor gallery."
"A T. Rex Named Sue" opened on September 21. "We've seen toddlers and adults all come through and enjoy it," Lacey says. There have been moments of nostalgia for some as they remember the media attention surrounding Sue's discovery. "For those people to be able to pass it on to their children and family members has been very precious."