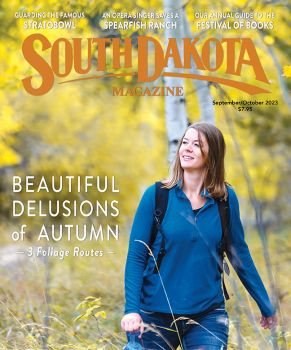 Subscriptions to South Dakota Magazine make great gifts!
Subscribe today — 1 year (6 issues) is just $29!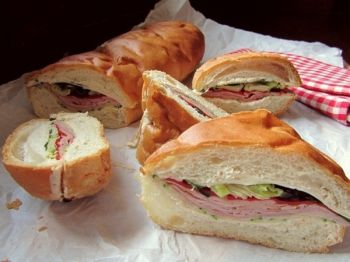 Summer Bucket List
Jul 25, 2013
With the start of schools in most communities less than a month away, it seems that summer is winding down. This sets me into a full-fledged panic. Summer just can't be over yet. So many glorious things are sadly left undone. While I don't officially make a summer bucket list, I do keep a mental tab of activities and projects that I want to be a part of my warm weather experiences.
I haven't been camping. I haven't made a dent in the towering stack of books I wanted to lounge in the sun and read. I haven't seen a movie at the drive-in. I haven't picked wildflowers. I haven't gotten sticky marshmallow all over my hands with a fire roasted s'more. I haven't been to the zoo or an outdoor concert, tasted a sno-cone, or learned to identify the stars and planets while stargazing. There haven't been nearly enough cookouts, and I haven't been on a picnic.
I need to get my butt in gear. Picnicking could be the place for my food-loving heart to start, and a pressed sandwich would be the perfect star of the menu for a meal on the grass. Loaded with layers of veggies, bean spread, meats, herbs and sharp Parmesan cheese, this sandwich mimics an antipasti platter pressed inside a French loaf. The best part is that unlike a PB&J or plain old bologna sandwich, this hoagie is best when smashed. Toss the tightly wrapped sub into the bottom of the picnic basket and let the flavors mingle as they crush together…and get out there and knock off some summer bucket list items before summer kicks the bucket.
---
Pressed Sandwich
Adapted from Martha Stewart
Kosher salt
Freshly ground black pepper
1 medium zucchini, thinly sliced lengthwise
1 red bell pepper
1 loaf French bread, sliced in half lengthwise
1 can (15.5 ounces) cannellini beans, rinsed and drained
1 clove garlic, chopped
1 tablespoon fresh lemon juice
1 tablespoon olive oil
1/2 pound thinly sliced deli ham, or salami, or prosciutto, or a mixture of your choice
1/2 cup fresh parsley leaves
1 cup marinated artichoke hearts, drained and sliced
1/2 cup Parmesan, shaved
1/2 cup pepperoncini, drained and halved
Sprinkle a double layer of paper towels with salt and arrange zucchini on top. Salt the zucchini and roll up the towels like a newspaper. Let sit 10 minutes to draw out excess liquid. (Veggies are good, but nobody likes a soggy sandwich.)
Preheat oven to 500 degrees. Rub the pepper with olive oil and place on a sheet pan and roast for about 20-30 minutes, until the skin is completely wrinkled and the pepper is charred, turning twice during roasting. Remove from the oven and immediately place pepper in a zip-topped plastic bag and seal. Set aside for 10 minutes, or until pepper is cool enough to handle. Remove the stem from the pepper and cut into quarters. Remove the peel and seeds and discard. Slice the flesh into strips.
Pull about 2 cups of bread from inside the French loaf halves. (Set aside for another use. Dry for bread crumbs?) In a food processor, combine beans, garlic, lemon juice and olive oil. Puree until smooth. Season with salt and pepper. Spread inside of both bread halves with an even layer of bean puree to completely cover the surface. (This is the barrier that helps prevent soggy bread.)
To assemble the sandwich, arrange zucchini on bottom half of the bread. Top with meats, parsley, roasted pepper, artichokes, parmesan and pepperoncini. Sandwich with top half of the bread and wrap super tightly in plastic. Place on a baking sheet in refrigerator. Place another baking sheet on top and weight with several heavy cans to press. Let sit for 3 hours (or up to overnight). To serve, unwrap and cut into wedges with a serrated knife. Serves 6-8.
Fran Hill has been blogging about food at On My Plate since October of 2006. She, her husband and their two dogs ranch near Colome.