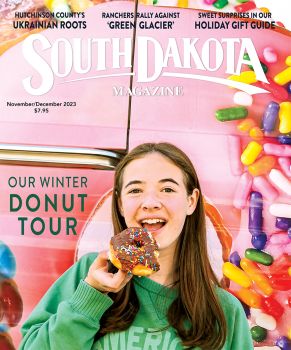 Subscriptions to South Dakota Magazine make great gifts!
Subscribe today — 1 year (6 issues) is just $29!

Supper at the Calfeteria
Mar 15, 2018
By Fran Hill
One of my jobs is working as a substitute teacher in our local school district. It is interesting and challenging work, and this year, a couple of maternity leaves have pulled me in long term to cover classes.
Unlike dropping in for just a quick day, long term subbing involves a lot more preparation and stamina. Kids will be kids, and it is their nature to test boundaries. The days can be mentally and physically exhausting. However, there are always bright spots and humorous moments to lighten the load.
Recently, while grading elementary spelling tests, I couldn't help but laugh out loud. We live in the middle of cattle country. Many students make their homes on and are active participants in their family's cattle ranches. Beef is big business here, and often the forethought in many minds. Nothing made this more clear than seeing "calfeteria" on a spelling test. Of course this student wouldn't eat lunch in a plain, old cafeteria. Cattle, calves and beef are life for these farm kids.
Beef is also life for a simple meal I have been throwing together lately. While Hubs and I have relied on take-out more often than I care to admit on days when I feel like a herd of cattle ran over me, occasionally I have managed to get a home cooked meal on the table. Sheet Pan Beef Fajitas take minimal effort and the hands-off cooking method allows me a bit more time to grade those spelling tests.
The seasoning can be adjusted to suit your own tastes, and this meal is just as good served over rice if you don't have tortillas. There is no need to hit up the "calfeteria" for dinner when Sheet Pan Skillet Fajitas can be on your table.
---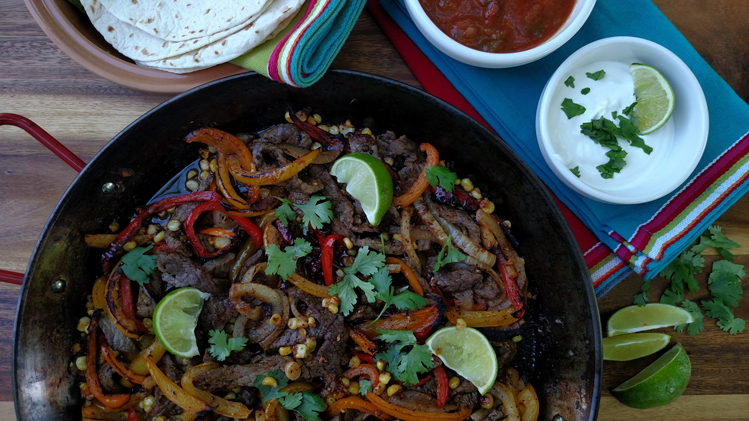 Beef fajitas are a hit in cattle country.
Sheet Pan Skillet Fajitas
(adapted from Cooking Light)
2-3 tablespoons olive oil
1 teaspoon cumin
1/2 teaspoon salt
1/2 teaspoon chipotle chile powder
1/2 teaspoon black pepper
12 ounces flank steak, sliced think
2 medium peppers, sliced (green, red, yellow, whatever your favorite may be)
1 1/2 cups sliced onions
corn kernels cut from one ear (alternatively, about 1/2-3/4 cup frozen sweet corn)
1/4 cup cilantro leaves
1 lime, cut into wedges
1/2 cup sour cream
1/4 teaspoon salt
1 tablespoon lime juice
1/4 teaspoon ground red pepper
8 tortillas, corn or flour
Preheat the broiler with oven rack in the top position. Place a rimmed baking sheet in the oven to warm as the oven preheats.
Whisk together oil, cumin, salt, chile powder and black pepper in a bowl. Toss the sliced steak with half of the oil mixture. Toss peppers, onions and corn with the other half.
Remove the hot pan from the oven and arrange the pepper and onion mixture in a single layer on it. Broil 10 minutes, or until almost tender. Pull pan from the oven and push pepper/onion mixture to the sides. Arrange steak in a single layer in the center of the pan. Broil 3 minutes, or until steak reaches desired doneness. Sprinkle cilantro and lime wedges over the pan.
Combine 1/4 teaspoon salt, sour cream, lime juice and ground red pepper. Heat tortillas according to package directions. Serve both with steak mixture. (Serves 4.)
Fran Hill has been blogging about food at On My Plate since October of 2006. She, her husband and their two dogs ranch near Colome.