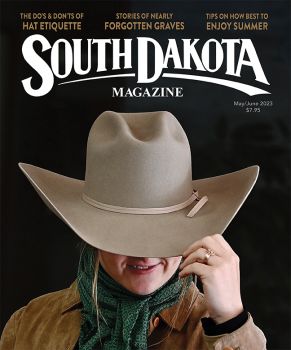 Subscriptions to South Dakota Magazine make great gifts!
Subscribe today — 1 year (6 issues) is just $29!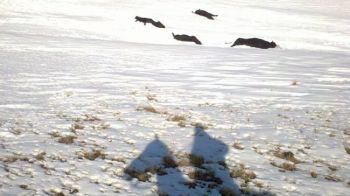 South Dakotans Will Survive
Oct 16, 2013
The statewide concern for South Dakota's West River stockgrowers warms the heart. Despite that big river, we are one state and that is especially obvious in times like this.
Most of us who live in East River have friends, relatives, customers or associates of some sort out West. As Lt. Governor Matt Michels often jokes, South Dakota is big enough to qualify as America's 15th largest city — if we were all crowded into one big city from Buffalo to Dakota Dunes.
You might think that we would lose the camaraderie of a city, with our 820,000 people spread out over 77,000 square miles. But attend a Jackrabbit or Coyote football game (or better yet a Jackrabbit vs. Coyote game) and you'll soon know that we have a lot in common. You can get the same lesson during deer season, or the legislative session, or countless other occasions.
We learned it again last week when cold rains doused the sheep and cattle on the West River rangeland, followed by a blizzard now called Atlas that buried the already-freezing and weakened livestock in as much as three feet of wind-driven snow.
Nothing tightens the chest of a rancher more than the sight of an animal lying dead, and it's far less about money than the simple fact that he or she feels like the guardian of the herd. When adversity hits — even something as impossible to fight as a blizzard called Atlas — the cattleman or sheepherder feels responsible and wonders what might have been done differently.
Catastrophes are always that way.
The October 2013 blizzard was exceptional in its fury, and because it arrived when calves are usually still warming themselves in the autumn sun. But South Dakotans are blizzard survivors.
Exactly 100 years ago, a horrible blizzard blanketed all of South Dakota. The Perry family, new homesteaders, were traveling to their ranch about 10 miles east of Rapid City when the storm hit.
Mr. and Mrs. Perry and four of their nine children were in a wagon. The older children went ahead on horseback. They became separated in the blinding snow.
The bodies of the parents and the four younger chldren were found by the wagon the next day, a quarter-mile from the farmhouse. The other children survived and they made burial plans for a funeral that attracted much attention.
One visiting journalist attended and upon seeing the six coffins in the snow he wrote, "In a little cemetery out on the edge of the Black Hills, where men hunt gold, they have just dug the longest, widest, deepest grave in the great West. In that one grave lie a father, mother and four children — the most touching sacrifice offered up to the great blizzard which has just swept this bleak waste of the Middle West."
The journalist meant well but he hardly understood this land, and its appeal. We are one community, tied together by pheasants and deer, by a 35-day legislature, a web of wild rivers, mountains and flatlands and hills in between — and by cows and sheep. And tied together mostly by a people who like the freedom of space under a big sky.
For 124 years, the citizens before us have come together to overcome floods, droughts, tornadoes, fires, depressions and blizzards.
Fortunately, in this latest challenge, we didn't lose any human life to the storm. But some of our friends from the western side might very well lose their livelihoods.
A number of organizations are raising funds to help the ranchers hardest hit. If you have a few dollars, one of the best places to send a check would be the Black Hills Community Foundation, Box 231, Rapid City, S.D. 57701. Make it out to the Ranchers' Relief Fund.
Updated 10/17: We've now learned that four South Dakotans did lose their lives in accidents or misfortunes related to the storm in western South Dakota. The four families have our heartfelt sympathy for their losses.