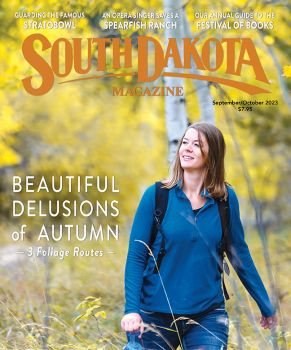 Subscriptions to South Dakota Magazine make great gifts!
Subscribe today — 1 year (6 issues) is just $29!

Sweet Time
By Ruth Steil

Editor's Note: This story originally appeared in our Nov/Dec 2009 issue. In 2011, donations of fudge for state prisoners will be accepted Dec. 12-16 at four locations:
St. Michael Parish —1600 Marion Rd., Sioux Falls
East Side Lutheran Church —1300 East 10th St., Sioux Falls
Benedictine Multicultural Center —2500 5th St SE, Watertown
St. Benedict Parish — 1500 St. Benedict Drive, Yankton
These sites provide holiday treats for inmates in Sioux Falls, Springfield and Yankton. Rapid City and Pierre have their own gift sack programs, so every prisoner in South Dakota will receive something for Christmas. To find out about the Rapid City inmate sack program, call Len Portillo at 605-641-2211. Email Rev. Michelle Bradley at churchofhope@midco.net to learn about Pierre's program.
---

Just after the Christmas Eve dinner, chaplains and volunteers will hand out small paper sacks to 3,000 state prisoners in Sioux Falls, Springfield and Yankton. Inside are two Christmas cards nestled among five pieces of hard candy, one cup of peanuts in the shell, a candy cane and two squares of homemade fudge.
Families are not allowed to send food or gifts into the prison. They can give money, but many inmates receive nothing. The cards and candy are the only things that will mark their holiday.
Leonard Blue Thunder has been incarcerated since 1989. "To some in the free world maybe it's not much, but for me and my friends it's a very big treat that we wait for the whole year," he said. "It's like at home during Christmas, Grandma used to make fudge for us."
The Christmas cards are handmade by elementary and Sunday school students. "One inmate who had been in prison for seven or eight years saved every one of the cards and took them with him when he left," said Mary Montoya, penitentiary volunteer for Native Americans. Another inmate was deeply touched when he discovered that the name on one of the cards was the same as his child.
Prison is isolating, particularly during the holidays. "It's very lonesome and you long to be home with loved ones," said Blue Thunder. "Sometimes the best part of the holidays is a card from someone you forgot about. It sure cheers your soul up by remembering the good times you had. Then we appreciate the little things in life that we used to do, like going for a simple walk and just being around family at supper time."
Inmates especially appreciate the fudge and cards because they rarely receive anything homemade. "Anything that helps connect them with the outside — their families or when they were kids — softens them and takes the hardness of prison away," said the Rev. Regan Beauchamp. "It makes them feel connected, less isolated."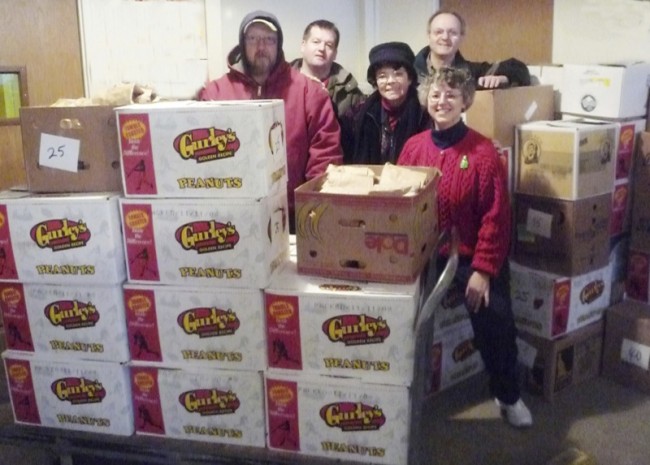 Most of the prisoners' fudge comes from home kitchens, but the Catholic sisters of Sacred Heart Monastery in Yankton cooked some in 2008. The monastery also became a drop-off point (above) for Christmas bags that were assembled for prisoners in Yankton and Springfield.

Donated fudge has been a part of the Christmas sack program at the South Dakota State Penitentiary in Sioux Falls for 25 years. Yankton and Springfield state prisons were added recently.
The Rev. Joe Mardian started the fudge program. He raised funds and arranged to stuff the sacks. When he left, the program was overseen by chaplains of various faiths. For a while it was run by St. Dysmas, a Lutheran prison congregation. Dysmas was the traditional name given to the good thief next to Christ on the cross; it's a common name for a prison ministry. Recently the Christmas sack program has been organized and sponsored by an ecumenical group of prison, religious and cultural volunteers.
Prisoners in solitary confinement receive bags along with everyone else. "We deliver sacks to the door and wish them Merry Christmas," said Beauchamp. An inmate was on a hunger strike during the holidays a few years ago, but when a chaplain arrived with fudge the strike promptly came to an end.
The recipe has been tweaked a few times over the years. "We were getting fudge that was so hard it could be used as a weapon," said the Rev. Gary Ternes, a prison chaplain. The present fudge formula is easy to make, doesn't scorch and most importantly, remains soft.
Appeals for fudge and donations for the other Christmas sack treats are made to parishes of all denominations. "One thing that is neat about the program is that it's ecumenical — there are people from every faith handing out sacks," says Montoya.
Nobody calculates how much fudge it takes for 3,000 sacks. "Somehow we end up having enough," says Beauchamp. "The peanuts and candy — of course we have enough — but the fudge is by faith."
---

If you would like to make a donation, here are a couple of prison fudge guidelines: The recipe must be followed exactly and variations will not be allowed inside the prison. Each piece of fudge must be wrapped in plastic wrap; plastic bags are not allowed. For further information or to make donations please contact Rev. Gary Ternes at (605) 367-5113 or e-mail gary.ternes@state.sd.us.
'Christmas Sack' Fudge Recipe
1 1/2 sticks butter or margarine
1/2 lb Velveeta cheese
2 lbs powdered sugar
½ cup unsweetened dry cocoa
1 tbsp vanilla
½ cup chopped walnuts
½ cup chocolate chips
In a large saucepan, melt cheese, chocolate chips, and butter together stirring constantly until smooth. Remove from the heat and add the vanilla and nuts. In a large bowl, sift together the sugar and cocoa. Pour the cheese mixture onto the sugar and cocoa mixture and stir until completely mixed. The candy will be stiff.
Using your hands (covered with gloves or plastic wrap) remove the candy from the bowl and press it evenly in a 9 x 13 inch pan lightly sprayed on the bottom with nonstick spray. When cool, cut into 24 pieces.