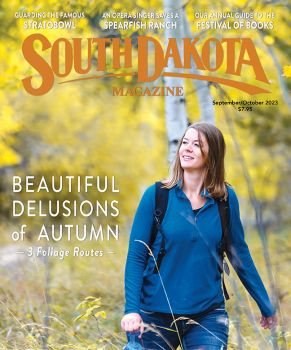 Subscriptions to South Dakota Magazine make great gifts!
Subscribe today — 1 year (6 issues) is just $29!

Tis the Season: Peppermint Fudge
Dec 7, 2017
'Tis the season for sweets, treats and treasures. Kitchens are busy with baking, and break rooms in workplaces across the state are groaning with plates of sugary delicacies. It is a holiday tradition to share our love and appreciation with food ... or at least give a shout out to good cheer with some cookies.
If you follow my blog, you may already know that I am not a baker. I used to spend days baking and decorating and arranging countless varieties of cookies on platters for every friend, neighbor and family member in sight. It stressed me. A lot. My Christmas spirit suffered, and I (wisely) gave it up. Baking isn't my thing.
That doesn't mean that I don't like to share something delicious. Food is my thing. Baking may turn me into the Grinch, but Christmas is absolutely the season to show up on your neighbor's doorstep with little, candied gifts. Thankfully, I found fudge. A few years back, I started making trays with an array of different flavored fudges. Butter Pecan has become a favorite to tuck alongside the rich and creamy Dark Chocolate Fudge and the melt-in-your-mouth Milk Chocolate Cream Cheese Fudge. But a flavor that has surprised me with its lightness and freshness is the Peppermint Fudge.
Light and fresh? Fudge? Yes. Peppermint Fudge is the perfect palate cleanser after all the sugary binges. The essence of each little square is crisp and clean and wonderfully yummy. 'Tis the season for me to share some luscious, confectionery love with Peppermint Fudge.

---
Peppermint Fudge
18 oz white chocolate chips (I used a mix of white chocolate chips (12 ounces) and a partial bag of white almond bark candy wafers.)
1 (14 ounce) can sweetened condensed milk
2 tablespoons heavy cream
1 teaspoon pure vanilla extract
1/2 teaspoon baking soda
2 teaspoons pure peppermint extract
1 cup powdered sugar, sifted
1 cup crushed peppermint candies (I only had the candy canes decorating my tree and made a quick dash to the convenience store for Starlite Mints.)
sprinkles

In a heatproof bowl over simmering water, melt chips, condensed milk, cream and baking soda. (I actually just use my heavy Le Creuset pan and keep the heat very low.) Stir frequently; heat until smooth. Remove from heat. Stir in extracts; sift in powdered sugar. (Don't skimp on sifting. Lumps in the powdered sugar are not fun.) Add crushed candies. Pour into a parchment or foil-lined 8×8 inch pan. (I sprayed my foil with Pam.) Top with sprinkles. Refrigerate for 3 hours, or until set. Lift lining and fudge from pan to cut into 1-inch cubes. (Yields about 64 pieces)
Fran Hill has been blogging about food at On My Plate since October of 2006. She, her husband and two dogs reside near Colome.