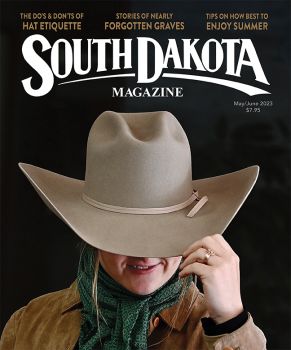 Subscriptions to South Dakota Magazine make great gifts!
Subscribe today — 1 year (6 issues) is just $29!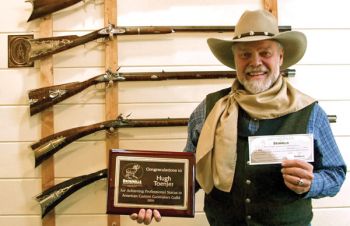 The Rifleman
Hugh Toenjes of Custer is one of the country's only builders of Kentucky long rifles. He was a 12-year-old growing up in Minnesota when he became fascinated by the historic weapons and their role in shaping the American frontier. Toenjes later decided to collect them, but the hobby was too expensive for a man with a mortgage and a family in the early 1970s. He found a kit and decided to make one. "I swore I would never do a kit again," Toenjes says. "I told myself that I could do a whole lot better than this kit." Toenjes sold the rifle, bought raw materials and made his first long rifle from scratch.
He starts with a block of curly maple imported from Pennsylvania (the birthplace of the Kentucky long rifle) and an assortment of metal. His process remains simple, much like the methods gunsmiths used 200 years ago. Walk into his sunlit studio on Medicine Mountain Road and you'll see his two favorite tools: a file and a hacksaw. There's no lathe, milling machine or stock duplicator. In fact, Toenjes has either made or greatly modified many of the tools he uses. Carving, engraving and decorative work is all done by hand. That attention to detail meant it took 3,000 hours to make his most recent presentation-grade long rifle, and another 3,000 to build the case, accompanying pistols and accessories.
Toenjes also restores historic guns. He's currently working on a long rifle made in 1778 and used during the Revolutionary War.
Editor's Note: This story is revised from the May/June 2012 issue of South Dakota Magazine. To order a copy or to subscribe, call (800) 456-5117.