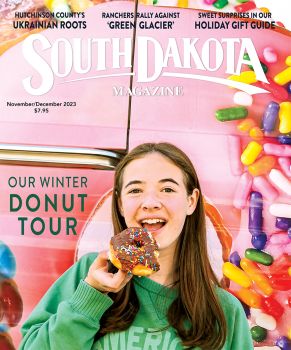 Subscriptions to South Dakota Magazine make great gifts!
Subscribe today — 1 year (6 issues) is just $29!

The West and the Universe
Sep 23, 2015
By Katie Hunhoff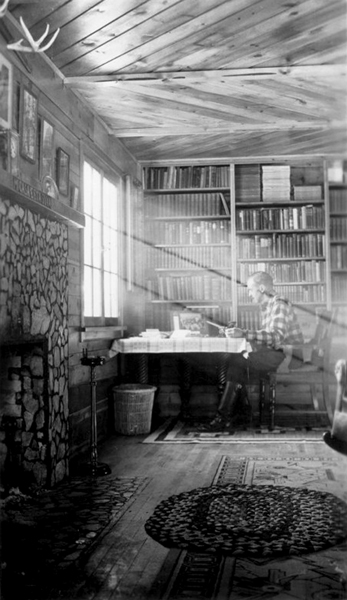 Badger Clark lived and wrote at the Badger Hole, a cabin in Custer State Park.
Badger Clark would be packing his bags for a return home to Deadwood if the old poet were alive today, because that's where this year's South Dakota Festival of Books will be celebrated Sept. 24-27.
Our state's annual book festival combines some of Badger's favorite things — writers, readers and the fresh Black Hills air. It's a special weekend in which local writers, readers and thinkers gather together to discuss and reflect from a regional point of view. This is already the 13th annual festival. The event has been alternating between Deadwood and Sioux Falls. Both are wonderful sites, but the northern Black Hills are especially tantalizing as the aspen and birch change color.
Badger Clark, South Dakota's first poet laureate, had a special connection to Deadwood. He moved there in 1898 with his parents when he was 15 years old. His father, a Methodist minister, hoped the altitude would benefit Mrs. Clark's tuberculosis. Deadwood was then a wild frontier town. But it was also an exciting place, rich with culture and home to a variety of people with interesting life stories. Clark attended school, loved to read and came to love nature. He was also able to spend time on his uncle's Wyoming ranch, the beginning of his cowboy career.
Unfortunately the mountain air did not revive his mother's health and she passed away shortly after they arrived. Three years later, the Rev. Clark remarried Rachel Anna Morris. She was a drama teacher from Iowa, and also a poet and magazine writer. No doubt her presence greatly shaped Clark's life as a writer and thinker.
Clark graduated from Deadwood High School in 1902 and found himself at a crossroads. He eventually enrolled at Dakota Wesleyan University for one year. Then, either for adventure or money, he signed up to help with a colonizing effort in Cuba following the Spanish-American war. He was employed on a plantation that bred razorback hogs and he worked as a ranch hand and stevedore. He ended up in jail after his boss shot another plantation owner. A scrapbook of Clark's Cuban adventures can be seen at the DWU library. While in the Cuban prison his imagination was sparked by the personalities of fellow prisoners. You'll find some of Clark's earliest poems in that Cuban scrapbook.
He continued his cowboy adventure near the Mexican border, where he took up drawing and started playing guitar. He began to write in earnest; inspired by the many people he met passing through the border country. In 1910 he returned to the Black Hills, first living in Hot Springs to take care of his aging parents. After they died, he moved to Custer State Park where he lived in the Badger Hole, a log cabin, until he died in 1957.
Clark was named South Dakota's poet laureate in 1939, an honor he held for life. Someone once said that Clark's talent was his ability to "tie the West to the Universe." That's a good way to describe what the book festival attendees and presenters do each year when they gather in September. We hope to see you there.