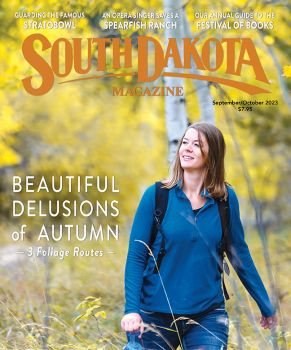 Subscriptions to South Dakota Magazine make great gifts!
Subscribe today — 1 year (6 issues) is just $29!

A Booster and a Rogue
Feb 25, 2014
February is Black History Month. Every Tuesday this month, we'll introduce you to black pioneers and leaders who helped shape South Dakota. In our final installment, we feature Tom Douglas, a Yankton businessman and Dakota promoter.
Every August, Yankton's Riverboat Days parade slowly progresses down Douglas Avenue, a main thoroughfare named for a man who so loved living here that he traveled throughout the Midwest encouraging others to come.
For years, many African-American families in South Dakota credited Tom Douglas with bringing them to a place where he claimed they would find "freedom like you've never seen anywhere." Douglas was by all accounts intelligent, athletic and enthusiastic about South Dakota. He had been born into slavery and had two owners who had given him two names — Tom Douglas and Christopher Columbus Yancy — which he seems to have used interchangeably throughout his life. One of Douglas's owners had been a lawyer who believed his slaves should know how to read and write. Those skills put Douglas on the path to become a successful businessman when he arrived in Yankton.
Douglas operated a restaurant downtown at the corner of Second and Douglas, though he dabbled in several enterprises that ran afoul of the law, including illegal drinking and gambling. In an attempt to skirt the law, he leased a portion of an island in the Missouri River in 1891, where he believed no taxing government held jurisdiction, and built a small restaurant, gymnasium and saloon. The federal government soon shuttered Douglas's venture.
Sketchy though his business dealings may have been, they were profitable. Douglas used that money to help other African-Americans escape from the segregation of the South. He invested in several pieces of land around Yankton and built small cabins that he offered rent-free to blacks that he encountered during his recruiting tours, which started around 1904. "He traveled to speaking engagements in a spring wagon pulled by single long-suffering horse," wrote Betti Van Epps Taylor in Forgotten Lives, her chronicle of South Dakota's black history. "A charismatic speaker, he could wax eloquent about the endless wonders and opportunities of eastern South Dakota."
Because of Douglas's efforts, Yankton was soon home to the territory's largest black population. It included the Blakey family, featured in this series two weeks ago. Brothers Isaac and Henry Blakey accepted Douglas's offer of a cabin while they sought work around Yankton. They soon landed jobs on a farm owned by Emil and John Frick. The Blakeys later said they were unsure about South Dakota until they received their first paychecks and were astounded to see they were paid the same amount as the white laborers.
Douglas was also a skilled boxer and wrestler, providing lessons and training to young men in town. He also had an inventive streak. A patent filed in the U.S. Patent Office on Feb. 5, 1901 lists Christopher C. Yancy, of Yankton, as the inventor of a coin-controlled muscle-tester, similar to those found at carnivals.
His death notice, which appeared in South Dakota newspapers in May 1916, called him "probably the best known colored man in South Dakota," though today very little information about him can be found, even in his beloved hometown along the Missouri River. But Yanktonians should remember the pioneer rogue every time they travel the busy street that bears his name.