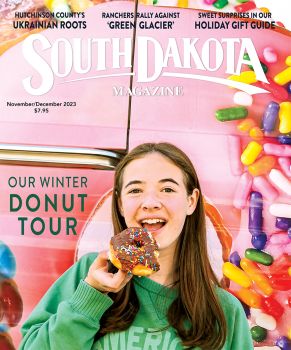 Subscriptions to South Dakota Magazine make great gifts!
Subscribe today — 1 year (6 issues) is just $29!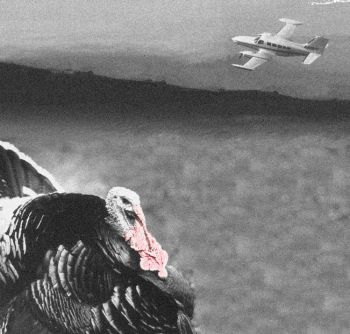 Too Long in the South Dakota Sun
Nov 23, 2016
By Katie Hunhoff
Humor is tricky. Stories we find hilarious don't always resonate with South Dakota Magazine readers. But we've had good luck with a regular feature we call "Too Long in the Sun," maybe because it's mostly stories submitted by our readers.
In fact, it's such a hit that it has survived for 100 issues, dating back to 1999. Let's celebrate the birthday with a few favorites.
One of our most popular "Too Longs" was by Terry Williams on the Gettysburg turkey giveaway in the 1940s. The town's business group heard of a popular promotion in another state where turkeys were given away from an airplane flying over town. So the Gettysburg businessmen bought six live Easter turkeys and arranged for a pilot to fly over Main Street at an advertised time. But when volunteers in the plane tossed the turkeys out, they didn't fly or even float. They dropped like rocks. One hit the bank roof and five splatted on the pavement. Nobody was hurt but one lady was drenched in blood and turkey parts. The confused businessmen contacted the community that had successfully pulled off the turkey promotion.
"You don't drop turkeys!" was the answer. "You drop ping pong balls and whoever catches the ball gets a turkey!"
We've learned that our best "Too Longs" are a bit zany, but as true stories of life in South Dakota they help to show who we are as South Dakotans (the Gettysburg turkey incident notwithstanding). One of my favorites in that regard was an excerpt from an autobiography by Allen "Jack" Kleinsasser titled Dakota Jack. Kleinsasser worked for decades with the Rapid City water department. One of his jobs was to collect from delinquent customers. Art's Cafe in Rapid City was a regular stop on his list of late payers. Strangely enough, Art was always happy to see him and would immediately write a check for the bill and offer him coffee.
Kleinsasser couldn't figure out why Art wouldn't just pay the bill on time, and he finally asked. Art's answer? "Back in the '30s, when times were hard and there were a lot of people unemployed, my mother forgot to pay a utility bill and this guy came to collect or shut off service. The collector told her 'thank you' and said without people not paying on time, he wouldn't have a job." From then on, Art's mother never paid a bill on time, viewing it not as an act of rebellion but as job creation. Art was simply following his mother's philosophy. "Besides," Art told Kleinsasser, "I like to visit with you once in a while."
Kleinsasser noticed that Art was generous with the needy folks of Rapid City, often serving free hamburgers and fries, and a glass of Kleinsasser's city water.
Other memorable "Too Longs" have recalled Claremont baseball champ Bill Prunty playing dead after being hit by a wild pitch and rodeo star Casey Tibbs proving his skeptics wrong at the twilight of his career. Then there was the veterinarian at the Sioux Falls stockyards who was asked how long pigs could live.
"I know some pigs that have now lived for 27 years," he said. "I vaccinated them and the farmer told me he'd pay me when he sold them. That was 27 years ago."