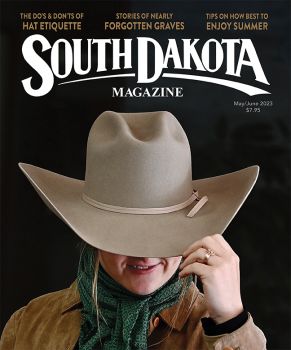 Subscriptions to South Dakota Magazine make great gifts!
Subscribe today — 1 year (6 issues) is just $29!

That's No Lye
Dec 6, 2018
By Fran Hill
Last month, I ate lutefisk for the first time. I ate cod that had been dried, soaked in lye, rehydrated, rinsed, and then boiled and served with melted butter. At Summit's 80th Lutefisk Supper, I filled my plate with mashed potatoes, gravy, corn, coleslaw, cranberries, lefse spread with butter and sprinkled with sugar, and a large gelatinous pile of lutefisk drenched in butter. I had seconds. And thirds. Dare I say that I liked it?
It's no secret that I have been a devoted sushi fan for many years, but somehow my exposure to the Norwegian delicacy of lutefisk had been non-existent. My friendship with Laura Johnson Andrews, South Dakota Magazine's Departments Editor, pretty much made this a sacrilege. Laura's blood pumps with melted butter and Jell-o-like cod. Her adoration piqued my interest, and I am thankful to report that she shared my first lutefisk adventure with me. It won't be our last.
While Laura and I have Summit's Lutefisk Supper penciled in for next year (and are taking suggestions for other community and church dinners to check out), it is safe to say that lutefisk isn't something that I will make at home. I will leave that to the professionals.
At home, I will stick with Torsk. This cod dish has been a favorite from the menu of an area steakhouse for many years. Creating it at home is not nearly as labor intensive as removing lye from lutefisk. Torsk is flaky and has none of the sometimes off-putting gelatinous texture. Traditionally, Torsk is seasoned with paprika, but my husband prefers the seasoning that the steakhouse uses in their preparation. It adds a kick to the mild flavor of the fish.
Torsk may not have the history, tradition, or aroma of lutefisk, but it is an excellent simple dinner to tide me over until Laura and I head out for our next lutefisk adventure.
---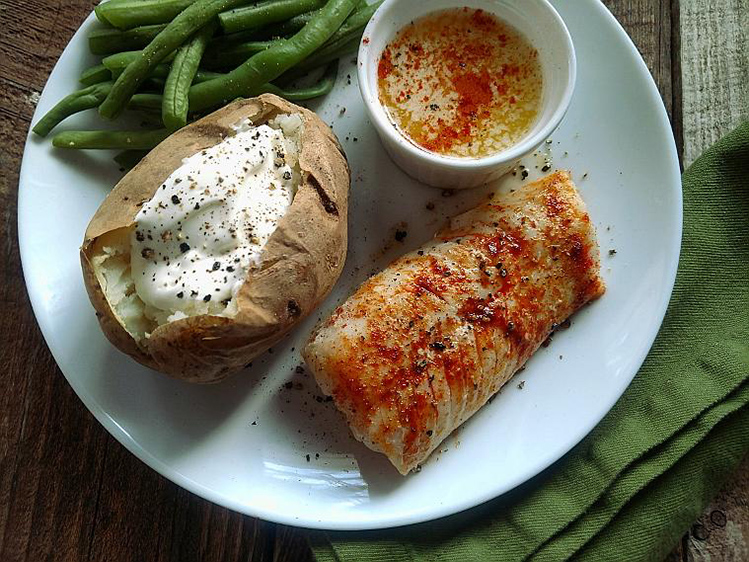 Don't like the idea of fish soaked in lye or the sometimes gelatinous texture of lutefisk? Flaky torsk is a delicious substitute.
Torsk
6 FROZEN cod fillets (This is not a mistake. This preparation is from frozen. Do not defrost.)
6 cups water
2-3 tablespoons honey
2 tablespoons salt
1 1/2 cups butter, melted
paprika or steak seasoning
Preheat broiler and brush a baking sheet with some of the melted butter.
Dissolve the honey and salt in a cup of hot water. Arrange the FROZEN fish in a large saucepan and pour the water mixture over the fillets. Add the additional 5 cups of water (make sure the fish is covered; add additional water, if necessary). Bring to a boil over medium heat. Boil for 5 minutes. Fish should be soft, but not yet flaky.
Remove the fillets from the water, and blot with paper toweling to remove excess water. Arrange in a single layer on a baking sheet and brush each fillet with roughly 1 tablespoon each of melted butter. Season with paprika or steak seasoning.
Broil for approximately 8-10 minutes, or until the fillets are golden and flaky. Serve with the remaining melted butter for dipping. (Serves 6)
Fran Hill has been blogging about food at On My Plate since October of 2006. She, her husband and their three dogs ranch near Colome.