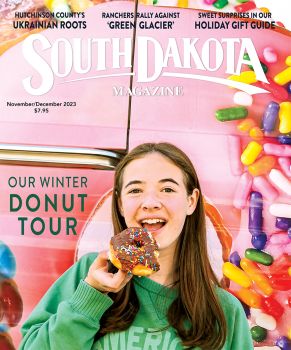 Subscriptions to South Dakota Magazine make great gifts!
Subscribe today — 1 year (6 issues) is just $29!

Traveling Pine Ridge Today
By Bernie Hunhoff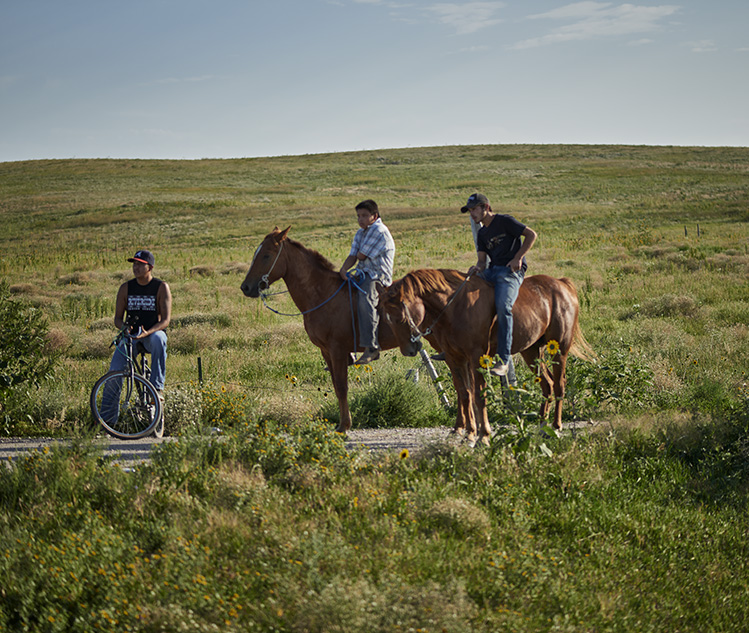 Horseback riding remains a common form of transportation on the Pine Ridge Reservation. Photo by Jerry Grier.
Nowhere in South Dakota is history more raw and alive as on the Pine Ridge. Black Elk's log cabin still stands on a hillside near Manderson. Lakota artists bring their paintings and carvings to the Red Cloud Heritage Center, a missionary outpost of old red brick architecture built by Jesuits a dozen years before the great massacre of 1890.
The Wounded Knee gravesite is perhaps the most solemn place in the American West; beneath the cemetery hill, Emerson Elk and his extended family market their crafts and try to explain that opening and never-ending chapter in South Dakota's history.
Yet, despite the abundance of culture and history on Pine Ridge, many South Dakotans are hesitant to visit. The news media seldom reports on the reservation unless there's a murder, suicide, crime, government corruption, racial issue or poverty study. So is it safe to travel the region?
As executive director of the Pine Ridge Chamber of Commerce for the last 14 years, Ivan Sorbel has answered that question many times. "Wherever you go in the world, you need to use common sense," he says. "You wouldn't go to Chicago and walk down dark alleys at night or drive around in the projects. But if you are mindful of where you're at, you'll find that people are the same everywhere."
Sorbel likes to tell the story of an elderly couple who visited the Badlands and inquired about driving south through the Pine Ridge. "Someone advised them that they should not do so because it's not safe," he says. "This guy and his wife decided to go anyway. They came through Interior, and a tire blew out on their car. So they were stuck along the road when a Native American fellow pulled up in his pickup truck. He helped them change their tire and got them on their way, and when they got to the Chamber of Commerce they couldn't wait to tell me what happened."
Belva Matthews runs a busy coffee shop called Higher Ground in Pine Ridge.
Sorbel says stories like that happen throughout rural America, and that's his point; the reservation is no different. "We're rural America, a place where country folks are more apt to stop and help you than city folks." He also explains that all of the modern safeguards are available on the Pine Ridge: tribal police, EMTs, cell phone service, park rangers and search and rescue teams.
You can't really know South Dakota without exploring the Pine Ridge. Encompassing 11,000 square miles, it is roughly the same size as the state of Connecticut. Landscapes are so pristine that it takes little effort to imagine the past. So much remains unchanged, the prairie or the architecture or the people, from the 19th century when the Lakota suffered a major tear in their universe.
Black Elk was injured in the massacre. Many years later, he wrote that he "could still see the butchered women and children lying heaped and scattered all along the crooked gulch as plain as when I saw them with eyes still young. A peoples' dream ended there. It was a beautiful dream."
By the numbers, the Pine Ridge remains a distressed place 125 years later, arguably the poorest in America. Unemployment is 80 percent. Most people earn only a few thousand dollars a year. Cancer, suicide, alcoholism and heart disease rates are well above the U.S. average. Diabetes and tuberculosis are eight times higher.
More than a third of the Pine Ridge's 40,000 people are under age 35, partly because the youth stay home but also because the average life expectancy is just 48 for men and 52 for women. Seventy percent of teens drop out of school.
"We are a very depressed people," acknowledges Brad Piper, 25, who works in a Pine Ridge coffee shop called Higher Ground. "We don't always have enough to look forward to. We go to Rapid City on weekends because it feels livelier, we feel younger there. But when we are back here we feel old."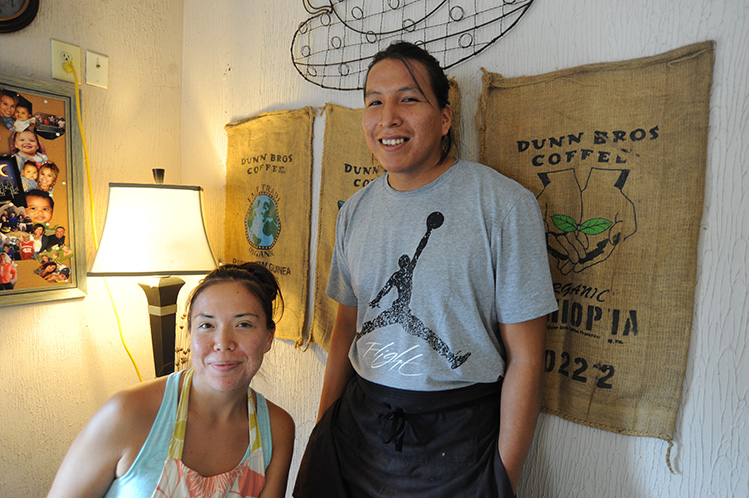 Brad Piper and his wife, Stephanie, help run Higher Ground with Piper's mother, Belva Matthews.
However, cultural isolation hasn't resulted in an exodus of youth. The median age of the 40,000 residents of the Pine Ridge is just 20.6 years. Some of the youth are determined to challenge the cycles of poverty. "It will take a lot of hard work to change things but we're trying," Piper says. He and his wife, Stephanie, cleaned out a storage garage near the coffee shop and started a fitness center where young people lift weights and exercise. "We have some high school athletes with so much talent, but not everybody has learned a work ethic to keep going off-season. Once the season is done, they're done. We're trying to show them how to make it a lifestyle."
Piper is lucky to have an entrepreneurial mentor — his mother, Belva Matthews, who started Higher Ground a dozen years ago because she wanted her hometown to have a gathering place like shops she saw as a student in St. Paul, Minn.
"She's a whirlwind," says Piper. "She constantly keeps this place running. It's a place where people feel safe, one place where they can forget they're in Pine Ridge."
He is intrigued with customers who come from afar because they've read or heard about the Lakota and their history. "We get German people who like to trade coins, and a man from Switzerland was here who grew up in Italy. People from China come. You hardly feel isolated, at least not here at the coffee shop."
That's true wherever a traveler is likely to go, whether it's Big Bat's Convenience store, just down the highway from Higher Ground, or Red Cloud Heritage Center, west of town. Drive another half-hour west and you'll arrive at the tribe's Prairie Winds Casino, where gamblers play blackjack or sit at one of the 250 glittering slot machines. The casino is open 24 hours a day, and now has a restaurant and hotel — all providing paying jobs in a county where the average per capita income is less than $7,000.
Highway 18, which runs east-west along the southern edge of the Pine Ridge, is often the only road that visitors travel. That's unfortunate because the prettiest scenery and much of the history — and the future — of the reservation lies north of Highway 18 along back roads and small towns.
Here are 10 travel tips gleaned from traveling the reservation. It's far from an inclusive list, so explore for yourself.
---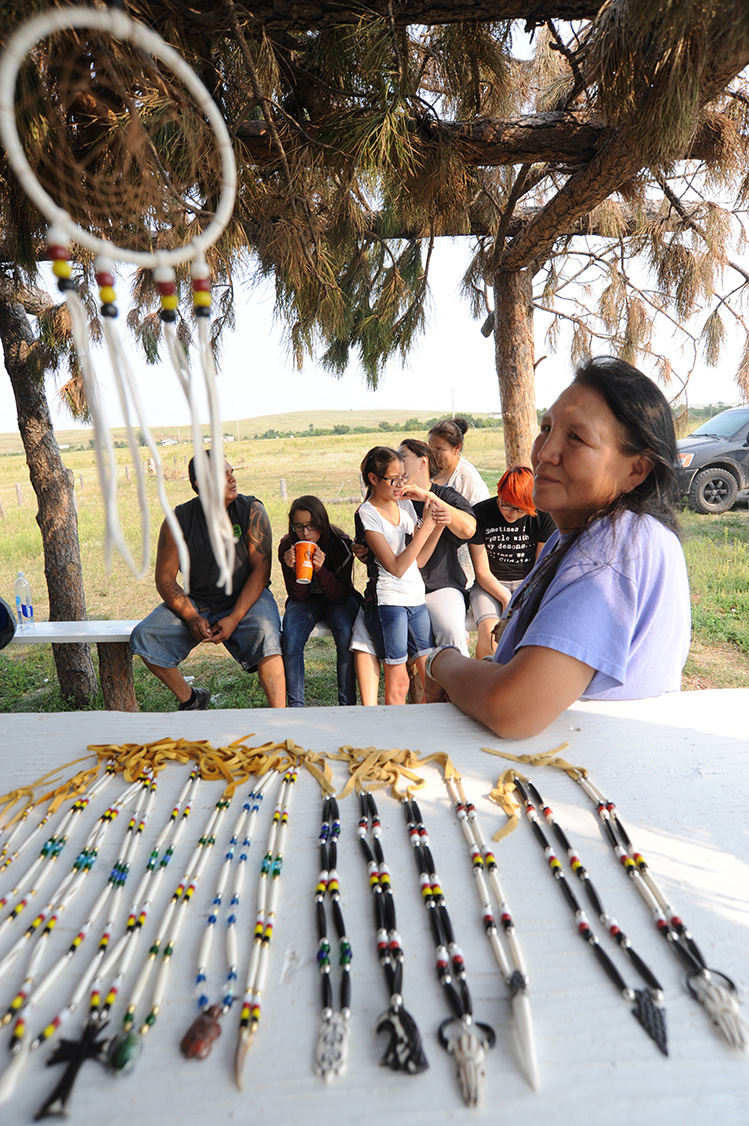 Jerilyn Elk and three generations of the Elk family operate a gift shop below the cemetery at Wounded Knee.
Wounded Knee Cemetery
There is no museum or visitor's center; only the mass grave of the massacre victims high on a lonely hill. However, on summer days the Elk family operates an arts and crafts bazaar below the hill by Highway 27. They make and sell dream catchers, tomahawks, beaded bracelets and necklaces — and they patiently tell and retell the history to interested visitors. They also share clippings, photos and papers of the massacre, including a four-page listing of the men, women and children who were killed at the massacre.
Yellow Bear Canyon
Pristine prairie, forest and river valley scenes are everywhere on the Pine Ridge, but Yellow Bear Canyon between the towns of Allen and Kyle is a favorite of many locals and travelers. Trout can be caught at Yellow Bear Dam, along with largemouth bass.
Sheep Mountain Table
Badlands National Park lies on the north edge of the Pine Ridge. The White River Visitor's Center offers information and exhibits on the ancient landscape. Sheep Mountain Table is a little-known gem. Motorists can drive to the top of Sheep Mountain on a dirt path that was carved by homesteader Mary Hynes and her children in the 1920s. Atop the table, you'll be as far removed from civilization as you're likely to get in the Dakotas.
Singing Horse Trading Post
Roswitha "Rosie" Freier, a native of Frankfurt, Germany, runs a bed & breakfast and gift shop. She also sells beads and other art supplies to local artists, and features their work in the store alongside $5 slingshots from China. "When we tell people where they're made, they usually put them back," she laughs. Freier also gives trail rides on her herd of gentle horses, and arranges stargazing excursions, hikes and tours.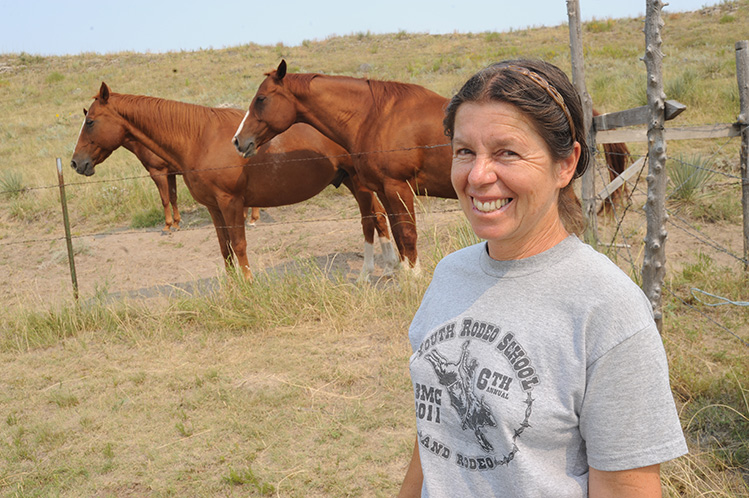 Roswitha "Rosie" Freier, a native of Germany, offers horseback riding and other tours at Singing Horse Trading Post near the Badlands.
Fishing the Dams
Local anglers catch catfish in the White River, but the best Pine Ridge fishing is found at four dams built for irrigation in the 1930s. Irrigation didn't work in the arid soil, but the dams have become popular recreation areas. The tribe stocks the waters with largemouth bass. The four include Kyle Dam, Yellow Bear Dam, White Clay Dam (south of Pine Ridge) and Oglala Dam, the largest and the only one with walleye. Tribal fishing licenses are required, but they are affordable; a five-day family pass is $20.
White River Visitors Center
The National Park Service exhibits and videos tell the history of the Badlands with a Lakota perspective, including the story of The Stronghold, a nearby mountain table where Native Americans fled after the 1890 massacre. An artist-in-residence program is held throughout the summer. Located on Highway 27 in the north-central region of the reservation.
Pine Ridge Chamber of Commerce
Cultural displays, animal exhibits, art, a veterans' tribute and children's section have all been developed in the Chamber building, which is 7 miles west of Kyle along Highway 2.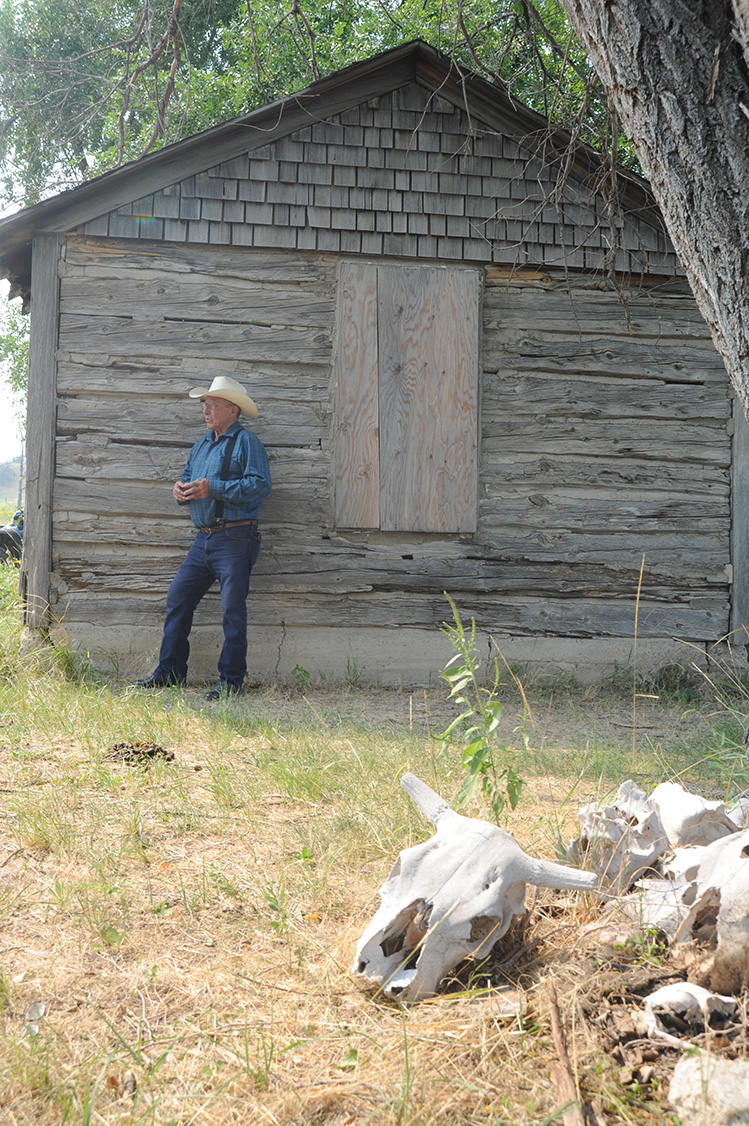 Chuck O'Rourke and his family keep watch over Black Elk's cabin near Manderson.
Oglala Lakota College
Tribal colleges have led major changes in reservations across South Dakota. OLC, located across the street from the Pine Ridge Chamber of Commerce, welcomes visitors to a cultural center with an audio-video tour of the Lakota in the 19th century, ending with the events that culminated at Wounded Knee in December of 1890.
Red Cloud Heritage Center
The highly respected Native American arts gallery includes a historic collection and gift shop. Housed in a 19th century Jesuit mission, it is part of a lively complex that also includes a Catholic church, Red Cloud Cemetery and Red Cloud School, where students have an 88 percent graduation rate and usually head for college or other educational training.
Hunting the Prairie
Pheasants have expanded their range into the Pine Ridge country. Other game includes mule and whitetail deer, antelope, buffalo, elk, turkey and various varmints. Tribal licenses and guides are required for all hunts.
Editor's Note: This story is revised from the November/December 2015 issue of South Dakota Magazine, which also included a series of stories commemorating the 125th anniversary of the Wounded Knee Massacre. To order a copy or to subscribe, call (800) 456-5117. For more information on the Pine Ridge Indian Reservation, contact the Pine Ridge Chamber of Commerce near Kyle at (605) 455-2685.