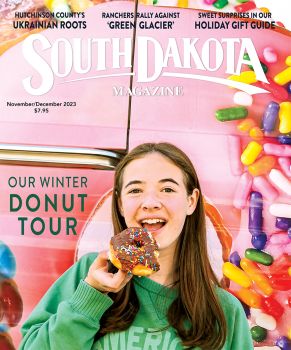 Subscriptions to South Dakota Magazine make great gifts!
Subscribe today — 1 year (6 issues) is just $29!

Upon Further Exploration
May 31, 2016
By John Andrews
It's been a few years since my last trip through Walworth County. I was working on a travel piece for the magazine that followed state Highway 20 from the Minnesota border to the Missouri River, so that made Walworth County the last leg on that journey. I ate lunch at Dakota Maid in Selby, where the influence of a Civil War veteran is still present. I caught glimpses of the vast Lake Oahe, which has turned Akaska and Mobridge into walleye fishing hubs. Altogether, I probably spent five or six hours in Walworth County, not nearly enough time to see all the points of interest. The place probably got short shrift in our magazine story, so here's a chance delve a little deeper.
Walworth County was created in 1873 and organized in 1883. It is named after Walworth County, Wisconsin, the home of Civil War captain Newton Kingman, who moved his family to this as-yet unnamed portion of Dakota Territory in 1883. The Kingmans had arrived in Aberdeen and toured Edmunds, Faulk and Potter counties. When they arrived in the area that would become Walworth, Kingman knew he was home. Charmed by the prairie grass, he called it "Blue Blanket Valley."
John Hirning, Newton Kingman's great-grandson, and Justin Randall, the Eagle Scout who put a replica cannon on the Walworth County courthouse lawn.
He learned from railroad officials that the tracks would probably cross through the center of the county, and he figured the county seat would eventually be moved to a railroad city. He chose his homestead near the town site of Bangor, and guessed properly. Farming never quite satisfied him, so he became a country postmaster, realtor, banker and published a newspaper called The Blue Blanket. He became a leading citizen of the small town of Bangor, which took county seat status from Scranton in 1884.
But in 1900, when Milwaukee Railroad officials selected a route 4 miles north of Bangor for their east-west track, that town's demise was only a matter of time. The courthouse records and the plums that go with them were moved to Selby in 1908, and an entire block was reserved for a courthouse. Soon after the records were moved, some citizens went to Forest City and dug cedar saplings, which they planted on the borders of the square. By 1911, a beautiful brick and block courthouse was completed and it still serves as Walworth County's seat of government. You can still see the cedar trees that surround the courthouse, but a marker south of Selby is all that remains of Bangor.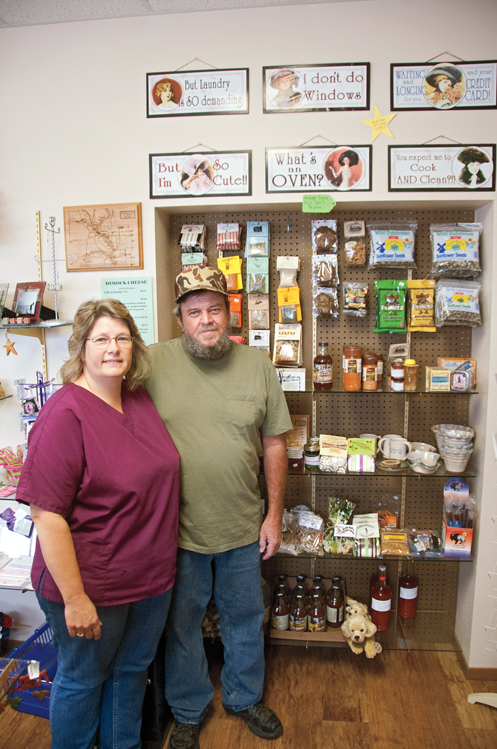 Rodney and Sheryl Stroh operate Dakota Maid in Selby, a restaurant and gift shop.
You'll also find a cannon outside the courthouse. Even though Kingman was 63 years old when Selby was founded, he moved his real estate and abstract company north and became one of the new town's leaders. To show his patriotism, he placed two Civil War cannons on the courthouse square, but they were melted during World War II. In 2000, Justin Randall raised money to buy a replica cannon and placed it atop a brick and concrete pedestal. The project earned him an Eagle Scout badge.
I met Justin's mother, Sheryl Stroh, at her restaurant and gift shop called Dakota Maid, which stands along Highway 83. Stroh and her husband Rodney operated a gift shop in the basement of their home but soon ran out of space. They bought the town's old Amoco service station along the highway in 2009 and created Dakota Maid, which became a full service restaurant, coffee shop and gift store featuring South Dakota made products.
If I'd had more time, I would have visited Lake Hiddenwood, about 5 miles northeast of Selby. The area had been home to Indian tribes for centuries, and was along a well-traveled path between Big Stone Lake and the Rocky Mountains that early explorers frequented. Walworth County settlers decided on the name Hiddenwood because they could spot no trees on the prairie until they reached the crest of hills overlooking the valley.
In the 1920s, locals decided to boost the recreational appeal of the area by adding a lake. The state Game, Fish and Parks Department began construction on an earthen dam along Hiddenwood Creek in May 1926, one of the first such structures ever undertaken in South Dakota. Skeptics doubted the technique, but toward the end of the month when work on the dam was nearly finished, several inches of rain fell in the area. The next morning, Lake Hiddenwood was full.
Even bigger water forms the western boundary of Walworth County. Lake Oahe is the creation of the Missouri River dams built in the 1950s and 1960s. The fourth-largest man-made reservoir in the United States, Lake Oahe stretches 230 miles from Pierre to Bismarck in North Dakota. It covers 374,000 acres and has 2,250 miles of shoreline. Its deep waters are full of fish, making towns like Akaska and Mobridge prime destinations for anglers from all over the world.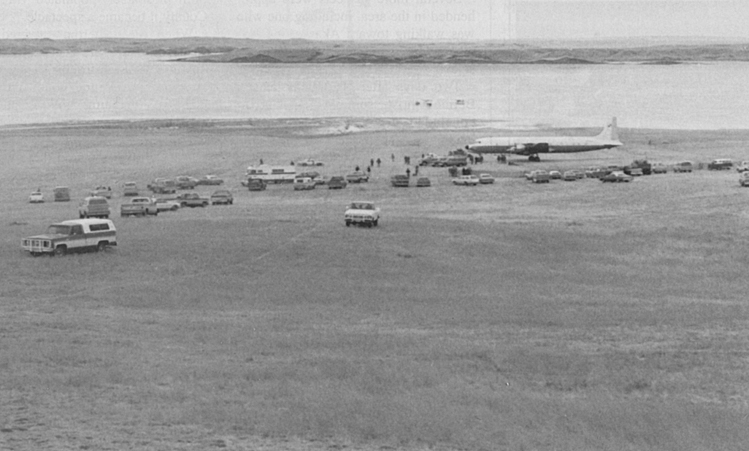 The Walworth County pot plane, where it landed in January of 1980.
In fact, a group of locals was ice fishing on the Missouri in January of 1980 when perhaps the biggest event ever to occur in Walworth County transpired. As the men watched their poles, a DC-7 came low over their heads, made a bank and landed about 3 miles north along Swan Creek. They assumed it was an emergency landing, so they drove in the direction of the dust cloud to see how they could help.
Two men were standing by the door of the plane when they arrived. The steps were up. One of the men said they had engine trouble. The other mumbled something about being low on fuel.
The men grew suspicious, but they became certain something was amiss when they found another pickup with Ohio license plates parked in the rough pasture. At the same time, neighbors who also saw the plane land called law enforcement. Soon, the county sheriff and highway patrolmen were at the scene, but the men from the airplane had already fled on foot.
When the lawmen boarded the plane, they discovered 396 bales of marijuana stacked window-high from the front to the rear. The drug runners had piloted them north from Colombia, and intended to land in that Walworth County field long after dark. But strong southerly breezes brought them to South Dakota far ahead of schedule.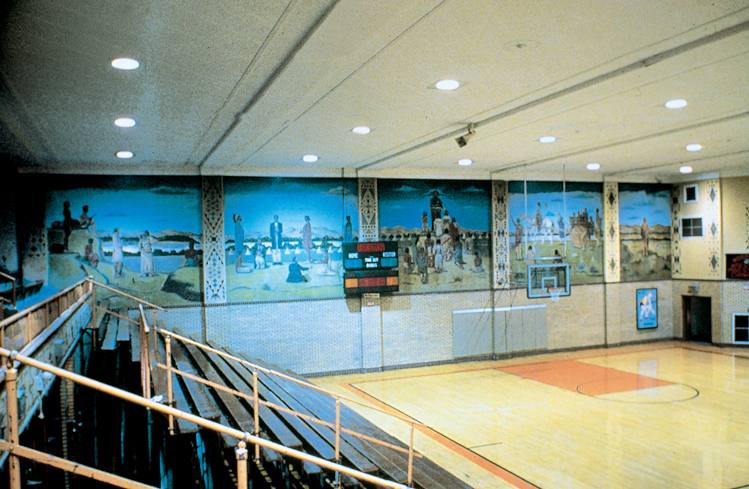 Oscar Howe's murals inside Scherr-Howe Arena in Mobridge.
The men were eventually apprehended and received hefty fines and jail sentences. The cargo — 25,000 pounds of marijuana worth $18 million — was hauled to Pierre and burned.
Mobridge, Walworth County's other river city, serves as a jumping off point for travelers heading West River. The Standing Rock Reservation lies just across the Missouri, so Lakota culture is evident around town, especially inside the Scherr-Howe Arena. That's where Yanktonai artist Oscar Howe painted 10 large murals during World War II.
Howe was a member of the South Dakota Artist Project, a Depression-era work effort that provided jobs in the arts. He was assigned to decorate the new auditorium in Mobridge in 1942. A week into the project Howe received orders to report for military duty. With help from locals, his induction was delayed two weeks. Working 20 hours a day, Howe completed his project before leaving to serve 3 1/2 years with the Army during World War II. In 2014, a team of artists guided a $100,000 restoration project to help save the murals.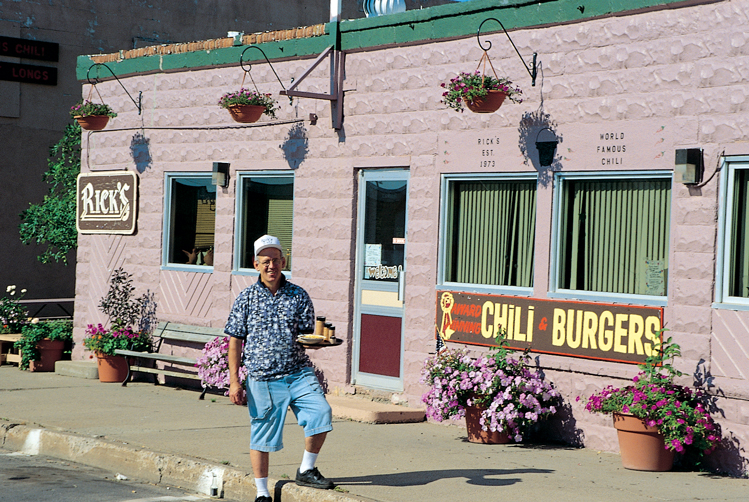 Chili champ Rick Christman outside his purple cafe in Mobridge.
There are other interesting spots in Mobridge. Rick's Café is a purple, stucco building where Rick Christman has developed an award-winning chili recipe and his own line of seasoning called Rick's Salt. The Mobridge State Bank, built in 1907, is one of only seven metal clad bank buildings known to exist in the United States. Mobridge native Ben Thompson bought the building for $250 and painstakingly restored it to its original condition. And the Klein Museum is home to several interesting collections, including a set of toy farm equipment from Calvin Anderson.
Anderson grew up on a farm near Glenham. He played with scrap metal as a boy, pretending the pieces were tractors. When he grew up, married and began to farm, he started collecting farm toys. The Andersons later retired to Mobridge, and Anderson brought his collection along. He built a special cabin on the museum grounds in which to house his vast collection.
My travels through Walworth County took me to places along the main highways. Smaller towns like Java and Lowry lie off the beaten path. It's all the more reason to go back and devote more hours to exploring Walworth County.
Editor's Note: This is the 25th installment in an ongoing series featuring South Dakota's 66 counties. Click here for previous articles.