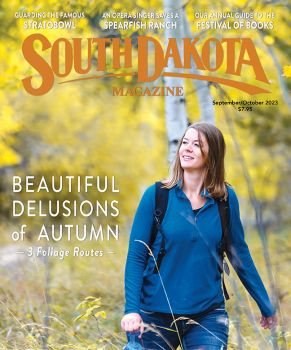 Subscriptions to South Dakota Magazine make great gifts!
Subscribe today — 1 year (6 issues) is just $29!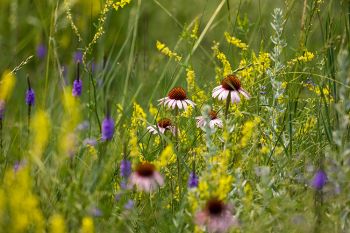 West River Odyssey
Jul 25, 2018
By Christian Begeman
My immediate family gathered this month in Mobridge. It was the first time we'd all been together in several years. From a family of six on the farm to a family of more than 20 scattered from Sioux Falls to California seems pretty amazing, but probably not that uncommon. I grew up roughly 60 miles west and 10 miles south of Mobridge near the Moreau River breaks. I don't get back in that country near enough, but this was a good year to go. The rain has been abundant and the wildflowers profuse. Last season was dry, and it seems all that stunted life from a year ago has burst into its fullest measure this time around.
Before heading home, I took a notable detour to the beautiful Matthews Opera House in Spearfish to take in my friend Eliza Blue's new album release concert. From there I wandered down through Custer State Park, where I reveled in a summer thunderstorm (until a few large hailstones caused me to flee south into Wind Cave National Park). Then I spent a day and a half in the Badlands, where I had good luck watching burrowing owls take care of their young. After that, I made my way north to the rolling hills of Perkins and Corson counties.
The real surprise of the journey was an impromptu photo tour just northwest of Bison. Sion Hanson is a friend of a friend who asked if I'd be willing to take some photos of him and some of the landmarks on his land for his grandkids. Hanson turned 60 this year and wants to pass along a little bit of the family history and legacy in images as well as stories. I didn't quite know what to expect as we pulled out of the yard and headed north along a wheat field through the tall grass. Then we crested the hill.
As I mentioned, I grew up near the rugged and rolling hills of the Moreau River breaks along the Dewey and Ziebach county line, so I have a near-and-dear appreciation for the long draws and short grass hills topped with gravel, yucca and Black Samson flowers (also known as wild purple coneflower). What now opened before us was the south edge of the Grand River breaks, and it was breathtaking. The short grass prairie had taller than normal grass waving in the wind, and it was ablaze with wildflowers, particularly Black Samson. One of the long draws before us was where Hanson's grandfather and grandmother had a sod house built back when the land opened for settlement in the early 1900s. Hanson's granddad was a freight wagon driver who hauled goods to Bison from the nearest train depot to the north. Each trip was a two-day journey. We saw parts of the old road from Bison to Hettinger that survived as a fire trail, at least into the 1970s. It is mostly overgrown now.
It was an unexpected and enjoyable trip to some of our state's truly wide-open and rugged country. To hear the history of it as well as help a new friend keep the stories and places alive for his family was quite an honor. Those couple hours of looking over the land, reminiscing and simply enjoying the view was a good reminder of how strong the family unit was and still is in these open prairies of our great state. It was only fitting that my next few days of vacation were spent making new memories with my own family at the end of this summer's West River odyssey.
Christian Begeman grew up in Isabel and now lives in Sioux Falls. When he's not working at Midcontinent Communications he is often on the road photographing South Dakota's prettiest spots. Follow Begeman on his blog.