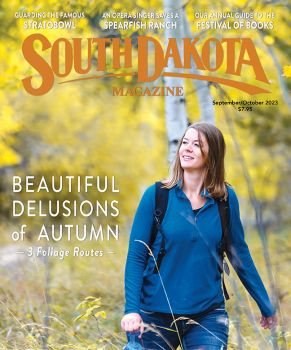 Subscriptions to South Dakota Magazine make great gifts!
Subscribe today — 1 year (6 issues) is just $29!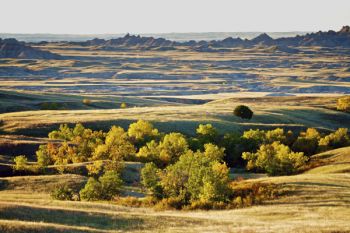 West River's Fleeting Fall Color
Oct 7, 2013
The colors of fall can be elusive in a predominantly prairie state like South Dakota. Our national forests are mostly made up of evergreens. Autumn winds can blow relentlessly through the rest of the trees as winter's long arm begins to creep down from the north. Wild weather swings, as evidenced by this past week's brutal snowstorm on the west side of the state and tornados clipping the southeast corner, don't help autumn's splendor stay around for long either. To me, fall's fleeting nature is what makes photographing its beauty so fun and fulfilling.
This year, I was able to break away from the normal routine to spend a few days searching for autumn color. From Sunday, September 29 through Tuesday, October 1, I made a wide circle through some of the prettiest country our state has to offer west of the Missouri. Last year, I discovered that the valleys and draws of the Sage Creek Wilderness offer some unique fall scenes with the Badlands as a backdrop. I got there maybe a week before the trees were in prime color, however, I found that the early morning sun backlighting the leaves brought out fall's tints anyway.
My next stop was the northern Black Hills. This area contains two of the most scenic canyons in the state and they are particularly beautiful when dressed in autumn's hues. Vanocker Canyon Road between Nemo and Sturgis is a short but beautiful drive. Spearfish Canyon's scenic highway is also a must see during this season. At Savoy, you can get out and hike to waterfalls, alongside creeks and nature areas that will take your breath away.
Around a hundred miles north and a little east of the Black Hills is the furthest eastward unit of Custer National Forest. This narrow band of trees grace the tops and sides of the Slim Buttes of Harding County. I have seen and been impressed with other photographers' images of that area taken in the fall and always wanted to go and experience it myself. I'm glad I did, as there are views and vistas that had me saying "wow" out loud. I'm not kidding. After only allowing for an afternoon's visit, I was kicking myself for not allowing the whole weekend to explore. It's that good.
On the way to the Slim Buttes, I stopped off in the Hoover, SD area to shoot the South Fork of the Moreau River. I grew up near the Moreau River proper around 90 miles to the east of Hoover so this landscape of cut banks, cottonwoods and cattle made me feel like I was home again. After spending the night in Isabel, I made an early morning stop at Little Moreau Recreation Area south of Timber Lake. This relatively wide and scenic creek valley in the middle of the prairie is thick with trees. I had never witnessed what it looked like in the fall before this year. The early morning view was not a disappointment. I had arrived a few days before prime colors, but the scene was still impressive. As a photographer, I'd rather catch fall early than late as the remaining greens can contrast nicely with the autumn's yellow, oranges and reds.
My last stop was the Foster Bay Road of extreme northwest Stanley County. Here the draws were in full autumn splendor. I found bright reds in the thickets and rich oranges and yellows along the hillsides. I spent a good hour, just taking it all in. A lot of miles lay behind me, but viewing these last bursts of color before the dull and muted hues of winter arrive was truly a blessing. Yes, fall is fleeting in our great state, which means catching it even for just for a moment is a treasure. It's a good life lesson, really. Life is fleeting, but there are moments and experiences that stand out in vivid color. Enjoy those moments, take pictures and treasure the views!

Christian Begeman grew up in Isabel and now lives in Sioux Falls. When he's not working at Midcontinent Communications he is often on the road photographing our prettiest spots around the state. Follow Begeman on his blog.