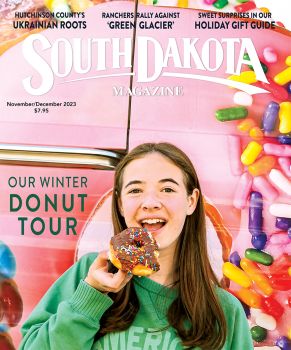 Subscriptions to South Dakota Magazine make great gifts!
Subscribe today — 1 year (6 issues) is just $29!

Howes Corner
By Bernie Hunhoff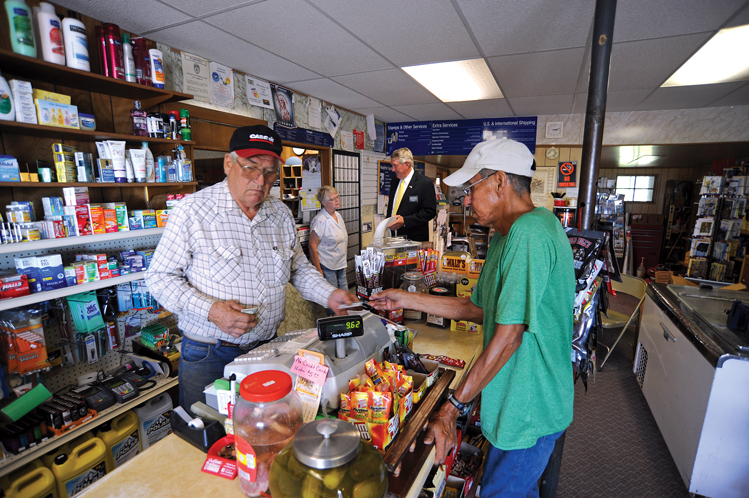 Bob Hansen (left) has run the till at Howes Corner for 38 years.
"I've never worked a day in my life," claims Bob Hansen, proprietor along with his wife, Lavonne, of Howes Corner Store for the past 38 years. "I like everything about this store. I love the ranch life and all my customers. I like everything I do."
Still, all good things end. The Hansens sold the Meade County store this summer to Dawn Simons, a longtime employee, and her husband, Russell. Hansen says he'll miss the customers, morning cribbage games with neighbors over coffee and the camaraderie that goes with running the only public establishment for many miles in any direction.
Hansen's good humor has survived intact. "He never forgets a story," complains Lavonne with a good-natured grin. For example, he likes to tell about the only time he was rude. He says a lady customer abhorred the idea of visiting his store's modern, clean outhouse on a particularly warm summer's day. She was traveling north on Highway 73 to Highway 212. While cooling her ample self by opening the beverage cooler doors, she asked Hansen what it would take for her to get to 212.
"Go on a diet," he quipped.
Such has been the atmosphere at Howes Corner. Everyone was welcome, and at risk of some good-natured ribbing.
Interesting characters come and go at the intersection. The Longbrake family, famous in rodeo circles, lives nearby along the Cheyenne River. Native American residents of the little town of Bridger also stop for supplies, including folks like Wally Little Moon, a middle-aged long distance runner who just returned from a marathon on the East Coast. State Representative Dean Wink ranches just north of the store. Currently the Speaker of the House of Representatives, Wink's one of the state's most powerful lawmakers but he's been as vulnerable to Hansen's joking as the stranger who was looking for 212.
The store was built near the juncture of Meade, Ziebach, Haakon and Pennington counties in 1931 by Ed McQuirk. According to local legend, he won federal approval for a post office in 1940 after suggesting it might be named after W.W. Howes, a South Dakota politician who was serving as First Assistant Postmaster General under President Franklin Roosevelt.
A series of people ran the store until 1977, when the Hansens moved there and stayed — swelling the population to four thanks to their small children, Angela and Todd. Lavonne sold stamps for 13 cents that first year, and she's been postmistress of zip code 57798 ever since, filling 50 post office boxes in the store and almost as many for rural delivery.
Though Howes' post office was one of the last to be established in South Dakota, it has outlasted many in larger places because of a regulation that post offices cannot be closed if they are more than 25 miles from the next facility. Howes Corner is barely that far east of White Owl and south of Faith, which is located along Highway 212. But don't ask how to get there if you can't take a joke.
Editor's Note: This story is revised from the September/October 2015 issue of South Dakota Magazine. To order a copy or to subscribe, call (800) 456-5117.