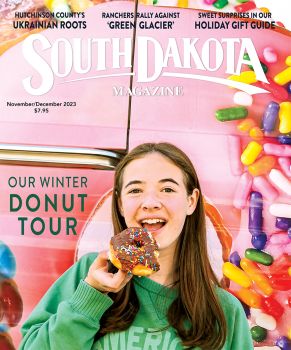 Subscriptions to South Dakota Magazine make great gifts!
Subscribe today — 1 year (6 issues) is just $29!

Russia's Gift to the Dakotas?
Oct 7, 2014
I can only imagine what Nick Gale will be referring to when he delivers his paper, "Russia's Gift to the Dakotas," at the 22nd annual West River History Conference set for Oct. 16-18 in Rapid City.
I would guess that it will refer to the Germans-from-Russia emigration to the Dakotas. But I could be mistaken. That's the great thing about the West River History Conference. It sets the record straight on all sorts of topics that we don't spend enough time thinking about.
About three dozen people will also make presentations, and the titles are intriguing. Christin Paige-Diers of Sturgis will speak of the "History of the Sturgis Motorcycle Rally." Gary Enright of Custer will talk on Timber Lake history. Gene Gade will reflect on the buffalo jumps and Carol Evan Saunders will remember Valentine McGillycuddy.
I've only been to a few of the 22 conferences. I won't make this year's because of too many conflicts back home. But if I could be anywhere in the world on Oct. 16-18, I'd choose the Hilton Garden Inn in Rapid City for the history conference.
It's quite an event for anyone who enjoys life in South Dakota.