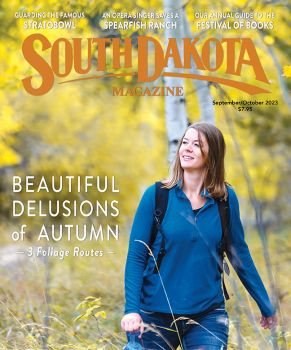 Subscriptions to South Dakota Magazine make great gifts!
Subscribe today — 1 year (6 issues) is just $29!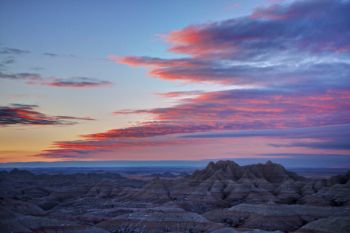 West River Photo Hunt
Dec 4, 2013
By Christian Begeman


I'm not a normal hunter. Not like my older brother, anyway. He's a true hunter. Growing up in West River country, I rode along with him from time to time as a spotter. I suppose I provided companionship and moral support but almost always left the shooting to him, mostly because he was pretty good with a gun. He once spotted and shot a deer from our back sidewalk without the taking the time to put shoes on. I believe he still has the antlers, mounted with the title "In Stocking Feet" printed below.
It wasn't like I was a bad shot. I spent countless hours honing my skills with my .22 caliber rifle in the prairie dog town a few miles west of our house. That said, I never was much good with a shotgun. I'd rather hunt grouse with my .22. One fall afternoon I did just that with my hunter brother. He made fun of me, like any good older brother would. I silenced him as I took a grouse of the haystack on the hill with my first shot. One shot, one grouse. Of course I didn't hit anything else all day, but my point had been made.
Nowadays I shoot wildlife with different gear. A 100-400mm lens is my weapon of choice and instead of antlers on the wall I hope to get photos that might be wall-worthy. This means I don't get to enjoy deer jerky or mom's wonderful pheasant gravy over mashed potatoes, but I get to enjoy all the other fun of hunting in South Dakota, and maybe more. Many of the animals that are off limits to hunters are not off limits to me. I also get to shoot after the sun goes down and in our national and state parks. Our park systems offer some of the best wildlife viewing opportunities this side of Yellowstone.
I took some time off before Thanksgiving to do a little hunting my way before seeing the folks for the holiday. I started off in the Badlands. That first morning I was up and out before the sun and on my way. Most wildlife is active early in the morning or in the last hours of the day, so I knew if I was going to be able to see anything interesting I needed to be out early. A nice bonus to doing this is being able to witness the beauty of daybreak. Let me tell you, dawn over the Badlands is truly a sight to behold. The following morning as I was driving through Custer State Park in search of early morning elk, I was treated to another colorful sunrise. I eventually found elk in Wind Cave National Park, but they were quite shy and I didn't get as close as I wanted. No matter, the thrill of just seeing them on the horizon line while hearing the coyotes howl across the canyons made the day a winner anyway.
I've been thinking about how many animals I saw on this two and a half day excursion and it really is quite a list. From a fleeting glimpse of a bobcat to a bald eagle in the middle of a prairie dog town as well as bighorns at sunset and a lone coyote howling in the late afternoon, it was a thrill for both the eyes and camera lens. I didn't get to photograph all I saw, but thrill of being out there and hunting for the "shot" was enough. In fact, it's enough to keep me going back year after year. Now if I can just get some deer jerky from my brother…

Christian Begeman grew up in Isabel and now lives in Sioux Falls. When he's not working at Midcontinent Communications he is often on the road photographing our prettiest spots around the state. Follow Begeman on his blog.