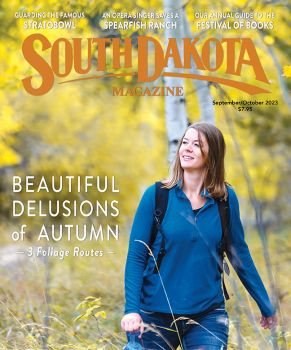 Subscriptions to South Dakota Magazine make great gifts!
Subscribe today — 1 year (6 issues) is just $29!

Wild and Civilized
Watching wild horses cavort on the Cheyenne Indian Reservation is like attending a soccer game without knowing the rules: the running and kicking is obvious enough but the intricacies are a mystery. However, walk among a herd of ever-moving mustangs with Karen Sussman and you soon learn that you are surrounded by a neighing civilization.
"A horse population has an education system comparable to Harvard," says Sussman, 63, who looks more like a college professor than a guardian of a nearly lost western civilization. "Every herd has its own culture, developed from living together over eons of time if they haven't been gathered and removed and disrupted."
Sadly, however, disruption has been the history of wild horses in the American West. More than 60 million buffalo and two million wild horses lived here in 1850. The buffalo were nearly brought to extinction before being confined to parks and pastures; today just 23,000 wild horses and 4,000 burros still inhabit 29 million acres of public lands in 10 states west of South Dakota.
Cattle competed for grass with the horses, so some ranchers favored the cows by poisoning water holes and shooting stallions as a method of birth control. Some horses were caught and domesticated, but once the gasoline engine became popular the slaughter intensified. Pet food companies found the mustangs a cheap source of dog meat and oil companies wanted space for roads, pipelines and oil wells.
A federal law was passed in 1971 to protect the surviving herds but Sussman believes the public needs to understand the horses to preserve them. As president of the non-profit International Society for the Protection of Mustangs and Burros — the organization credited with building support for the 1971 law — she devotes her days and nights to safeguarding not just the genetic diversity of the species but also to studying and documenting the noble mustang culture.
The daughter of a Pennsylvania coalman, Sussman grew up riding horses bareback in the woods and hill country. She became active with ISPMB in 1983 when she was married and raising a family in Arizona. Six years later she became the group's third president. She moved ISPMB to South Dakota 12 years ago, hoping to find a home for wild horses that were being removed from the White Sands Missile Range in New Mexico.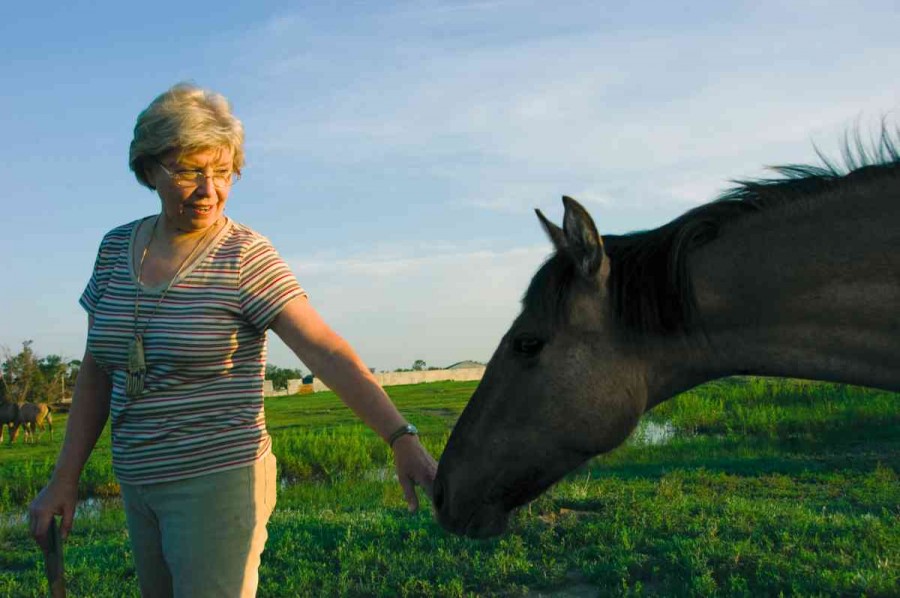 When Karen Sussman walks through the Gila herd of Spanish horses, some eventually ease toward her for a nuzzle. Sussman names every horse on the ranch.
She kept the horses in the badlands of the Pine Ridge Reservation for two years before buying a patch of grass on the Cheyenne Indian Reservation about 90 miles northwest of Pierre. Now she has 350 horses on 680 acres of flat prairie grass with a few shade trees and waterholes. It is lush compared to the environments the horses knew in New Mexico and Arizona.
She hopes to add more land, and she wants to find homes for some horses. However, she's not running an adoption agency; the ISPMB's goal is to preserve the bloodlines and culture, and to research behaviors.
The horses on the Cheyenne Reservation comprise four herds — including the White Sands horses, a group from the Virginia Missile Ranch in Nevada, a wild herd that has descended from cavalry horses, and a herd descended from horses that came to America with the 16th century Spanish conquistadors. She won't admit to favorites, but the Spanish horses (also known as the Gila herd because they came from Gila Bend, Ariz.) surely have a hold on her heart.
Sussman walks among them daily, observing behaviors as unobtrusive as a raised ear and as bold as a kicking frenzy. However, there is much less excitement and trouble when a band of wild horses has an intact social structure. "We believe that the Bureau of Land Management doesn't understand the horses from a behavioral standpoint," she says. "They too often destroy the band structure by separating the stallions. Then the younger studs take over and all of a sudden chaos can take over. The bachelor stallions will chase the mares, attack them and rape them. It's the harem stallion who creates the order and respect among the band of horses, and no one challenges him until he becomes too old or too sick to perform his role."
When a harem stallion is in control, fillies are not bred until they are four years old. The mares are respected and the bachelor stallions are well behaved. "But you can imagine what happens in a community if younger and younger stallions are allowed to take over who don't have the education that is usually taught to them over a period of years by the harem stallions. It's like having a school run not by professors but by sixth and seventh graders." Fertility rates could jump from 10 to 12 percent to over 30 percent under such circumstances.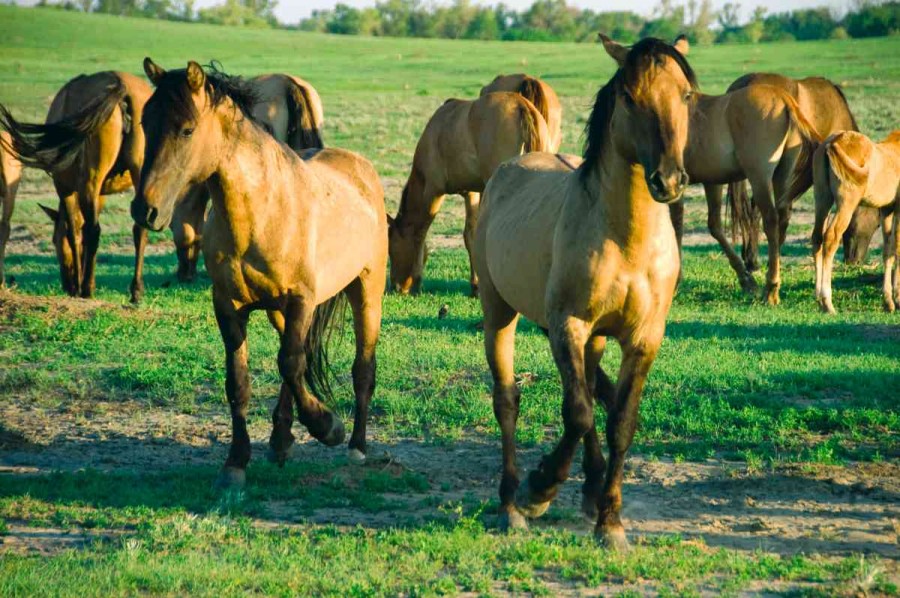 Wild horses develop a social structure, says Sussman, but "you can imagine what happens in a community of younger and younger horses are allowed to take over." Unfortunately, herds are often separated by humans.
Sussman has better opportunities to observe wild horse behavior than almost anyone because she is with the horses daily — sometimes well past dark. And on a few occasions they've gone home to the ranch house with her. Last spring when a days-old colt suffered frostbite in a late snowstorm, she warmed him in the kitchen overnight.
Her respect for wild horses grows as she learns more about their culture. "The other day I watched a filly from one band in the herd," she says. "She was in heat and the bachelors were all around her but she was just a year old so the harem stallion should have protected her, but he wasn't paying attention so another stallion chased her down the hill to the water where a second harem stallion chased her right back over to her own harem. I was amazed to see two harem stallions tell her to go back to her own harem."
She recently watched with a National Geographic photographer as a young bachelor stallion teased his harem stallion. "We saw him sneak in behind the harem with his head down. You could tell he was sneaking. Then he went after the harem stallion from the rear, bit him and raced off. It was interesting to see how well they can plot their actions."
Sussman chronicles such antics in notebooks kept in the office of her small house, which sits near Highway 212 west of Lantry. A few barns and well-built corrals stretch around the yards, patrolled by several farm cats and dogs. She also keeps genetic records of every horse that arrives on the ranch with assistance from Dr. Gus Cothran, a Texas A&M equine geneticist. "We determine their DNA and their blood type to establish their historical background. It also tells us how much diversity is in the herd and the minimum number we need to maintain that genetic diversity."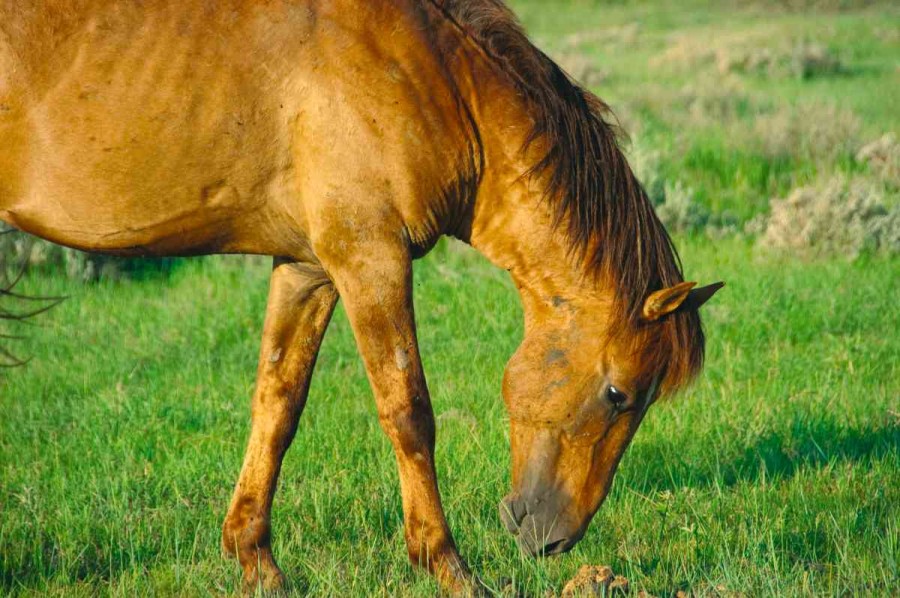 How mankind treats the wild horse reveals much about our civility.
Contrary to what one might think, wild horses suffer from less inbreeding than their domesticated cousins. "We think they have more genetic diversity than any breed of domestic horses," Sussman says.
Caring for the horses seems like a dream for horse-lovers but it comes with a price tag for Sussman, who is constantly raising funds to pay feed bills and the other costs of running the ISPMB. The divorced mother of two adult daughters works part-time as a nurse at an Eagle Butte hospital. She invites interested people across the country to sponsor a horse for $150 or a herd for $5,000, but she's betting the long-term success of ISPMB on tourism, and that's why she's in South Dakota.
"This is a state that believes in tourism and invests in it," she says. "The state just brought a van full of tour guide operators here to see the horses and we're hoping we will become a place where people come to see and learn about the horses. Through tourism we can educate people and they will be able to see horse herds that would not exist if they were not here in South Dakota."
She welcomes visitors to stop for an hour or a day, and — being a horse trader — says the admission fee is negotiable. Visitors can safely walk among the wild mustangs. A curious mare will sometimes follow a stranger, easing closer and closer until she is near enough to nuzzle an outstretched hand. More often, a band of horses comes within a few yards to inspect a newcomer before racing off across the Dewey County prairie.
Sussman and the horses have been actively engaged in West River life. They participate in animal-assisted therapy programs for adults in a tribal alcoholism program. She has also provided horses and educational assistance to Sitting Bull School and Takini School. "Our goal is to have a lot of different activities that involve people and horses," she says. Tribal elders help her with ideas.
Despite the many hours she spends with humans, Sussman isn't likely to forget that her true mission is to protect and preserve wild horses. In fact, she sees tourism, education and horse stewardship as compatible goals. "Internationally, people love wild horses. I think it's because horses are connected to every human soul all over the world. There are very few peoples who haven't had horses in the development of their civilization."
For centuries the horses served mankind. Now the shoe is on the other foot. The wild horse needs man. Sussman says she's learning more about the horses as she works to save them, but the success or failure of her effort will also tell us a lot about ourselves.
---
Welcome, Wild Ones
Karen Sussman's ISPMB conservation program at Lantry gives wild horses a second refuge in western South Dakota. Since 1988, author and naturalist Dayton Hyde has run the Black Hills Wild Horse Sanctuary south of Hot Springs where 350 unwanted horses live on 11,000 beautiful acres of pine forest, sandstone buttes and wild canyons. It is one of the largest herds of wild horses in the world.
Both the Lantry and Hot Springs programs rely greatly on visitors for income. Call (605) 964-6866 for more information on the ISPMB at Lantry. The Black Hills sanctuary can be reached at (605) 745-5955.
Editor's Note: This story is revised from the May/June 2009 issue of South Dakota Magazine. To order a copy or to subscribe, call 800-456-5117.