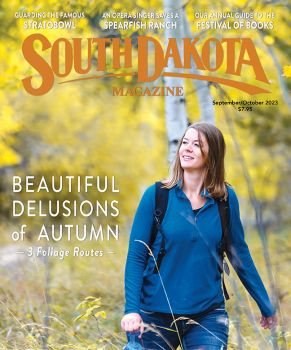 Subscriptions to South Dakota Magazine make great gifts!
Subscribe today — 1 year (6 issues) is just $29!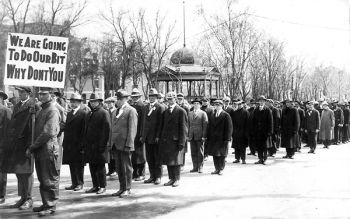 A World War I Primer
May 6, 2014
All of the men and women who served in World War I are gone, and the only people today who can tell their stories are the friends and family members who had the foresight to interview veterans of the Great War before it was too late. World War I was the focus of last month's Dakota Conference at Augustana College in Sioux Falls. Presenters told fascinating tales of South Dakotans who were on the front lines.
Marian Cramer is a Hamlin County historian known for her work at the Laura Ingalls Wilder homestead in De Smet. But in the 1970s, she interviewed a handful of World War I veterans from Bryant, De Smet and Willow Lake. One of her subjects was Fred Huizenga, whom Cramer found living in a car as an old man in Willow Lake. Huizenga was only 16 when the United States entered the war in 1917, so he was turned away when he tried to enlist. He spent time as a wrestler with a traveling carnival, but the next year he made his way into the Army. He became a military policeman, and after the war, as he escorted former prisoners back to Germany, he happened upon a man with a tiny black mustache speaking on a street corner. Adolf Hitler was then a leader in the National Socialist German Workers Party. "He seemed so dangerous," Huizenga remembered.
After Cramer's interview with Huizenga, the town of Willow Lake decided to take better care of their veteran. Leaders installed a bed and television inside the American Legion hall, where he lived during summers on furlough from the State Veterans Home in Hot Springs.
Albin Bergstrom was a farmer from De Smet. He trained as an infantryman at Camp Pike and served at Chateau Thierry. Bergstrom served on burial detail. He told Cramer that sometimes they fell behind, so they simply covered dead bodies with a light dusting of dirt and left one boot exposed so a follow-up detail would know they hadn't been properly buried yet.
Alvin Kangas of Lake Norden talked about his great uncle, Pfc. Arvid Tormanen, who served in France with the 30th Division, 118 Machine Gun Company. Tormanen was gassed at La Haie in October 1918, and his company was the first to attack the Hindenburg rail line. Before one particularly dangerous mission, Tormanen's platoon leader said, "I'll meet you in heaven, hell or Hoboken." Only five soldiers, including Tormanen, survived. He lived west of Lake Norden for the rest of his life.
Fred Christopherson was city editor of the Sioux Falls Press when he enlisted in February 1918. He trained as a bomber pilot, but the armistice was signed before he saw action. He saw great victory parades in London and overheard English women with two different perspectives on American involvement. "These Americans will be insufferable now," one said. "They'll think they won the war." A second woman seemed more appreciative. "Thank God for you Americans," she said. "You won the war."
Surely there are other stories like these that can be gleaned from letters and artifacts, probably tucked away inside trunks in an attic or basement. Since their authors are long gone, it's up to us to find them.