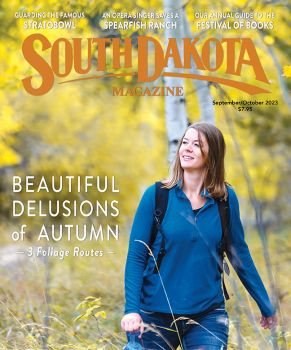 Subscriptions to South Dakota Magazine make great gifts!
Subscribe today — 1 year (6 issues) is just $29!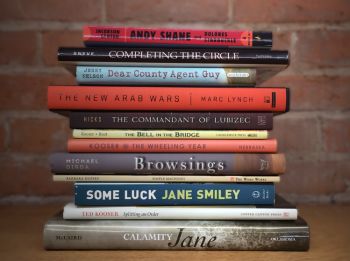 A New Autumn Tradition
Oct 20, 2016
By Katie Hunhoff
We love traditions at South Dakota Magazine, and autumn is full of them — holidays with family, visits to the pumpkin patch, hikes and drives to see the colors change. A few years ago, our magazine staff started our own fall tradition. Every September we all attend the South Dakota Festival of Books.
That event, started 14 years ago by the South Dakota Humanities Council, alternates from East River to West River. This year it was held in Brookings for the first time.
Nerds like us were attracted to the book festival from the start. We realize the words "book festival" may not excite a certain portion of the population, especially during football season. However, we guarantee that there is something for everyone. This year there were beer tastings, honey cooking demonstrations and discussions on a wide range of topics. These were among our favorites:
Bernie Hunhoff, our editor-at-large, was curious about a session debating the true story of Hugh Glass. "Perkins County never gets much attention, so I found it interesting that one of the best-attended sessions of the book festival was about something that happened there along the Grand River in 1823 — the confrontation between Hugh Glass and a grizzly bear," he says. "I doubt that many of the people in the room have ever seen the Grand River or been to Lemmon, the nearest town. But they were very interested in the places and the people, and I thought that said a lot about the sense of community in South Dakota."
Andrea Maibaum, our production manager, went to a "cooking with honey" presentation, where they used honey from hives near Brandt. "It was really interesting because there are so many different types of honey out there all based on what type of pollen is collected when the bees make the honey," she says. Festivalgoers also enjoyed tours of Adee Honey Farm near Bruce.
Publisher Heidi Marsh liked spending time in Brookings' amazing Children's Museum. "We enjoyed Chris Browne, illustrator of the popular comic strip Hagar the Horrible, as he sketched his childhood dogs and discussed growing up in a creative household," she says. "The presentation was great … but it was even better because just next door kids were finger painting and growling at a giant T. rex."
Rebecca Johnson, our special projects coordinator, was surprised to hear some great music. "I introduced two singer/songwriters — Brian Laidlaw, a poet and folk singer and Barry Louis Polisar, a children's author and performer whose song was played during the opening credits of the movie Juno. It was a real treat to meet them and see them play in such informal settings."
Our managing editor, John Andrews, grew up in Lake Norden, home of the South Dakota Amateur Baseball Hall of Fame, so I wasn't surprised he found a baseball session at the festival. "I enjoyed learning about the only South Dakotan to ever throw a no-hitter in Major League Baseball, and about how it was taken away," he told me. "I went to see Dirk Lammers, who wrote Baseball's No-Hit Wonders about all the no-hitters that have been thrown in Major League Baseball. The league officially recognizes 295 no-hitters, but there used to be 50 more."
In 1991, the Committee for Statistical Accuracy, chaired by then MLB Commissioner Fay Vincent, changed the official definition of a no-hitter, declaring it a game of nine innings or more that ends with no hits. That was bad news for South Dakota's own Jim "Death Valley" Scott. Lammers said the Deadwood native and pitcher for the Chicago White Sox had long been credited with no-hitting the Washington Senators on May 14, 1914. He threw nine hitless innings, but unfortunately his team couldn't score any runs. The game went 10 innings, and Scott gave up a leadoff single in the 10th and allowed one more hit before losing 1-0.
And that's how the book festival goes: those who attend are interested in learning more about our state and its people, either through books or, even better, by the conversations they have in the hallways between sessions. The book festival reminds me of what I like best about the state fair in Huron — but it's indoors and lacks the cotton candy and corn dogs. We'd love to see you at the book festival in Deadwood next September. Join our autumn tradition. It is the perfect complement to pumpkin pies and apple picking.