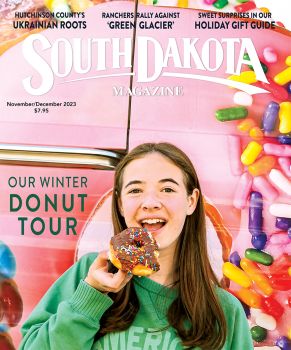 Subscriptions to South Dakota Magazine make great gifts!
Subscribe today — 1 year (6 issues) is just $29!

A Seed on Fertile Ground
By Otto Neuhaus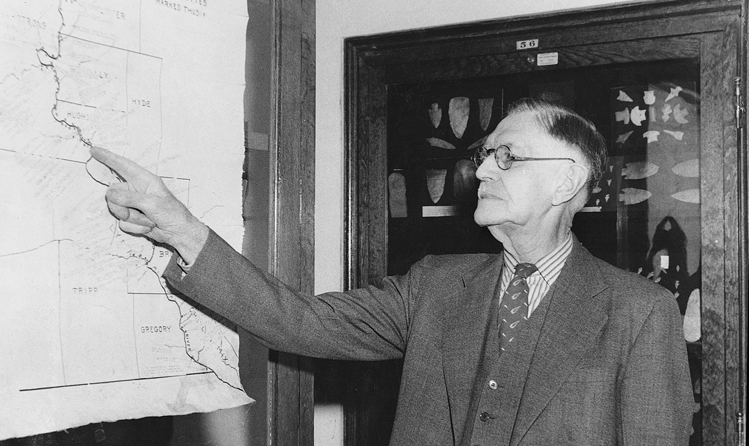 W.H. Over led the search for Arikara village sites along the Missouri River during summers from 1917 to1919.
How did a Perkins County homesteader with an eighth grade education develop a scientific career and become director of the University of South Dakota Museum?
It all began when young William Henry Over found an arrowhead in his father's field near Albion, Illinois, where he was born in 1866. Like the seeds his father planted in that field, the chipped scrap of stone would produce many crops in a lifetime of collecting and learning.
While other boys entertained themselves in more conventional ways, young Over began collecting insects, plants and artifacts. "When I was 15," he told a USD Volante reporter in 1942, "I exhibited my first archaeology items in a small showcase in my home in southern Illinois. It was then I knew my ambition was to direct a large museum."
As a young man, Over moved to Minnesota to engage in business. But he continued gathering artifacts, a collection he exhibited in 1901 at the American Exposition in Buffalo, New York. During these years he lectured locally on topics from potatoes to primitive man.
By 1908, Over was living in Deuel County. His interests had extended to fossils, and his growing expertise enabled him to recognize unknown snail and crab fossils, two of which were subsequently named after him: Pisidium overi and Dakotacancer overani. Soon, Over, his wife and their two sons moved west to homestead in Perkins County.
Over's occupation now was farming, but he never stopped collecting. In 1912, he published an article entitled "Notes from Northwest South Dakota" in the journal, Curio Collectors. He began to study natural history in Perkins County, ranging from freshwater shells and fossils to colossal triceratops bones. And he described artifacts left in Perkins County by the Arikara people.
The previous year, Over had written about the hard work of breaking rocks to obtain specimens of Sphenodiscus lenticularis. The essay came into the hands of University of South Dakota Dean E.C. Perisho, who also served as the state geologist. "This article was the means of getting me to Vermillion," Over said. The family moved to Vermillion in 1912, and Over became assistant curator of the USD Museum.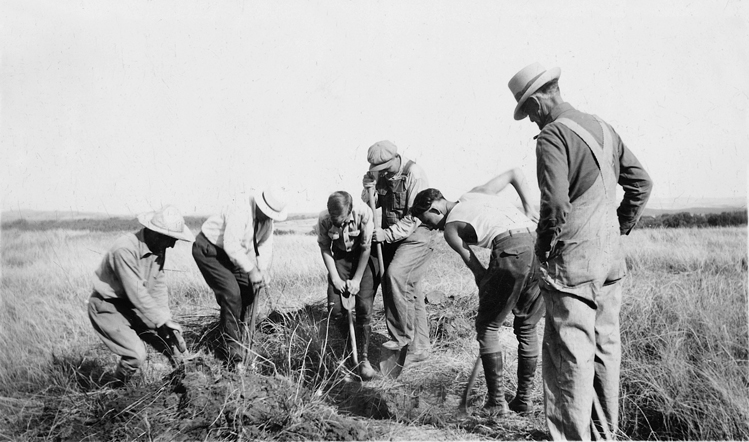 W.H. Over supervised a dig at the Arikara site near LeBeau in 1932. The village is now under Lake Oahe.
In his new position, Over became especially active in archaeology, developing his interest in the history and culture of the Native peoples of South Dakota. In 1907, he had given a talk in Clear Lake about the earliest South Dakotans, the Arikara, whom he described as semi-civilized people who used fire, made tools and pottery, and cultivated the soil, raising corn, squash, beans, pumpkins and tobacco, semi-sedentary people living a "quiet and peaceable life" in earth lodges in permanent villages.
From 1917 to 1919, Over and his associates spent two months of each summer searching for prehistoric villages along the Missouri River, finding 125 such sites. Over's article, "The Arikara Culture in South Dakota," provided the earliest understanding of these people. A 1931 Volante article said the USD Museum had the largest collection of Arikara artifacts in the United States, a collection that Over said, "put the Arikara Indians on the map." By 1934, he had concluded that their earth lodges, pottery, corn and other plants indicated the Arikara had originated in the Southwest.
Two years after joining the museum, Over began gathering live animals. Committed to attracting and educating young people, he obtained three live opossums, a snowy owl and some snakes, including a diamondback rattlesnake from Texas. In 1941, the Chicago Zoological Park bought all of Over's snakes from the university.
Throughout his long career, Over's interests continued to expand. His writings include Amphibians and Reptiles of South Dakota, Birds of South Dakota, Fishes of South Dakota, Mammals of South Dakota, Trees and Shrubs of South Dakota, Wild Flowers of South Dakota, Archaeology in South Dakota and the Life History of Sitting Bull. He left practically no sphere of knowledge about South Dakota untouched.
In 1936, the Board of Regents and the university recognized Over's accomplishments by granting him the honorary degree of doctor of science. After 35 years of service to the university, Over retired in 1948 at age 82. The following year the regents renamed the university museum the W.H. Over Museum.
William Henry Over died February 20, 1956, having provided an incredible amount of knowledge about South Dakota's natural and cultural history. The seed that fell on W.H. Over had truly multiplied.
Editor's Note: This story is revised from the May/June 2000 issue of South Dakota Magazine. To order a copy or to subscribe, call (800) 456-5117.