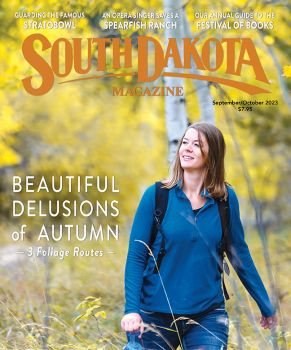 Subscriptions to South Dakota Magazine make great gifts!
Subscribe today — 1 year (6 issues) is just $29!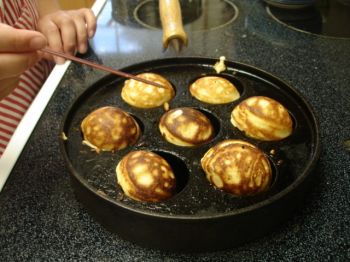 Viborg's Pancake Balls
Jun 21, 2012
"Æbleskiver? What's that? How do you spell it? How do you SAY it?" It's funny when you realize that something that you take for granted is completely unknown to most of the rest of the world. So it is with my beloved æbleskiver. Unless you're lucky enough to be of Danish descent or have been to Viborg's United Methodist Church for their popular Danish Days æbleskiver breakfast (to be held at 7 a.m. on July 21, 2012), you are probably not familiar with this, the best of all possible pancakes.
What's so special about pancakes, you ask? These are ball-shaped, thanks to a cast-iron pan with round indentations. The holes are liberally greased with butter or shortening, which helps prevent sticking, and the batter is turned once or twice with a knitting needle, chopstick or fork to create a spherical treat.
According to legend, the pancake of the Danes was invented by hungry Vikings. Raiding and pillaging worked up an appetite, so the Nordic warriors fried up pancakes on a war-battered shield — the closest thing to a pan they had handy. Believe that if you like, but the name means "apple slices," not "post-raiding snack." Long ago, the pancakes were served with an apple slice or dollop of applesauce inside, but today they're generally made without filling. In Denmark, they're served with a dusting of powdered sugar and a bit of jam. Around here, I've seen them topped with maple syrup, honey or cinnamon sugar.
In the old country, æbleskiver aren't for breakfast. They're reserved for Christmastime, which seems like a pity. This was the most special of breakfasts in my family, a treat of treats. I remember Mom working over the cast iron pan with her knitting needle, deftly turning the batter until the buttermilky balls were golden brown. My brothers and I wolfed down the 'skiver as fast as she could deliver them to the table, mashing them into the piles of cinnamon sugar on our plates. I'm not sure if Mom ever got to eat any, but I have no regrets over my youthful greed. Sorry for not being sorry, Ma.
There's plenty of æbleskiver recipes out there, but here's how my mother, a Viborg, South Dakota native, makes them. To get an idea of the process, view our æbleskiver-making photo gallery.
---
Æbleskiver
2 cups buttermilk
2 cups flour
3 eggs
1 teaspoon baking powder
1/2 teaspoon salt
1 teaspoon soda
2 teaspoons sugar
Beat egg yolks. Add sugar, salt and buttermilk, then flour and soda. Fold in stiffly beaten egg whites and baking powder. Place small amount of fat in a heated æbleskiver pan. Fill indentations about 2/3rds full. Turn the batter once or twice to create a more-or-less round ball, cooking until centers are done.