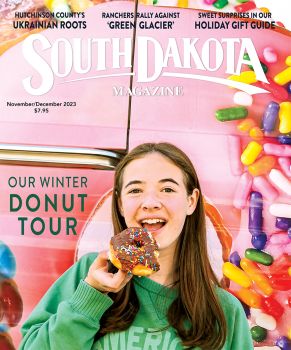 Subscriptions to South Dakota Magazine make great gifts!
Subscribe today — 1 year (6 issues) is just $29!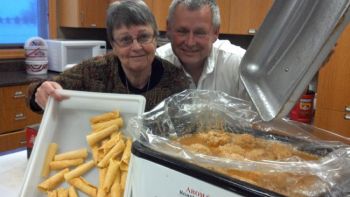 King of Klub
Mar 4, 2013
We've all heard of soup kitchens and spaghetti suppers. Feeds of lutefisk, Rocky Mountain oysters or wild game are not uncommon. But up in Milbank, folks feast on on a rarer delicacy — a Norwegian potato dumpling called klub.
It's an early winter tradition in Milbank, thanks to local body shop owner and former assistant fire chief Al Mathiason. Over the years, Mathiason's huge dumplings simmered in ham broth have raised funds for the local fire department and for youth groups at American Lutheran Church.
Mathiason learned to make klub at his mother's knee. She was German and Irish, but picked up the technique from her mother-in-law in order to please her full-blooded Norwegian husband. "He liked potato klub, lefse, lutefisk, all the goodies," says Al.
It's still a Mathiason family favorite, mixed up for family dinners and special visitors. Kathy Mathiason, Al's wife, says, "Our 90-year-old uncle George came from California. We offered to make him klub, so he was watching Al make dumplings and couldn't believe how much flour he was using. After he saw how well they stayed together, he said that must have been what his wife and sister did wrong — their dumplings always fell apart. Al told him not to mention that to the girls or he would never get dumplings from them again."
Like so many ethnic foods, klub has many names and many variations. Up in Pierpont, South Dakota, they call it kumla. Others call the spheres raspeballer or potetballer. You can use red or white potatoes — both have their advocates. The Mathiasons use white flour to make light dumplings; others prefer wheat or graham flour. "Traditional dumplings would have a chunk of meat hidden in the middle," Kathy explains. "It was probably the only meat you ate." One variation, blodklub, requires boiling the dumplings in — you guessed it — pig or beef blood.
Serving suggestions for klub also vary. Like most Scandinavian foods, it's good with butter. Some eat it with dark Karo syrup, and others fancy a slosh of ham juice. At the Milbank feeds, it's often served with ham, coleslaw, homemade bread and butter pickles, salads and desserts. But Kathy tells us, "a real klub eater doesn't eat any other sides — just dumplings." Klub leftovers are a special treat when sliced up and fried in butter.
Milbank's klub feed is usually held in November or December. If you don't want to wait, try Al's method below.
---

Klub for a Crowd
1/2 - 1 bone-in ham
20 lbs. potatoes
5 lbs. flour
Seasoning salt
Garlic salt
Pepper
Ham bouillon, optional
In a large kettle of water, cook a half or a whole ham. When the ham loosens from the bone, remove the meat and leave the broth behind, adding ham bouillon cubes to intensify the flavor, if desired.
Peel potatoes, then shred them in a food processor. Add flour to potatoes until the mixture holds together and reaches dumpling consistency. The exact amount of flour used will vary depending on the moisture in the potatoes. Season to taste with seasoning salt, garlic salt and pepper.
Form the dumplings into balls — anything between tennis ball and softball size is fine — then drop them in the hot ham broth. Cook the klub at a slow boil for about an hour. "They'll start to loosen and almost float when they're done," instructs Al.