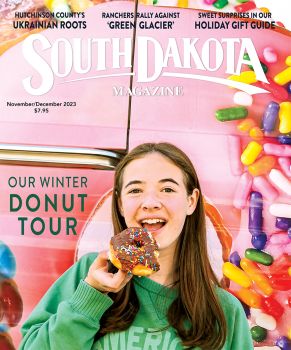 Subscriptions to South Dakota Magazine make great gifts!
Subscribe today — 1 year (6 issues) is just $29!

Farm-made at Lake Preston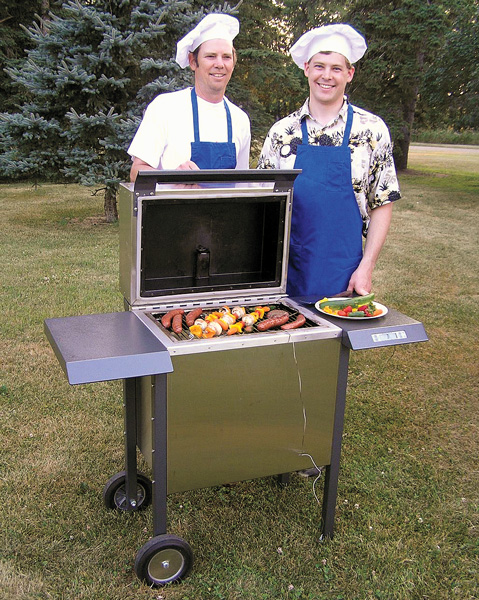 Lake Preston's inventive grill-making family includes Wally Sorenson (left) and his son, Adam.
Ever since he was a boy, Adam Sorenson of Lake Preston liked taking things apart and putting them back together. "I was always working on a project," he says. "I wanted to be an inventor." In high school, Sorenson designed a Jeopardy-like box with LED push-button cords for every contestant. He eventually sold his "Contestant Annunciator" to local high schools.
Like his father, Sorenson received a degree in electrical engineering from South Dakota State University. His love for electricity started at age 3. After seeing his father, Wally, use an extension cord he snuck upstairs and held the prongs while plugging it in the socket. The resulting electrical zing made an impression. "I've been fascinated with electricity ever since," Sorenson says. The jolt didn't diminish his thinking skills; he also completed degrees in computer science and engineering physics.
After graduation Sorenson worked for a start-up company in Arizona, but returned to SDSU to pursue his master's and a minor in business. "I realized to be successful I needed to be an entrepreneur — I needed to understand marketing as well as the technical side," he says. "It's hard to make a living as an inventor unless you can build a company around your product."
Since 2004 Sorenson has marketed and sold The Dakota Grill, a state-of-the-art electric barbecue grill he designed with his father. He attends 20 regional shows a year and has shipped grills as far away as Florida.
The stainless steel grills are built and assembled on the Sorenson farm with the entire family involved. Adam's mother does the bookkeeping, helps with shows, and devises recipes. His younger brother helps, too.
Over the years the Sorensons tried several types of grills, but never with satisfactory results. Eventually Adam and his father decided to design their own. "The grill evolved out of necessity," he says. "If we were working we didn't want to stop to eat — sometimes it would be two to three hours later. By then hamburgers or steaks had become charcoal or shoe leather."
While tinkering with a gas grill designed to use indirect heat, they discovered the principles that helped create the electric grill they sell today. "We learned that minimal air flow is the key to making meats tender and juicy," he says. "But decreasing the airflow on a gas grill may lead to singed eyebrows or worse."
There is no need to vigilantly watch meat being cooked on the grill, according to Sorenson. A computer program he wrote for the grill's digital control keeps meat at a constant temperature. Flare-ups are impossible and meats need not be flipped.
The Dakota Grill is completely smokeless, and can even be used indoors. "We grill in the house all the time," says Sorenson. It can double as a smoker, too, although he says it would need to be vented or used outside. Two inches of high-temperature insulation in the lid and body allow for use in any kind of weather down to 20 degrees below zero. "The insulation is a bonus for turkeys and roasts because they cook evenly," he says. "It's like a rotisserie without any moving parts."
Even in a meat-loving state like South Dakota — a bastion of beef and barbecue lovers — the price tag for a Dakota Grill might seem pricey. They cost from $1,200 to $2,100. The thriftiness comes in their energy efficiency (a meal grills for 5 to 10 cents worth of electricity) and in their durability. You aren't likely to see a Sorenson grill along the curb during spring cleanup week.
Editor's Note: This story is revised from the May/June 2010 issue of South Dakota Magazine. To order a copy or to subscribe, call (800) 456-5117.