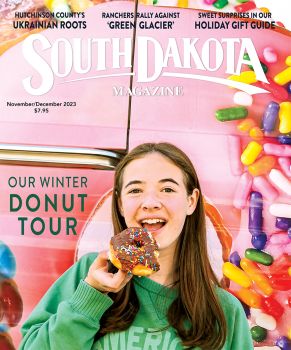 Subscriptions to South Dakota Magazine make great gifts!
Subscribe today — 1 year (6 issues) is just $29!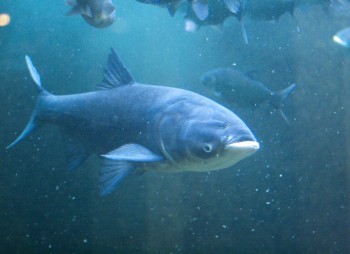 Can We Live With Asian Carp?
May 12, 2011
Asian carp are slowly invading South Dakota's rivers and streams. The invasive fish first appeared in the Missouri River below Gavins Point Dam in 2003. Now they are working their way up the Big Sioux, James and Vermillion rivers, and they could destroy the ecosystems of those waterways.

Asian carp are a threat both to South Dakota's native fish and fishermen. They quickly gobble up plankton and other food sources, leaving nothing for the walleyes, perch and other species. Carp also like to jump, and since they can grow so big (some 100 ponders have been reported) they are a danger to boaters, who can be struck and seriously injured.

Asian carp were brought to the United States largely because they are such voracious eaters. Catfish farmers introduced them into their ponds in the 1970s to eat algae. Flooding washed them into the Mississippi River, and they've been swimming north ever since.

Researchers in South Dakota are trying to determine how far Asian carp have swum. One was caught just south of Sioux Falls in the Big Sioux, but they still don't know if the fish will be able to survive long term in South Dakota rivers. Historically Asian carp haven't had to deal with strong springtime flows driven by snowmelt, and lower summertime flows.

If you're fishing on the Missouri at Yankton, you can do your part to help by not transporting bait above the dam. So far the concrete wall has kept the carp from the northern reaches of the Missouri, but young carp resemble baitfish, and if they are mistakenly moved upriver, they'll be free to swim to Fort Randall.