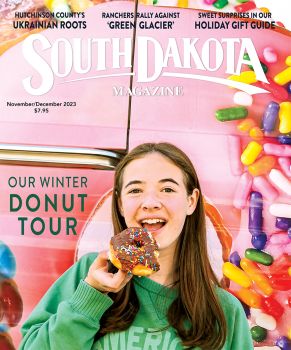 Subscriptions to South Dakota Magazine make great gifts!
Subscribe today — 1 year (6 issues) is just $29!

Catfishing With Nata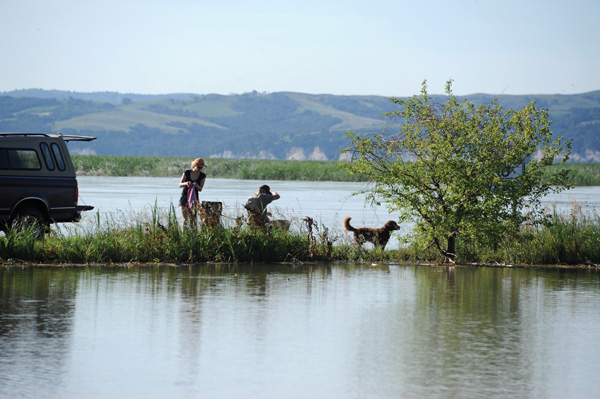 Nata Jones and her husband Brad enjoy fishing at Apple Tree, a peaceful bay by the Missouri River east of Springfield.
Catfishing is a popular sport for Yankton residents because the wild Missouri River flows just south of town. There are tricks to landing the wily cats, and to cooking them. But it's nothing you can't learn. Ask Nata Jones.
Nata is a native of Chernivtsi, a city of some 240,000 people in the Ukraine. She met Brad Jones of Yankton while vacationing in Minneapolis, and within a year she left her chocolate store and was married at the Chapel in the Hills near Rapid City. "It was a beautiful wedding at a wooden church in the mountains," she recalls warmly.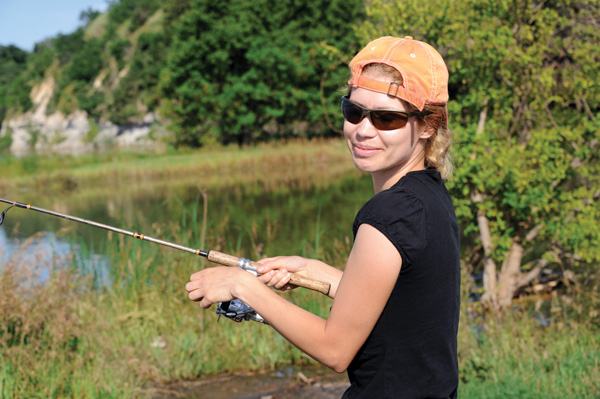 Nata Jones
She liked South Dakota even before she discovered the Missouri River. "I love small town people. Everybody is so friendly and smiling. You don't need to worry about nothing," she says with a charming European accent. "If something happened, everybody would help me."
She applied for three jobs and was amazed to find herself with not one but three. She tried to balance them all for month, but eventually chose to be a certified nursing assistant at Avera Yankton Care Center, a nursing home on Eighth Street, not far from the river. She loves to visit with the residents, and she likes her co-workers. "I never have a day when I want to stay home," she says.
Not that she doesn't like home. She and Brad live in a wooded area near Lewis and Clark Lake. "The first year I am here we see millions of geese come by," she exclaims, still with wonder in her eyes. "I see by the house deer, turkey, raccoon. I never see this in Ukraine."
And then there are the catfish and walleye. "I fished in the Ukraine, too, but this is a little bit different here," Nata says. "In the Ukraine I don't have time and beautiful place to go. Now I just come home from work and if it's sunny out (Brad and I will) go."
Their Chesapeake Bay retriever, Rex, always goes along. "He is very important fisherman," says Nata. "He likes to jump from the boat ramp and just fly into the water." Rex is also an environmentalist; he swims below the surface to retrieve discarded plastic bottles and then deposits them on the bank.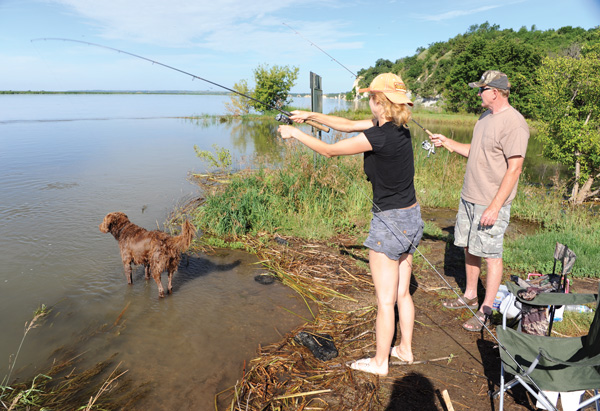 As Brad and Nata Jones concentrate on fishing, their dog Rex enjoys chasing bull frogs and retrieving plastic bottles from the Missouri River bottom.
Nata and Brad fish for whatever finned creatures are available but Nata proclaims catfish her favorite, explaining it's the most expensive fish in the Ukraine. Channel cats seek areas where fast water becomes slow. Brad finds the perfect, clear water channels either by boat or along shore. "He is the real professional. He knows all the secrets," Nata says. They use stink bait from a local bait shop to lure the bottom feeding fish, because the whiskered swimmers will generally eat anything they can catch in their mouths but their strongest sense is smell. "(The stink bait) smells very, very bad but this is what catfish like," the angler says with a laugh.
Reeling in food for dinner is the ultimate goal but that is not Nata's definition of a successful expedition. She doesn't care if they get a bite. They enjoy the boat ride or the time ashore. She can't imagine ever moving from this home near all her favorite fishing spots. "When my husband retires, he wants to leave to Montana or Yellowstone," says Jones. "I said no because we have such a beautiful place here. We cannot leave."
---
Baked Catfish with Onions and Tomatoes
Here's one of Nata's favorite recipes for catfish, although it can be used with any white fish. Baking times vary according to the thickness of the fish.
2 lbs. catfish
1 medium onion, diced
2 large tomatoes, diced
2 tsp. olive oil
salt and pepper to taste
Remove all skin and cut fillets into 8 pieces. Place into lightly greased baking dish. Saute onions in olive oil until translucent. Add tomatoes and cook until soft, stirring often. Spoon mixture over fish and lightly salt and pepper. Bake for 45 minutes at 375 degrees or until fish flakes easily with a fork. (Sometimes Nata replaces the two large tomatoes with 3 coarsely shredded carrots for a twist on this basic recipe.)
Editor's Note: This story is revised from the May/June 2012 issue of South Dakota Magazine. To order a copy or to subscribe, call (800) 456-5117.