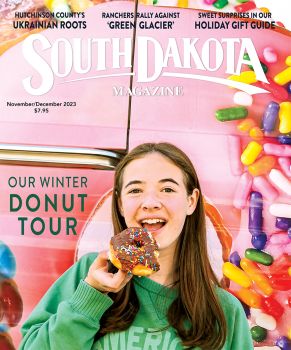 Subscriptions to South Dakota Magazine make great gifts!
Subscribe today — 1 year (6 issues) is just $29!

Autumn Mysteries
Oct 19, 2017
By Katie Hunhoff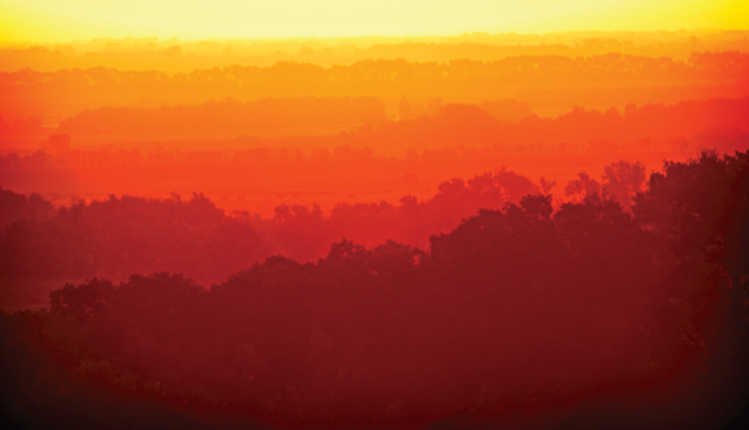 Visitors have long reported strange occurrences at Sica Hollow in Roberts County. Photo by Chad Coppess/S.D. Tourism
South Dakotans are no-nonsense folks, so we always struggle to find supernatural tales for our October issues, but we have heard a few through the years. One of my favorite spooky stories, published in our September/October 2014 issue, is about a mysterious bright, white light in Miner County that appears out of nowhere. Locals call it the spooklight. It can be seen along a particular stretch of dirt road between Carthage and Fedora. The story's author, Donna Palmlund, talked to family and neighbors to get their spooklight accounts.
Palmlund's father grew up on a farm west of Spooklight Road. His grandfather would say that sometimes the spooklight was so bright they could sit inside and read by it. After the Hass family moved off the farm, a man named Joe Spader lived there. "After I moved to that farm it wasn't long before I was aware of this light that was very peculiar," Spader said. He described the light as looking like a bright spotlight cresting a hill and then going down the hill, but a car would never materialize. Before he heard about the spooklight, he was worried someone was trying to steal something.
Another mysterious light has been seen in southeast South Dakota, looking over Nebraska's Crazy Peak, which rises above the chalkstone bluffs on the Nebraska side of the Missouri River. Sometimes the view gives South Dakotans an unexplainable light show. "I've seen all sorts of UFOs there in the past," said Carvel Cooley, a longtime local historian. "It's just lights. They don't make any noise and they can stop, start, zap out of sight, disappear and reappear." Although a lot of locals have seen the lights, most don't talk about it. Some give credit for the lights to swamp gas. Others bring up the Santee Sioux legends of seeing "little people" in the neighborhood of Crazy Peak.
Another well-known eerie South Dakota spot is Sica Hollow in Roberts County. Reports of strange voices, lights flashing in creek bottoms and bubbling red bogs along the Trail of Spirits make Sica Hollow a spooky place to visit any time of year. Its first Indian inhabitants dubbed the forested area "sica," meaning bad or evil.
We visited with Chris Hull several years ago. Six generations of Hull's family have lived near Sica Hollow. He has spent countless hours hunting or camping in the forest and has seen the glowing lights. Once he also had a more mysterious experience while camping with friends. They realized they had forgotten supplies, so one friend drove home to get them.
"We were hiking and heard him yell from down in the hollow," Hull told us. "He must have yelled five or six times. We wondered if his truck had gotten stuck and he had started walking. So we walked for a mile and got down to the bottom, but there was nothing there. We climbed a hill to search for lights and found nothing. Finally we went back to the campsite and he pulled in at the same time. He said he was at home and he had all the sleeping bags and things he'd gone to get. But all five of us heard him yelling that night."
When the leaves fall and Halloween is close at hand, we all like a good South Dakota ghost story. If you have one to share, let us know in the comments below or email editor@southdakotamagazine.com.