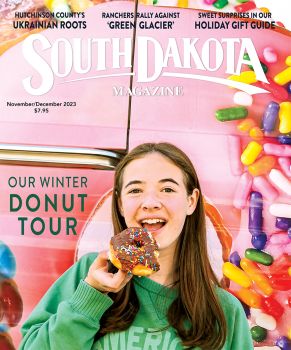 Subscriptions to South Dakota Magazine make great gifts!
Subscribe today — 1 year (6 issues) is just $29!

Spooklight Road
By Donna Palmlund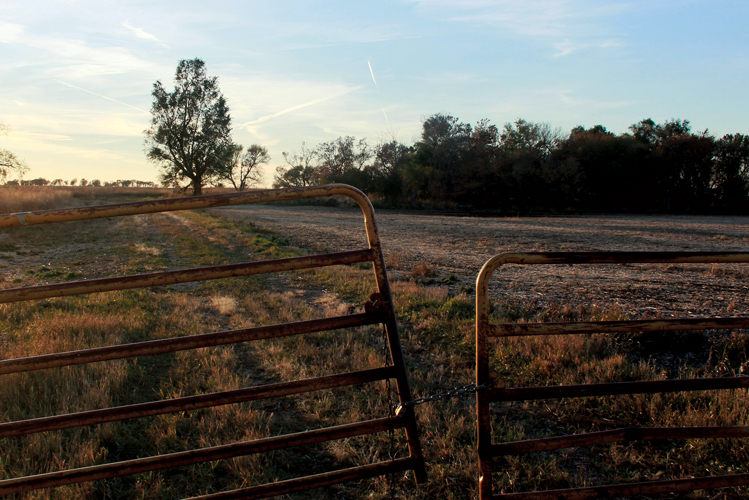 The Hass family homesteaded on this land along Spooklight Road south of Carthage.
For as long as people living near Carthage and Fedora can remember, there have been stories of the spooklight — a mysterious light that appears out of nowhere and then vanishes. The light can be seen along a short stretch of seldom-traveled dirt road between the two small Miner County towns.
A farm that once stood on the west side of Spooklight Road is no longer there. All that remains are a gate with a no-trespassing sign, a driveway and a grove of trees. It was once the home of George and Lizzy Hass, and later their son, Harry. My father, Lester Hass, is Harry's son.
Lester grew up on the farm, and seeing the spooklight was commonplace. The light appeared at least every other night. His grandfather told him that sometimes the spooklight was so bright they could sit inside the house and read by it. Lester's stepmother Agnes once told him that she watched one night as he drove right through the light, but Lester didn't see it.
A salesman used to stop by the farm twice a year to service Harry's hearing aid. The salesman was there late one winter afternoon shortly after a blizzard. The road to the north of the farm was open, but eight-foot high snowdrifts covered the road to the south. The salesman stayed for supper and was invited to spend the night. When he went outside to get his suitcase he noticed a bright light from the south, and commented that the snowplow must be opening the road.
"No," Harry told him matter-of-factly. "That's just the spooklight." After hearing a little more about it, the salesman decided not to spend the night after all, and made a hasty retreat. "Dad never saw him again," Lester says.
Joe Spader lived on the former Hass farm from 1984 to 1988. "After I moved to that farm it wasn't long before I was aware of this light that was very peculiar," Spader says. It appeared to be a bright spotlight cresting a hill and going down below the hill, but a car would never show up. Before he heard about the spooklight, he worried someone was out trying to steal something.
Finally Spader was asked by his neighbor Jim Kothe if he had seen the spooklight. "After asking him a few questions, I realized that the strange light I had been seeing fairly regularly had a story behind it," Spader says. He soon heard more spooklight tales at the Fedora Coop, a local hangout. After a while the light became such a regular sight that it wasn't a big deal. As a bachelor he even hosted spooklight parties at the farm.
Spader sometimes saw the spooklight nightly, and then went weeks without a sighting. But usually he noticed it at least once a week if he was outside late in the evening. "On several occasions, I would jump in the pickup and drive like a madman to see if someone was messing with me and would come up empty-handed," he says. One night when snow blocked the road to the south and there was no possibility of a car coming from that direction, Spader said it was very bright and looked like a bonfire.
Spader noticed that the light would change radiance, beginning low and surging into big brighter bursts. Sometimes it would be so bright it reflected off buildings in the yard as if a super bright headlight was shining on the place from down the road. During his four years on the farm he never found an explanation.
Taylor Calmus is an actor and filmmaker living in California, but as a high school student in nearby Howard, he and a group of friends filmed a short spoof of a scary movie on Spooklight Road. On another outing, Calmus had a real spooklight sighting. "We drove down to the house and were turning around when we saw a car coming from the south — or at least we thought it was a car," he said. "It followed the hills up and down until it finally never came back up."
Calmus and his friends assumed the car had stopped on the bridge south of the hill, and they thought it would be fun to drive down there with their lights off and scare whoever it was. "We started down the road and found no one at the bridge. We kept going until we got to the highway. That's when we realized it was the spooklight. There are no outlets to that road or any way a car could have disappeared without us seeing at least a taillight," he said.
One summer night about five years ago, sisters Becki Mommaerts of Howard and Jacki Austerman of Carthage went with friends around midnight to look for the light. They stopped their cars and stood on the road near the bridge. "I believe we saw it after we had been there for over a half hour," Austerman says. "It looked like a bright train light coming toward us and then took a sharp turn and disappeared. We knew it wasn't a car or anything when it turned. It was very bizarre and a little creepy, but I'm glad we saw it. There is seriously no explanation for it."
People who have never witnessed the spooklight might think it is just local lore. Mona Robinette of Fedora heard many stories about the spooklight, but never saw it. "My grandpa said when he was a kid he heard the spooklight is actually the lantern from a wagon train of settlers that were caught in a blizzard and perished. They were warned not to head out because of the weather, but they did and sadly met their demise," she says.
Others try to find an explanation for the phenomenon. One idea is that people are seeing reflected car headlights from a distant road. But Lester says that theory doesn't hold water. "When I was a kid, people had dim, yellow lights on their cars, but this was usually a bright, white light."
There is also speculation that methane gas might cause the glow. But local Lee Lewis doesn't see that as a possibility. "The thing is, people have also seen it in the winter," he says.
I may have seen the spooklight in the early 1970s. We had just left my grandparents' house where I listened to their spooklight tales. Sitting in the back seat, I looked out the window and either I saw the light, or my imagination conjured it because I wanted to see it so badly. By the time I told my parents and they turned around, it was gone.
My dad recently went to the road with me. We pulled off near the old homestead and waited as the sun went down. Soon, we saw a bright white light that looked like it was coming down the road about a mile south of us. We couldn't say for sure if it was a vehicle or the spooklight. We decided to drive down the road to check it out. It shone brightly for a while, but then there was nothing. As we pulled onto Highway 34, I asked my dad, "So did we see it?"
"Well, we saw something," he replied.
Directions to Spooklight Road from Carthage: Drive 7 or 8 miles south on 425th Avenue. There is a road (230th Street) going west at 7 miles, and another (229th Street) at 8 miles (either road works). Go west one mile and turn south onto 424th Avenue, which is Spooklight Road. The light always comes from the south.
From Fedora: Drive 3 miles east on Highway 34, then north on 424th Avenue (Spooklight Road).
Editor's Note: This story is revised from the September/October 2014 issue of South Dakota Magazine. To order a copy or to subscribe, call (800) 456-5117.