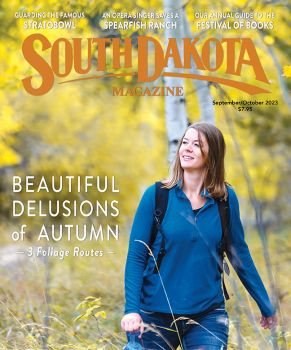 Subscriptions to South Dakota Magazine make great gifts!
Subscribe today — 1 year (6 issues) is just $29!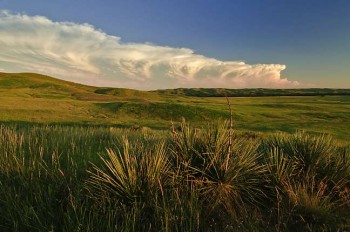 Bad River Road: a Hidden Photographic Gem
Nov 3, 2011
Some of South Dakota's backroads offer not much to a photographer and some offer great rewards. The Bad River Road in central South Dakota between Fort Pierre and Midland provides more than most.
In roughly 45 miles of gravel road, you can find rolling prairie landscapes, winding waterways, a huge herd of buffalo, abundant other wildlife and a great ghost town. No matter what the season or weather, there's bound to be something interesting to photograph here.
The start/finish lines for this photographic journey are just outside of Midland at the top of the hill near the city cemetery or just southeast of Fort Pierre off Highway 83. Depending on your vehicle, road conditions, amount of time you've got to spend, lighting conditions, etc., you might want to tackle this road from each end on separate trips.
From the Fort Pierre end you'll come to the beginning of Ted Turner's Bad River Ranches within roughly 10 miles. The large herd of bison here has an immense expanse of territory to roam, so there's no guarantee that you will see them at all. When they are near the road however, they are spectacular. Even if you don't find the herd, you'll see some beautiful prairie and river scenery.
From the Midland end of the road, it's approximately nine miles to the ghost town of Capa. Never a hugely populated place, Capa now boasts one resident, hundreds of prairie dogs and a few cows. Please don't trespass on Phil's yard without his permission, but do stop and say hi. He appreciates the company and doesn't mind photographers. GPS coordinates for Capa are N44.96.641, W100.58.862.
Fourteen buildings are standing in Capa if you count three outhouses. Photographers (and painters) could spend a lot of time here capturing various subject matter. I love using High Dynamic Range techniques with this type of shooting. That involves shooting three or more different exposures of the same scene without moving the camera and then blending them together in the computer later. HDR gives you the ability to brighten shadows, darken highlights and emphasize texture. It also tends to give a vintage feel to a lot of photos.
There are many more hidden photographic treasures out there on South Dakota's backroads. If you've got favorites you're willing to share, let's hear about them!
Chad Coppess is the senior photographer at the South Dakota Department of Tourism. He lives in Pierre with his wife, Lisa. To view more of his work, visit www.dakotagraph.com.