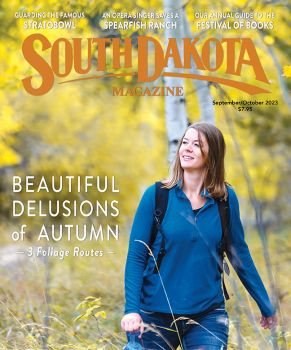 Subscriptions to South Dakota Magazine make great gifts!
Subscribe today — 1 year (6 issues) is just $29!

My Day at the Track
By John Andrews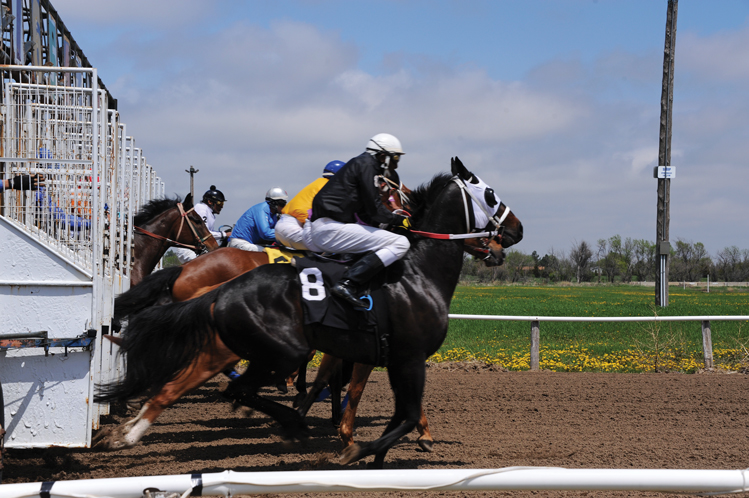 Horses take off from the starting gate during a race at the Brown County Fairgrounds in Aberdeen. South Dakota's horse racing season occupies six weekends every spring.
I am not a gambler. Never have been. Perhaps it's my stoic, fiscally conservative Norwegian lineage, but the idea of playing fast and loose with my money has That's why I felt conflicted when the publisher of this magazine gave me $100 of betting money the day before I left to attend my first horse race. It wasn't my money. It was simply to help immerse myself in South Dakota's rich horse racing culture, which takes center stage in Fort Pierre and Aberdeen for just six weeks every spring. It shouldn't have mattered if I lost every penny. Still, the thought of losing $100 (and I just knew I would lose it, because going to the racetrack was akin to abandoning me in a foreign land) made me slightly anxious.
But somewhere in my stomach was a twinge of excitement. What if I got lucky? What if I bet half the money on a long shot and came home with $500, or $1,000? Racetrack veterans would be astonished. They would wonder if I'd gotten inside information. It could be the start of a new hobby.
I learned two things at the racetrack that day. Horseracing cannot simply be a hobby. Once it's in your blood, you live it every hour of every day. That's true for hundreds of jockeys, owners, trainers, handicappers and fans that pack the grandstands.
And the old adage is true. A fool and his money are soon parted.
I awoke on race day to the rumble of thunder and the steady cadence of raindrops striking the pavement outside my hotel window. I pulled back the curtain and beheld a dull gray sky and a parking lot pockmarked with slowly swelling puddles. Rain could mean postponement or even cancellation of the final weekend of the South Dakota Horse Racing Association's 2013 season.
Three hours — and nearly half an inch of rain — later I walked into the Brown County Fairgrounds. The sun shone brightly. A few cotton ball clouds dotted a deep blue sky. A John Deere tractor slowly smoothed the rich, brown dirt on the track, while horses and trainers milled about the parking lot. Fairgrounds manager Mike Schmidt swept excess water from beneath the grandstands as if it were nothing more than a nuisance.
"This track drains really well," Schmidt said. "We'll race today."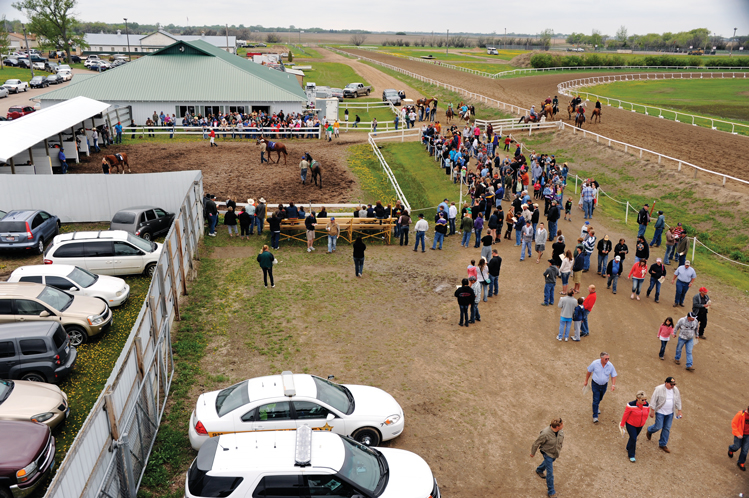 Fans and potential bettors scrutinize their programs and study the horses in the paddock before each race.
As post time neared, I bought a program, only to find a confusing jumble of letters and numbers beside each horse's name. The program seller must have sensed my bewilderment, and told me that an hour before every race local experts hold a seminar to explain the program to potential bettors.
Inside the expo building I found Ernie Kruse and Floyd Zimmerman, and the program began making sense. Those seemingly random numbers and letters are a snapshot of each horse's racing history. A glance tells you where the horse has run in the last two years, who the jockey was, where the horse finished, the track conditions and a brief summary of the performance ("steadily faded," "weakened final furlong," "loomed boldly").
Zimmerman grew up in Aberdeen and has been coming to the racetrack since he was 4 years old. He's held a variety of jobs there, including maintenance, management and handicapping, which he's done for the last 15 years. "I watch horse racing on the Internet constantly," Zimmerman says. "There's no real science to it. No matter what the numbers say, something else can happen.
"But there are people out here who know nothing, and are just looking for some kind of insight as to how to look at it, or they want a reason for why they're going to bet on a horse. And that's why they use us. We might bring up something they didn't catch. Information is a dangerous tool."
Experience has told Zimmerman that the most important factors at local races are jockeys and trainers. "You know who rides better than others and who trains better than others, who has better stock," he says. "But there are always those surprises that seem to kill me in my wagering."
By the time I arrived Kruse and Zimmerman were already handicapping the eighth race. I'd have to play the first seven on the limited knowledge I gained from them on how to read the program and the sage advice I had received from friends, colleagues and a few racing insiders.
Laura Andrews, who worked in our sales and marketing department, told me her husband Mike knew a bit about horses. He said the horse with the longest tail was often a good bet. Contributing editor Roger Holtzmann suggested I bet the horse that had most recently relieved itself. Our publisher's 5-year-old grandson had just won bicycles in two separate raffles, so I tried to capitalize on his luck. He told me his favorite number was eight.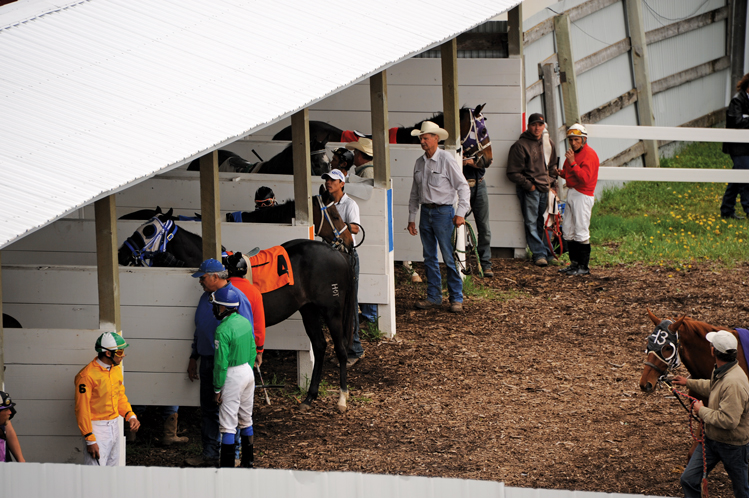 Horses are saddled and paraded in the paddock before each race.
These helpful hints seemed less than scientific, but Heather Benson provided an insider's perspective. Benson is a former handicapper who owns the Back Forty Media and Marketing, a consulting and marketing firm based in Centerville that assists mainly horse racing industry clients. Her first tip was to bet the gray horse in every race. "Gray racehorses (which turn white as they get older) are uncommon, and if you see one it's always worth a shot if you have no other good leads," Benson says. "If you had bet $2 to win on every gray horse that has run in the Kentucky Derby in the last 30 years, you would be ahead by about $100 right now."
An even more solid lead, she said, was to bet any horse trained by Bob Johnson of Lemmon. Johnson has been considered the leading trainer on the South Dakota racing circuit for years. "It's the closest to a sure thing you will find," Benson says. "Bob runs mostly Quarter horses, which account for about half the races run in South Dakota, and has absolutely won everything that can be won here."
Entries are posted a few days in advance, so my coworkers and I already knew the horses running in the first race. Holtzmann and Ruth Steil, our office manager, each sent $2 to bet on a horse they liked. Steil picked Shawklit Cat because the breeder was from her home state of Nebraska. Holtzmann liked Vincent's Honor because Vincent is his middle name. I had already decided to heed Benson's advice and put $10 on Smarter Than Momma to win. That was a Bob Johnson horse.
I felt confident as I approached the betting window. I'd read wagering tutorials online to learn the verbiage and had already practiced what I would say: "I'd like $10 on the 6 horse to win" (when betting, horses are always referred to by their numbers). But it wasn't that easy, explained Kim Klostergaard, who works the betting windows every weekend. There were multiple combinations I could play. There's the tribox, trifecta or the quinella. The first race was also the first half of that day's daily double. This all went beyond my rudimentary "win, place, show" understanding.
My head swam with these new combinations. I mumbled something like "just to win for now" and took my little white betting slips to the grandstand. At 1 p.m., the signal sounded and eight thoroughbreds thundered from the starting gate. The 1,565 people in attendance raucously cheered as the horses passed the grandstand, now running full speed in their 5 1/2 furlong race. In a minute and 13 seconds the race was over. Twobuckstoomuch, a 4-year-old from Louisiana, came in first. Shawklit Cat finished seventh. Vincent's Honor was last.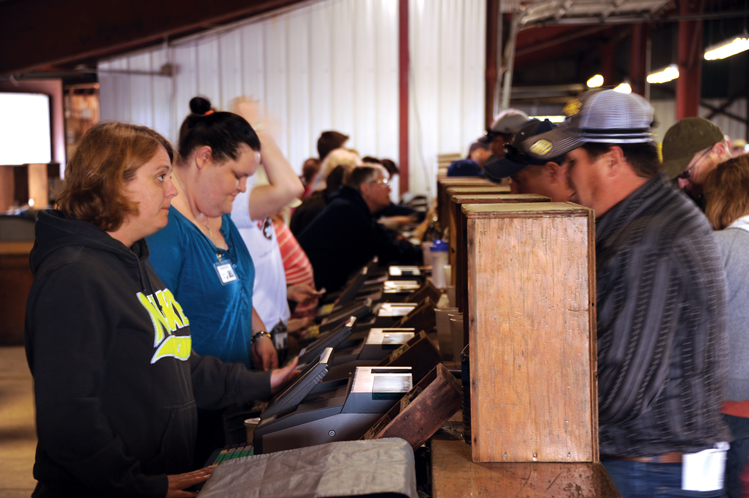 Horse racing in South Dakota is supported through simulcast wagering, which includes bets placed off-site and at betting windows at the track.
Though I lost, I took some consolation from that first race. Smarter Than Momma had finished a close second. I had been a heartbeat away from victory. Best not to pick the winning horse right out of the gate anyway, I reasoned. I had come close, so I felt a little better when I returned to Klostergaard's window.
Races two through six were wagering disasters. I began experimenting with combinations. In the second race I took the 3 and 4 horses in a quinella, meaning I would win if they finished first and second in either order. The next race I bet a tribox with the 2, 3 and 4 horses, which covers every combination that could result as long as my selections finished in the top three. But my horses mostly finished in the middle of the pack. I sat out the seventh race, hoping to regroup but not knowing how.
Horse racing is called the "sport of kings" because of its long-running popularity among British royalty and aristocracy, but it has been traced to ancient Greece, Babylon, Syria and Egypt. It had become part of the Greek Olympics by 648 B.C., and chariot racing was a popular sport throughout Greece and Rome.
Horse racing in America began in 1665, when the first track was built on Long Island. Organized racing started in 1868, and by 1890 there were 314 operating tracks in the United States. Interest swelled and receded through the years, but two events — the introduction of pari-mutuel wagering in 1908 and the rise of the Triple Crown — were boons to the sport.
Several South Dakotans have enjoyed successful careers in horse racing. Among the most famous was Earl Sande, the Groton native who rode Gallant Fox to the Triple Crown in 1930. Thoroughbred trainer Steve Asmussen, born at Gettysburg, has more than 4,300 career wins, over $21 million in purse earnings and trained Curlin, winner of the 2007 Preakness Stakes and the Breeders Cup Classic, considered the Super Bowl of thoroughbred horse racing. Bill Mott, of Mobridge, worked with Cigar, who won 16 consecutive races in 1995 and 1996 and retired as the top money earner in thoroughbred racing history. Mott has been voted national leading trainer three times and was the youngest trainer ever inducted to the National Racing Hall of Fame.
Sanctioned horse racing at Fort Pierre's track dates to the 1940s and they've been running for decades in Aberdeen. South Dakota's modern horse racing system is supported entirely through simulcast wagering, allowing bettors at two or more sites to bet into the same pool. South Dakota's two simulcast wagering hosts are the Time Out Lounge in Rapid City and the Triple Crown Casino in North Sioux City. The South Dakota Commission on Gaming regulates all pari-mutuel wagering, though no tax dollars support horse racing. The commission is required by law to disburse money generated back into the racing industry through the South Dakota-bred racing fund and another revolving fund. "People don't realize how much income it generates," says Jill LaCroix, treasurer of the South Dakota Horse Racing Association. "When you're here for three weeks, think how much money you're spending."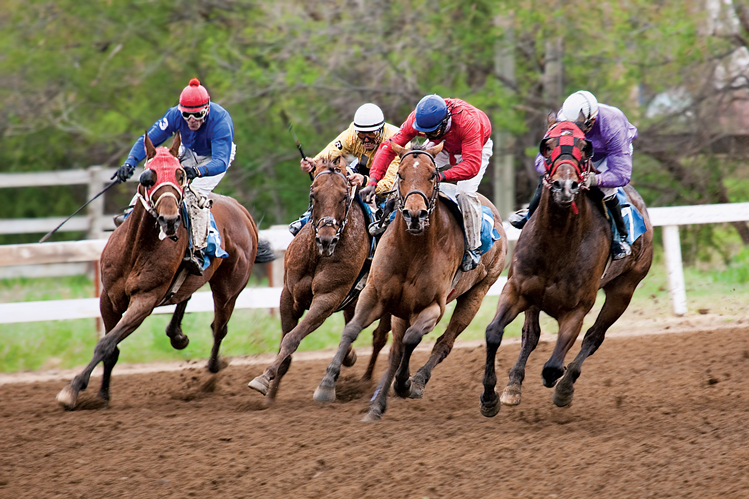 Horses round a bend at a race in Fort Pierre. Photo by Jana Thompson.
LaCroix and her mother June own the Time Out Lounge and became part of racing history in 2003, when they sold the only winning Pick Six ticket in the world during the Breeder's Cup. The men who bought it won $2.7 million. I could only hope for such luck in Aberdeen. The LaCroixs had three horses running that day, and fortunately for me one of them was slated for the eighth race.
The eighth race is where it all turned around. Not coincidentally, it was the first race I had been able to rely upon Kruse and Zimmerman, the expert handicappers, for advice. In the pre-race seminar, their favorite was Tickle the Ivorys (the 2 horse), trained by Bob Johnson and owned by his father, John. They thought LaCroix's horse, Alotta Louie (1), could challenge and slotted Knud for a Buck (6) in third.
Relieved that my picks were handed to me, I returned to Klostergaard's window and bet the 2 horse to win and a 2-1 quinella. As I stood in line, I noticed familiar faces in the queue. "Bettors can be superstitious," Klostergaard said. "If they're winning they'll come back to the same window. And if they lose I probably won't see them again."
Had I been a racing veteran, she would have seen a lot more of me the rest of the afternoon. Kruse and Zimmerman's picks were almost spot on. Tickle the Ivorys won, followed by Alotta Louie and the 4 horse, L Valentino. Knud for a Buck finished fourth. My first victory netted $9.80.
I let it ride. I hit another quinella in the ninth race and picked the winner in the 10th, falling just short of a winning tribox combination. I pocketed another $14.
Credit for my late surge goes almost entirely to the handicappers on whose wisdom I relied, but three of the horses I bet in those final races were trained at Bob Johnson's sprawling ranch southwest of Lemmon. The family settled in that spot along the North Grand River in 1894. "My grandpa was a gold miner in Deadwood and grandma ran a boarding house," says John Johnson, the family's 82-year-old patriarch. "Then my grandma wanted to start raising kids, and Deadwood was a pretty tough place in the 1880s."
The Johnsons started raising horses, and today Johnson Stables includes a half-mile dirt racetrack and stalls for 67 horses. "We train all winter," John says. "Our track is in the river bottom and it never freezes. We can run them all year if the jockeys are tough enough to ride. That's why the horses are in pretty good shape this time of year."
John trained horses for most of his life. Bob started as a jockey until he grew too big and transitioned into training. There are many factors that make a good racehorse, but John says bloodlines are the most important thing.
"That's a good start," Bob Johnson says. "They have to want to be a racehorse. They're like athletes — track, basketball, it doesn't matter. They can have all the talent, but if they don't want to, it's not going to happen."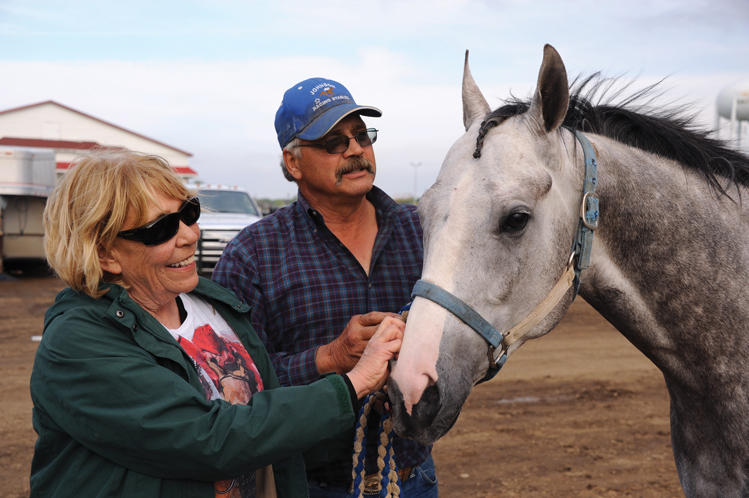 Bob Johnson (right) of Lemmon is among South Dakota's leading horse trainers. He trained Fast Eddys Eyeyinyou, owned by Jill LaCroix (left) of Rapid City.
Johnson says he can tell fairly early if a racehorse is going to be successful. "Horses are very comparable to people," he says. "If you're a student of people, you can be a student of horses, and it'll work for you. They show you signs if they like what you're doing. Some are defiant, some are complacent, some are regressive. My job is to take the ones that are non-players and make them into players."
His day begins at 4:15 every morning and involves considerable travel. He had arrived in Aberdeen at 2 a.m. on race day because he'd run five horses at Canterbury Park just north of Minneapolis the previous day. "He does that all the time," his father says. "He'll run tomorrow and then he'll go back to Canterbury. Some people couldn't train a mouse to eat cheese. They don't have the fortitude to work 12 hours a day, or travel 2,000 or 3,000 miles without stopping. It's a lot of work, a lot of hours."
Bob Johnson has developed a keen understanding of horses through a lifetime of working with them. "Everybody thinks that horse training is make them go fast, make them turn left and come back to the barn," he says. "Then take the week off and make them run again." But it's much more cerebral. Some of the most important insights are gained simply through observation.
"Every night after we feed our horses, we sit for 20 minutes and just watch," Johnson says. "The horses that aren't happy won't be eating. They'll show you little signs. Like this horse's head is hanging out. He doesn't like his feed, or he's not happy, or he's got a stomach ache, or he's got an ulcer."
After the races, Johnson tended to Fast Eddys Eyeyinyou, a 4-year-old belonging to June LaCroix. The horse finished third in the ninth race after stepping badly out of the gate. But Johnson could tell the horse was pleased with his performance. "When he doesn't do well, he'll be dragging on the walker. Look at him. Tail in the air, happy guy. They're all different," Johnson says. "They'll make your head hurt. And your heart hurt, especially when you know how much is there."
It's true that horses can break hearts, judging by the discarded betting slips that littered the grandstand post race. Certainly there were bettors who finished ahead, while others left in the red. I went home with $64. My day at the track was educational, and not just on how to play the ponies. Whether you win, lose or simply marvel at the powerful thoroughbreds thundering down the track and the dedication it takes to get them there, no spring should pass without experiencing the thrill of a South Dakota horse race.
Editor's Note: This story is revised from the March/April 2014 issue of South Dakota Magazine. To order a copy or to subscribe, call (800) 456-5117.