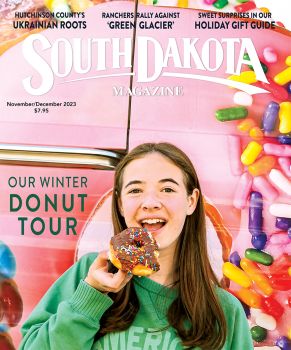 Subscriptions to South Dakota Magazine make great gifts!
Subscribe today — 1 year (6 issues) is just $29!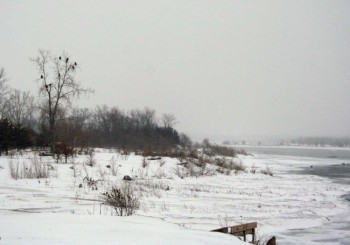 Watch for Eagles
Jan 20, 2012
Some extremely knowledgeable members of the Sioux Falls Bird Club guided me through the prairie pothole regions near Sioux Falls last year. They were more than welcoming towards this newbie who couldn't tell a sparrow from a starling. I assured my new friends I would practice. Oh, I had great intentions. But the adult bald eagle is still the only bird I can identify with certainty.
That's why I love January. Sure, a little post-party depression sets in after the holiday hoopla. And the cold days drag on as you wait to turn the calendar to February. But get excited! It's National Bald Eagle Watch Month!
The bald eagle diet is mostly fish, so the best watching places are below the big dams like Oahe, Big Bend, and Gavins Point, says K.C. Jensen, associate professor in South Dakota State University's Department of Wildlife and Fisheries Sciences. "The water is always open there and there are usually fish to be had," Jensen says.
It's been reported that last summer's flooding caused an explosion in Yankton's fish population and I suspect the bald eagles are benefiting. South Dakota Game Fish and Parks recently completed mid-winter waterfowl surveys along the length of the Missouri. They also record eagle numbers and counted 281 between Sioux City and Big Bend Dam. "The great majority of [the eagles] were sighted immediately below Gavins Point Dam at Yankton," says Jensen.
Bald eagles like to eat in the morning and there were at least 40 breakfasting at Paddlewheel Point downstream from Riverside Park a few days ago. I was able to sneak out to see them, since it's just a few blocks from the magazine, and was amazed to see so many converged in one place. The majority were seated on a piece of ice jutting out from the bank while a few majestically roosted in the trees. I checked again this morning. The snow kept a few away, but there were still several feeding. If you're lucky enough to live along the river like me, bundle up, grab your binoculars and celebrate Bald Eagle Watch Month this weekend.