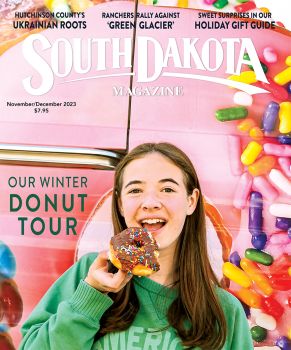 Subscriptions to South Dakota Magazine make great gifts!
Subscribe today — 1 year (6 issues) is just $29!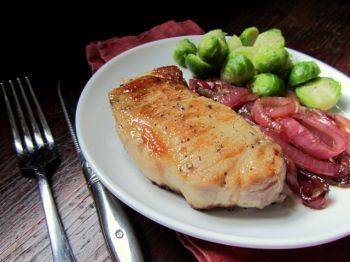 Post-Christmas Pork
Jan 10, 2013
I am among those that leave Christmas decorations up through January 6, Epiphany. I enjoy the sparkle of the lights on cold, dark, winter nights. And, admittedly, I am a little lazy. Pulling decorations and garland out of totes is always easier than trying to put them back for storage.
This year, our fresh tree was extremely dry from the day we brought it home. By Christmas, if you looked at it, needles dropped. The summer drought was not kind to Christmas trees (or anything, for that matter). Just after the New Year, I decided that even though the Wise Men hadn't yet made their appearance, the Tannenbaum had to go.
It took an entire afternoon to delicately remove the glittery snowflakes, sparkly glass balls, handmade lace stars, and string after string of twinkly lights from the tree. Moderation isn't part of my vocabulary when I decorate a Christmas tree, even though I always swear to practice simplicity as I face dismantling each year. When I had finally shoved the tree out the door and placed it strategically in the driveway to force Hubs to haul it away, I sat down with my laptop and a beverage to relax.
This is when I noticed the article on NPR touting turning abandoned Christmas trees into beer. It seems that spruce beer was once a treatment for scurvy during long voyages. With the increasing popularity of craft brewing, this once-forgotten beer is once again making use of the spruce.
My tree was a fir, but that didn't stop me from considering it for beer brewing…for just a minute. I don't brew my own beer, or make my own wine. Honestly, it scares me. What if I put all that effort into it and resulted with swill? Brewing and fermenting are a lot more complex and precise than my methods of cooking. I will leave spruce beer to the Vikings and the courageous craft brewers.
While I won't venture into beer brewing, I will bring some beer into my meals. No, not just guzzling a brewsky with some pizza or wings. Beer can be a great flavor addition to stews, sauces, and for marinating or brining.
Pork is notorious for being dry if not carefully prepared. It is bred to be lean, and therefore, a pan of chops can be unforgiving when overcooked. However, if brined in a flavorful beer with salt and seasonings, the meat can be moist, and tenderly delicious. Sweet onions make a great addition to the plate alongside any green vegetable. Try the recipe with spruce beer, if you find (or brew) it. I haven't, but woodsy rosemary pairs great with pork, so I don't see why a Christmas tree brew wouldn't work just as well.
---
Beer Brined Pork Chops with Onions
Adapted from Sunset Magazine
4 boned center-cut pork loin chops, about 1 inch thick
2 12-ounce bottles of flavorful beer (I used an ale)
1/4 cup kosher salt
1/4 cup brown sugar, firmly packed — divided
1 tablespoon black peppercorns
1 tablespoon mustard seeds
1 tablespoon fennel seeds
2 cloves garlic, peeled and crushed
3 tablespoons olive oil
3 red onions, thinly sliced
1/3 cup apple cider vinegar
Rinse pork chops. Over medium heat, combine beer, salt, 2 tablespoons brown sugar, peppercorns, mustard seeds, fennel seeds and garlic. Stir until salt and sugar are dissolved. Allow mixture to cool completely. Place chops in a large zippered plastic bag and add brine. Seal and chill for 4-6 hours. (It's an excellent idea to prepare this before work and leave in fridge all day.)
Remove chops from brine. Rinse and pat dry. Heat olive oil in a skillet. Add chops and cook until well browned on each side, about 6-10 minutes total.
Transfer chops to a plate; tent with foil to keep warm. Add onions to pan. Stir and cook until onions are very soft and browned. Low heat is best for caramelizing the onions — it takes about 20-25 minutes. Stir in the vinegar and remaining 2 tablespoons brown sugar. Cook, scraping the bottom of the pan to loosen any browned bits. Allow liquid to mostly evaporate.
Place chops on top of onion mixture and cover pan. Cook until chops are cooked through, 6-10 minutes. Serves 4.
Fran Hill has been blogging about food at On My Plate since October of 2006. She, her husband and their dog, Ace, reside near Colome.