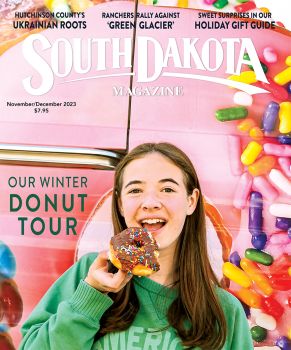 Subscriptions to South Dakota Magazine make great gifts!
Subscribe today — 1 year (6 issues) is just $29!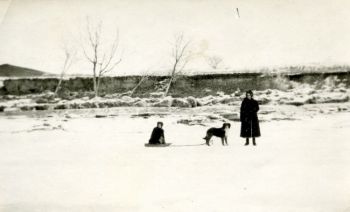 A Slideshow of Christmas Memories
Dec 24, 2012
The Christmas season is special to me for a lot of reasons. One reason is the memories. As I've grown older, I've found that this time of year brings about a mood of deep reflection. Maybe it's the songs, maybe it's the snow, or maybe it is simply the reminder of another year gone that gets me strolling down memory lane.
One of my favorite activities of Christmas past was when Dad would get out the slide projector and set it up downstairs. Mom would pop the popcorn on the stove and top it with real butter (one of the benefits of running a small dairy farm). If we were really lucky, she would also make her patented chocolate malts. I've yet to encounter any malt at any restaurant that can top hers. With goodies in hand, we'd all gather around the wood-burning stove while Dad started showing us photos of places and times long gone.
One of the best presents from my folks was a $100-plus Bogen tripod that I received as a poor college student in the early '90s. It was at this time that I discovered my interest in actually taking photos instead of just looking at them. The folks had helped me buy a used Minolta Maxxum film camera the year before in conjunction with my birthday. It was a pretty expensive gift and I still remember Dad looking me in the eye and saying, "You better use this now. Don't let it be a wasted gift." Or something along those lines. Nothing like a wise father's words to add some motivation, right?
Back to the tripod: I had asked for this as a gift because I wanted to learn to shoot photos in low light situations without a flash. My first attempts with the new tripod were shots of our Christmas tree and decorations. It was magical to capture the scene as I saw it in real life and not blasted out by a flash. Those photos are still special to me — not just because of the gift but because it allowed me to capture the Christmas setting of my childhood home and keep it intact in a photograph for all time. Plus, I still use the tripod to this day.
This year I will see my 40th Christmas, God willing. It will be a new experience as I will be visiting my oldest brother and his family in California. We might get to go whale watching if the weather permits… which I admit, makes me about as excited as a six-year-old on Christmas Eve who knows he has the biggest present under the tree.
Over the years, I have celebrated Christmas with family and I've spent a Christmas or two on my own. I've celebrated Christmas on the other side of the equator in steamy Africa and experienced the biggest chills ever to run up my spine while singing the Hallelujah Chorus with the Concert Chorale in college. Every year seems to bring new joys just as every year a few familiar faces and loved ones no longer celebrate with us. All these blessings are simply an important reminder to live gratefully. Every good photo I happen to capture is a gift. That is why I love to share them. Every day I get out of bed is another gift. Every breath, every heartbeat… all gifts. It shouldn't take Christmas to remind me of that, but that is often what does it.
I have heard it said that the holiday season is the season of photography. I guess I don't totally disagree with that thought. Photos of "old times gone" and new photos of "the happy now" are and will be priceless. However, my hope is that this is truly the season of love, peace and family instead of simply photos and memories. I also hope that this year, the real reason for celebrating Christmas can be remembered. After all, on that one starry night so long ago in Bethlehem, they didn't have cameras, but they did have the ultimate gift lying in front of them wrapped in swaddling clothes. The wonderful thing is… so do we. Merry Christmas, everyone!
Christian Begeman grew up in Isabel and now lives in Sioux Falls. When he's not working at Midcontinent Communications he is often on the road photographing our prettiest spots around the state. Follow Begeman on his blog.