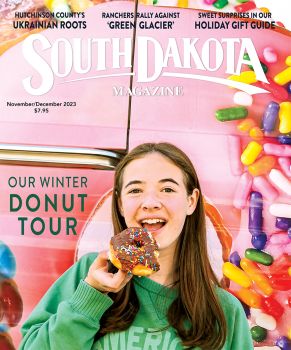 Subscriptions to South Dakota Magazine make great gifts!
Subscribe today — 1 year (6 issues) is just $29!

Black Hills Mountain Lodges
By Paul Higbee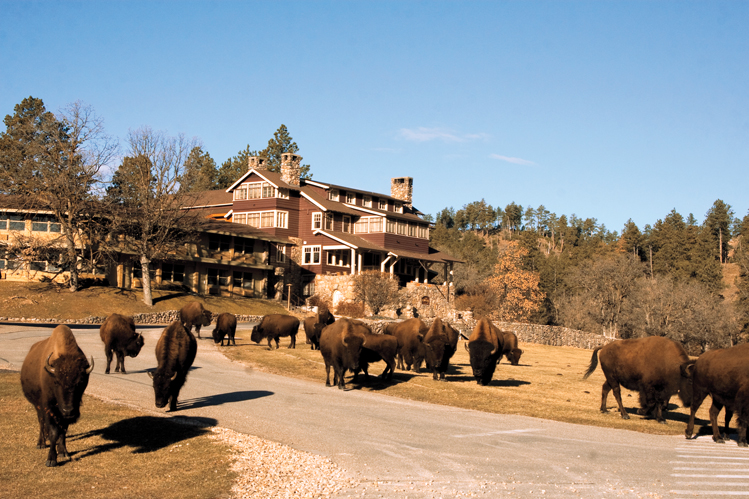 The State Game Lodge is a casual place where the greeters sometimes have horns and four legs.
Check into a Black Hills mountain lodge and you'll get a taste of something classic. Book your stay in the fall and you've added a rich spice. What could be better than absorbing sunshine and piney breezes on a wide unscreened porch, then retreating inside to a fireplace blaze as the cool of an autumn evening hits? Wide porches and big stone fireplaces are essential lodge elements. So are immediate proximity to natural splendor, separation from towns and four-lane highways, and hosts who know their Black Hills history, flora and fauna.
For over a century Black Hills builders have fashioned lodges from pine and spruce, and they've usually accented their structures with Black Hills quartz, crystals, petrified wood and other rock. Thankfully, this construction style is not a lost art, as evidenced by a handful of recently built lodges.
Hisega Lodge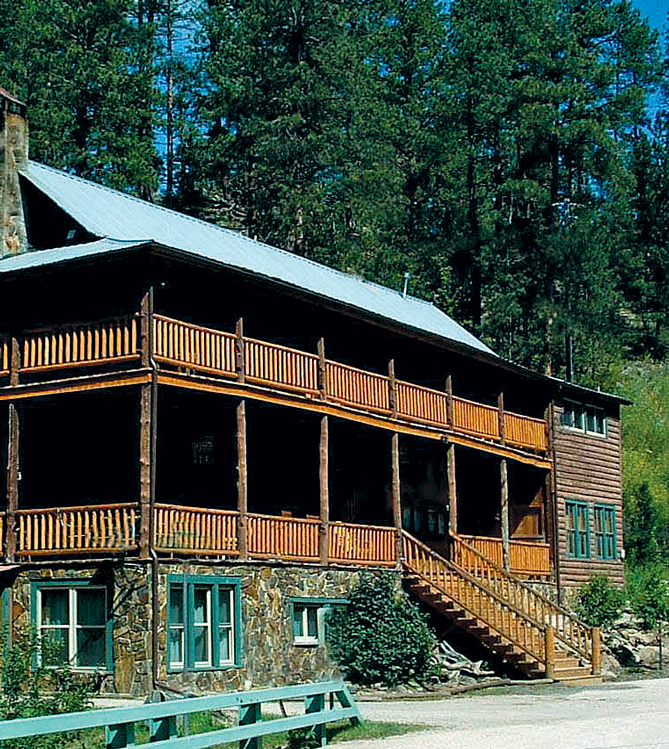 Hisega Lodge features a double-decker wrap-around porch.
Some lodges are grand while others are understated and intimate. But they all share one characteristic: for certain visitors they stick in the consciousness forever. Every lodge proprietor can tell stories of lives transformed under their roofs. Carol Duncan, for example, sat on Hisega Lodge's porch a few years back, listening to the rushing waters of Rapid Creek just below. She had grown up in Stickney, vacationed in the Black Hills with her family as a child, later lived in the Hills, and eventually found herself in Florida with a good job that she enjoyed. Then while visiting Hisega (just up the creek from Rapid City on Highway 44) Duncan realized she belonged to this rugged landscape of pines, stony outcrops and ice-cold streams.
"Guests have revelations at Hisega Lodge," Duncan says. "Or perhaps another way to put it is that they make an acknowledgement." After her visit she left knowing she would return to live in the Hills, but never guessed Hisega Lodge would be for sale just weeks later. Since 2007, Carol and her husband Kenn have been owners, greeting visitors from around the world. Theirs is a 1909 lodge with two porch decks wrapped around the building. There are nine guest units, exceptionally comfortable chairs before the fireplace, lots of Black Hills art on the walls and even a little library. Just outside trout swim in this catch-and-release section of the creek.
"Our guests tend to be about the outdoors, not about being in their rooms," Duncan observes. "And they're often interested in history."
Doane Robinson, South Dakota's first state historian, is credited for proposing the sculpture project that evolved into Mount Rushmore. He can also be credited for Hisega Lodge. In August 1908, Robinson organized a railroad and camping adventure through the Black Hills for 17 young adults, including his secretary, sister and a niece. The group rode the old Crouch Line rails out of Rapid City, stepped off the train to pitch tents in this narrow canyon, and named the spot Hisega — derived from the first initials of six campers named Helen, Ida, Sade, Ethel, Grace and Ada. In 1909, Robinson found 50 people who wanted to vacation in the same place, only now he said he would have a lodge in place for them if everyone contributed $100. The plan, actually modest by Doane Robinson standards, worked. Originally railroad tracks lay immediately in front of the building. Over 100 years later the trains are long gone, but the lodge still stands. It has had many names over the years while the spot on the map has always remained Hisega. As would be expected, guest rooms are small by today's standards. "But we've got bigger beds, king and queen sized ones, because people are bigger than they were a hundred years ago," Duncan says. "We make sure everything is spotless, and our towels are cushy."
The price of a night's lodging includes breakfast, perhaps an open-face breakfast sandwich or breakfast pizza, and always featuring fresh fruit and Duncan's homemade muffins. A century ago, she notes, house rules warned against alcohol and gambling. "Now," she says, "our instructions are mostly about accessing the wi-fi and finding the recycling bins."
State Game Lodge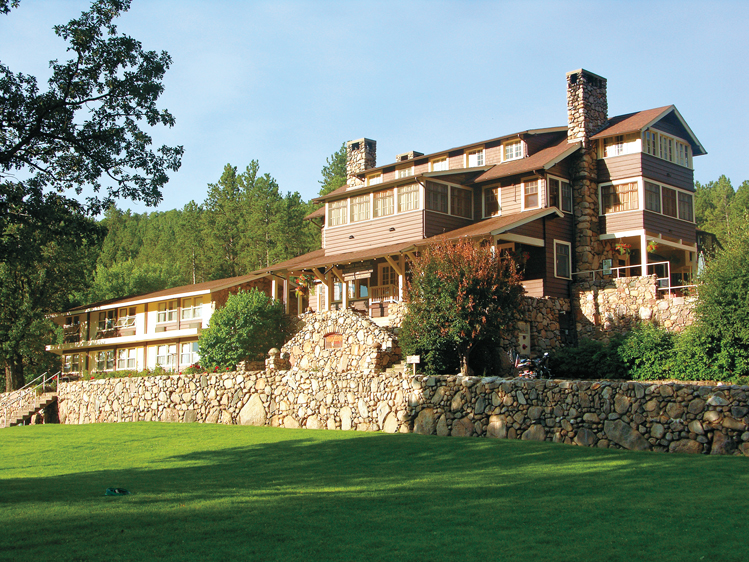 Two presidents (Calvin Coolidge and Dwight Eisenhower) have stayed at the State Game Lodge in Custer State Park.
What do Carol Duncan and President Calvin Coolidge have in common? It's possible that each experienced a revelation about their futures while visiting a Black Hills lodge. After making the State Game Lodge his summer White House in 1927, Coolidge surprised the nation before departing South Dakota. "I do not choose to run for president in 1928," he stated in typically terse style. By 1929 he was out of office and enjoying boating back home in rural Massachusetts.
Built in 1922, 13 years after Hisega Lodge, the State Game Lodge combines Sen. Peter Norbeck's vision, architect A.R. Van Dyke's design, stonemason Monroe Nystrom's handiwork, and C.C. Gideon's construction skills. The remarkable Gideon, also remembered for designing the landmark pigtail bridges on nearby Iron Mountain Road, stayed as Game Lodge host and state park concessionaire for 27 years after the lodge's opening. His wife Elma worked closely with him.
Granddaughter Marilyn Oakes says the couple nearly perished here in 1921. Gideon had just completed construction of the original State Game Lodge and was living there when an arsonist struck. The couple escaped the flames and smoke with just their nightclothes, business ledgers and some photographs. The Game Lodge was lost, yet planning began immediately for the building we know today. The original lodge was intended for use by state officials only, but the second was developed with the public in mind. Today there are seven guest rooms in the original structure, plus several more in adjacent additions, nearby cabins and Creekside Lodge — all part of the State Game Lodge complex. Wherever they sleep, most guests drift through the original lodge.
With its dark woodworking, hardwood floors and Nystrom fireplaces, the lobby feels both historic and inviting. There's usually an artist-in-residence at work here. In a pleasant lounge just off the lobby a portrait of President Dwight Eisenhower hangs over the fireplace. He stayed at the lodge in June 1953.
Small as it is, this may be South Dakota's most famous hotel. It also ranks high among the state's very best restaurants. You'll be hard pressed to top the lodge's smoked chicken fry bread as an appetizer, followed by an entrée of buffalo filet mignon wrapped in bacon. Waiting for dinner, you may wander and see how the building was expanded and altered, mostly in back, to accommodate more diners, and to meet Americans with Disabilities Act codes. The building's original lines are clearly discernable. The lodge is open through October 31 and the Creekside Lodge, just across the lawn, remains open year-round.
Spearfish Canyon Lodge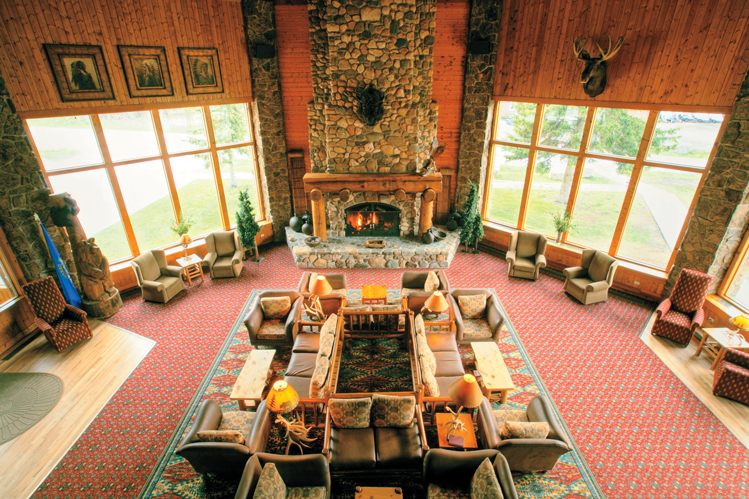 A perfect fall day at Spearfish Canyon Lodge might include a breakfast of trout and eggs and a hike along the '76 Trail to the canyon rim.
Spearfish Canyon Lodge is a new-era lodge built in 1995. It's 13 miles south of Spearfish at Savoy, where the canyon widens and sunshine streams in. A perfect fall day here might begin with a walk across the road to the Latchstring Restaurant, featuring a traditional canyon breakfast of trout filet, two eggs, roasted red potatoes, and toast. This breakfast is listed in the menu as the Little Spearfish although there's nothing little about it. Thus fortified, you may be ready for a strenuous hike to the canyon's rim by way of the '76 Trail. The trail climbs 1,000 feet in three-quarters of a mile, and begins just steps from the lodge's front doors. Gentler trails lead to photogenic Roughlock Falls and Spearfish Falls or to trout fishing venues; there's lots of canyon variety to experience from this point without getting into your car. Evening is time to relax by the fireplace in the impressive high-ceiling lobby. There's a lounge just off the lobby and there's no telling whom you could meet. Well-known guests have ranged from pioneering primatologist Jane Goodall to the late comedian Robin Williams.
Guest rooms feel like those in a hotel. Some are full suites with gas fireplaces, outdoor balconies and Jacuzzis. Few hotels in the world offer window views matching these, with towering limestone cliffs and the brilliant yellows and golds of autumn birch and aspen. All rooms are equipped with TVs if, for some reason, you need to detach from the canyon and plug into a blander world.
Though the lodge is just 22 years old, people have traveled to this spot in the canyon for overnight lodging for 101 years. There are some parallels between Savoy and Hisega. In 1909, the very year Doane Robinson built the lodge along the Crouch Line rails, Glen Inglis of Deadwood turned a former sawmill structure into a little inn right next to the Spearfish Canyon railroad tracks. Similar to the campers at Hisega, Inglis used his own name (and his wife's) to come up with a new word. "Glendoris" was the inn's original name, changed to Latchstring Inn by new owners a few years later. It stood exactly where the restaurant of the same name stands today.
The inn was a one-story, rambling affair that couldn't be called a lodge. It claimed as much authentic Black Hills charm as any building, with its odd artifacts, crooked doorframes and wonderful cliff-side dining room. The much-loved inn served railroad travelers until a flood washed away the tracks in 1933, and guests who arrived by the canyon highway until Latchstring was razed in 1989.
Buffalo Rock Lodge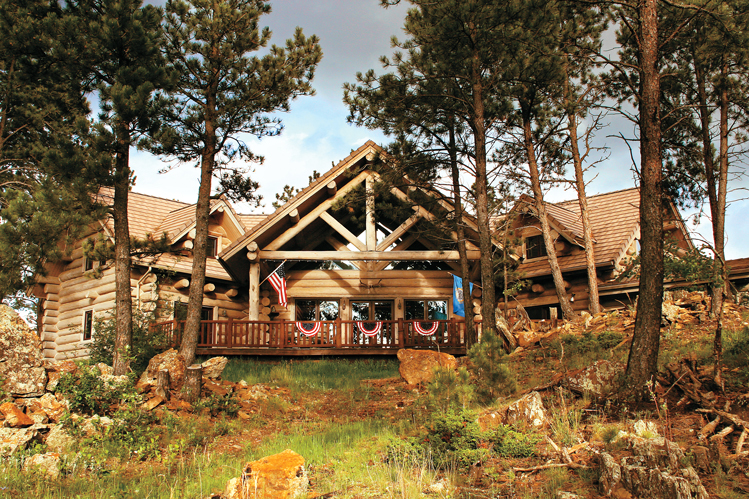 The Buffalo Rock Lodge was constructed with great spruce logs and mammoth pine timbers.
Another newer structure is Buffalo Rock Lodge, which opened in 1999 on Playhouse Road north of Custer State Park. If builders and owners Art and Marilyn Oakes seem remarkably astute as hosts, they come by the attribute naturally. Marilyn, C.C. Gideon's granddaughter, worked some of Gideon's possessions into the décor, including a beautiful Navajo rug he purchased and made part of the State Game Lodge's look during President Coolidge's stay. If you want to hear stories about early-day Custer State Park, Mount Rushmore, Wind Cave National Park, Iron Mountain Road and the Needles Highway, this is the place. If Black Hills history isn't your thing (although that could change while you're here) ask Art and Marilyn how they created this impressive structure with great spruce logs, and mammoth ponderosa pine timbers that support an interior balcony. The fireplace is their masterpiece, comprised of many varieties of native stone plus some amethyst.
Mention a place you want to visit and Oakes will print her own recommended itinerary. "We're very involved with our guests," she says. "When people call to inquire about us, I tell them that fall is the best time to visit. There are fewer people in the Hills. We'll get that one frost in September, then after that comes our beautiful Indian summer."
Any time of year a highlight for guests is Buffalo Rock Lodge's own perspective of Mount Rushmore, viewed from across 3 miles, thrust high above forests and lesser granite outcrops. The four faces can be seen from the lodge's big porch and from two of the three guest rooms. Those rooms are spacious, beautifully decorated and TV-free. Guests awake to one of Oakes' breakfasts, such as her Buffalo Rock Lodge French toast, and they turn in having sampled one of her evening desserts.
Leaving Buffalo Rock Lodge, driving past a natural formation that inspired its name, you feel like you've enjoyed all of the contemporary comforts of the Black Hills, yet also glimpsed the more rustic hills that C.C. Gideon knew and loved.
Editor's Note: This story is revised from the September/October 2010 issue of South Dakota Magazine. To order a copy or to subscribe, call (800) 456-5117.