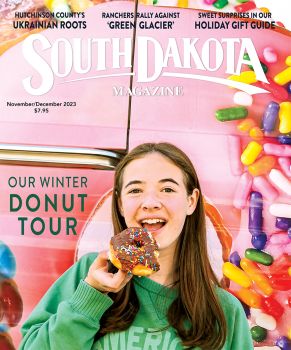 Subscriptions to South Dakota Magazine make great gifts!
Subscribe today — 1 year (6 issues) is just $29!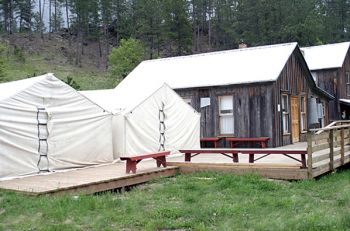 Meeting the Need
Feb 27, 2014
In December of 1996, Dallas and Mary Dietrich had their future planned. The Keystone couple owned four businesses in the Black Hills. Their daughter Dawn and son-in-law Joe Krutzky would soon move from Orlando to manage the couple's two souvenir shops. Their son Deric, a junior at the University of South Dakota, planned to run their Rapid City and Spearfish ski equipment shops after graduation. But a horrific accident changed all of that.
On Jan. 4, 1997, the entire family was taking Dawn and Joe to the Omaha airport, but blizzard conditions on Interstate 90 made visibility difficult. Dallas drove 35 miles per hour as they neared Alexandria and Mary unbuckled her seatbelt to watch the shoulder. Suddenly, a semi rear-ended them at 75 miles per hour.
"He scooted us one-and-a-half football fields after he hit us," Dallas says. "So all three of the kids were killed in the back seat and I was crushed between the steering wheel and seat." Mary suffered non-life threatening broken and cracked ribs, but Dallas had no radial pulse. "They pretty much saved my life in Mitchell with the operation they did on my chest," Dallas says. He was flown to Rapid City Regional Hospital the next day and rehabbed back and spinal cord injuries for six weeks. Dallas had some use of his legs for a while but now uses a wheelchair.
"With our plans kind of down the toilet, we were sitting around wondering what to do," Dallas says. He had often dreamed of creating a children's summer camp "up in the hills." Mary saw the old Otho tin mine, 4 miles southeast of Keystone, for sale in a real estate magazine. "She said, 'Why don't you just buy yourself a town?' She was joking but I didn't know that," Dallas says. "I couldn't sleep; I just thought about it and thought about it. We came out here and thought, 'What better way to memorialize the kids than to purchase this place and have people enjoy it for generations to come.'"
The couple bought the mine, established in 1892, dilapidated buildings and all. "Oh man, they were in bad shape," Dallas recalls. "There were four of them: the bunkhouse, cookhouse, supervisors' cabin and office. We put foundations under them and my father-in-law and my dad both said, 'What are you doing? Just level them and start over again.' But I just felt that this was history."
As Dallas and Mary worked on their little town, their vision and mission changed. Dallas had long advocated for the disabled. Since 1979 he's helped organize Black Hills Ski for Light, an event that allows people with disabilities to enjoy cross-country and downhill skiing. The couple recognized the need for accessible vacation options and felt obligated to make their resort available to anyone. "But to get the buildings on the National Historic Register and, at the same time, make them fully accessible was quite a trick," Dallas says. "It took a lot more time and effort and a lot more money that I ever anticipated, but we got the job done."
The first group stayed at the resort, now called Meeting the Need, in September 2003 and the Otho tin mine was added to the National Historic Register in 2004. Grants, donations, and volunteers made it possible, and they still operate with no paid employees.
The resort has 23 beds in the original buildings and two new walled tents, but they can accommodate more. There are places for tents and small RVs. Wooden boardwalks connect everything. "Recently we finished the tree house that's 12 feet in the air. It's got a 200-foot ramp so little kids in wheelchairs can wheel up and spend a night there, so that's pretty cool."
The Dietrichs charge $25 per person per night and guests have access to the fire pit and a few horses. "We have a number of tourist facilities, like Reptile Gardens, the 1880 Train and Crazy Horse, that provide free participation to our guests. And we own an old time photo place so that groups that have disabled family members can get an old time photo," Dallas says. "It's pretty affordable for most folks and, of course, if there's somebody with disabilities that can't afford it then we would waive all charges." He'd specifically like to offer free stays to South Dakota's disabled veterans as a way of giving back.
Meeting the need is open May through September and they still have openings for this summer. Able-bodied guests are welcome, but they give preference to those with disabilities. Call (605) 666-4610 or email dallasdietrich@hotmail.com to make reservations.