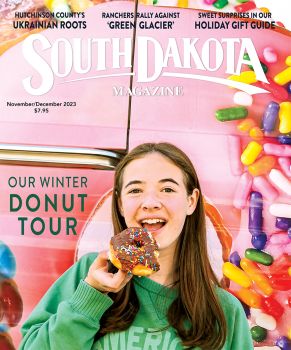 Subscriptions to South Dakota Magazine make great gifts!
Subscribe today — 1 year (6 issues) is just $29!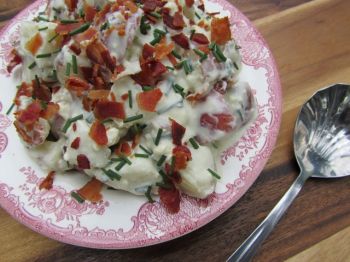 I Want the Bleus
Aug 7, 2014
I big puffy heart love bleu cheese. Crumbled over a tossed salad, stuffed inside a roasted chicken breast, thinly sliced on a wedge of ripe, juicy pear — it doesn't matter how you cut the (bleu) cheese, I am going to eat it. Devour it. Bathe in it, if I could.
My husband doesn't feel the same. He thinks bleu cheese smells like old gym shoes and tastes even worse. He is repulsed. Sickened. Grossed out by the idea of this soft, ripened cheese. He won't even kiss me after I have eaten bleu cheese, unless I first brush my teeth.
If you side with me, rather than Hubs, you will want to try this Bleu Cheese and Bacon Potato Salad. The crumbles of cheese are tossed with boiled potatoes in a creamy sauce. Bacon and chives bring the salad to the realm of a cool, summer version of a loaded baked potato, and who doesn't love those? (Unless you don't love tangy bleu cheese. *eyeroll*)
So, throw a couple thick, South Dakota raised rib eyes on the grill, roast a few ears of fresh from the field sweet corn, slice up a Forestburg melon, and whip up this salad for a great summer dinner on the patio … and I will keep my toothbrush handy so that I can get a little smooch for dessert.
---
Bleu Cheese and Bacon Potato Salad
(adapted from Martha Stewart)
1 1/2 pounds small, red potatoes
3 tablespoons kosher salt
1 1/2 ounces bleu cheese, plus more for garnish
1/2 cup buttermilk
2 tablespoons heavy cream
1 teaspoon red wine vinegar
1 teaspoon Dijon mustard
1 tablespoon fresh chives, minced, plus more for garnish
8 bacon strips, cooked until crisp and crumbled
Depending on the size of the potatoes, cube or halve into a uniform size.
Boil the potatoes in salted water until tender.
Drain and allow to cool slightly.
Meanwhile, mix bleu cheese, buttermilk, cream, vinegar and mustard until well combined.
Toss potatoes with dressing, chives, and about half of the bacon.
Garnish with the remaining cheese, chives, and bacon. (Serves 4-6)
Fran Hill has been blogging about food at On My Plate since October of 2006. She, her husband and their two dogs ranch near Colome.