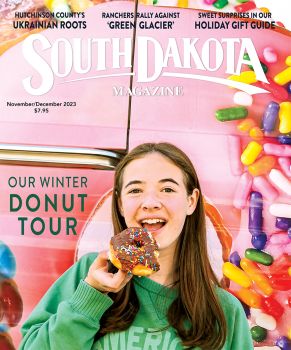 Subscriptions to South Dakota Magazine make great gifts!
Subscribe today — 1 year (6 issues) is just $29!

Brimming With Enthusiasm
Jul 11, 2017
By Michael Zimny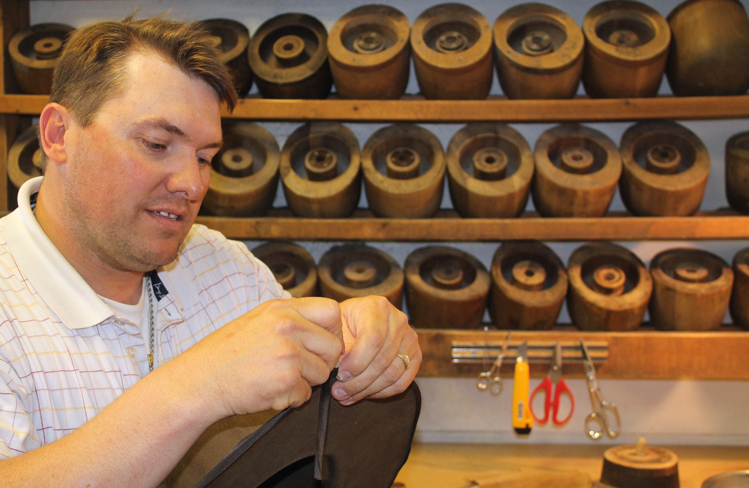 At Star of the West in Belle Fourche, Brad Montague makes cowboy hats for West River ranchers as well as sports and television stars.
Is the generational divide over cowboy hat brim width just another indicator of the deepening socio-aesthetic chasms in our nation? Probably not. In any case, wide or tight, Brad Montague at Star of the West can shape you up.
He's been shaping hats since he was knee-high to a buckaroo in Fruitdale, just east of Belle Fourche. "As a kid growing up wearing hats all the time," Montague recalls, "we had to learn to shape our own hats. We had a pan with a little knob on the top that you could take a screw out and pull the knob off, and when it started boiling it shot steam. So we'd stand over the pan and steam our own hats and shape them."
He didn't know then that standing over that jerry-rigged steam kettle, he was shaping more than just his hat.
Much of what makes a hat unique is in the curvature of crown or brim. "In my opinion," he says, "the harder part of making a hat is the shaping."
A hat's shape conveys subtle messages about the age, persona or social milieu of the wearer. The "taco" look — a high, narrow crease in the crown that looks ripe for a spoonful of carne asada — is popular on the horse show circuit. The "cattleman" crease is a little wider and tends to be favored by more mature cowboys.
Brim width tends to correspond with age. "For years, the standard brim width of a hat was 4 inches. You're starting to see the factory hats go to 4 and a quarter. A quarter inch doesn't sound like much, but when you add a half inch in diameter it makes a huge difference in the appearance of the hat."
"When you start getting into the older generations — 70s and up — you'll see them going to a 3 and a half inch brim as opposed to a 4."
Montague understands the visual subtexts communicated by a hat. More importantly, he intuitively understands how to formalize that visual language with his hands. And he knows what every cowboy used to know — that while styles can fade, a hat made of the right materials will endure.
Like most makers of Western hats, Montague uses the "X" rating system (unrelated to the old MPAA rating) to grade his hats. "The higher the Xs, the more quality and durability you get."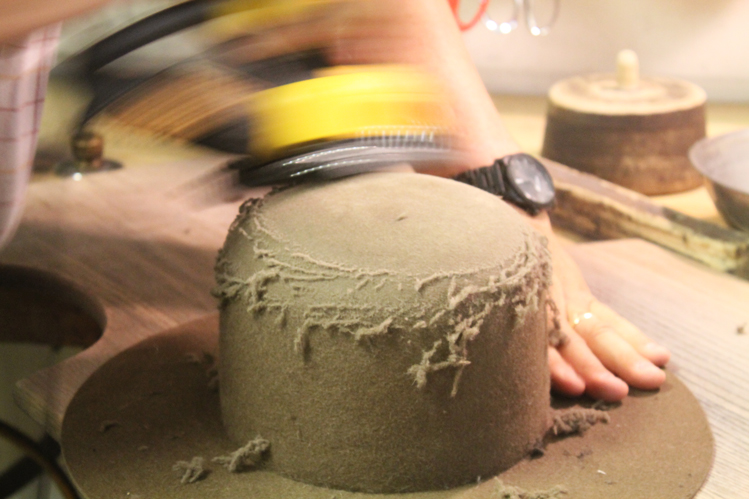 Montague begins with a raw hat body and shaves away any excess felt before shaping the crown over a hat block.
But he doesn't necessarily recommend relying on the rating system. "For years, Xs meant a lot more than they do now." A higher "X" rating on a hat will generally mean a higher ratio of wild fur, but there is no governing body to set exact requirements for any given rating. "Anybody can label whatever they want."
"If you take a hat from the '60s or '70s and it's labeled as a 3X, you'll find that little 3x is probably better than most of the 10Xs nowadays."
Montague uses rabbit and beaver fur exclusively. A higher "X" rating means a higher percentage of beaver fur. More fine, short beaver hairs make for a stronger, more compact hat.
Older cowboys and cowgirls know this, but, "It's gotten to the point that somebody my age or a little younger can't feel a hat. I've had people come in here and argue with me that the higher quality the hat, the thicker the material is. No, that's a lesser quality felt."
Somewhere along the way, a tactile kind of knowledge was lost. People lost touch with their hats and started relying on the labels. "Cowboys that have been wearing hats their whole life will tell you that the movie Urban Cowboy is what killed it." Not because John Travolta wasn't true West, but because the movie's popularity triggered a wave of hat inflation. Xs became status symbols rather than a measure of dependability.
"Around here, most people buy a hat to wear for dress, but eventually they make a work hat out of it. They wear it on a daily basis where it's going to shed the sun, rain, the snow — the durability becomes a big issue. You know, if you're going to spend $400 on a hat, you want something that's going to hold up."

Like most custom hatters in the U.S., Montague gets his felt hat bodies from Winchester, Tennessee. The Winchester Hat Corporation processes beaver, rabbit and other furs and forms them, with liberal use of steam, into a basic hat body.
At this point the hat body is cone-shaped and looks something like the hat worn by your classic hillbilly caricature. Maybe real hillbillies saved moonshine money by buying unfinished hat bodies directly from Winchester.
Cowboys are more particular about their hats.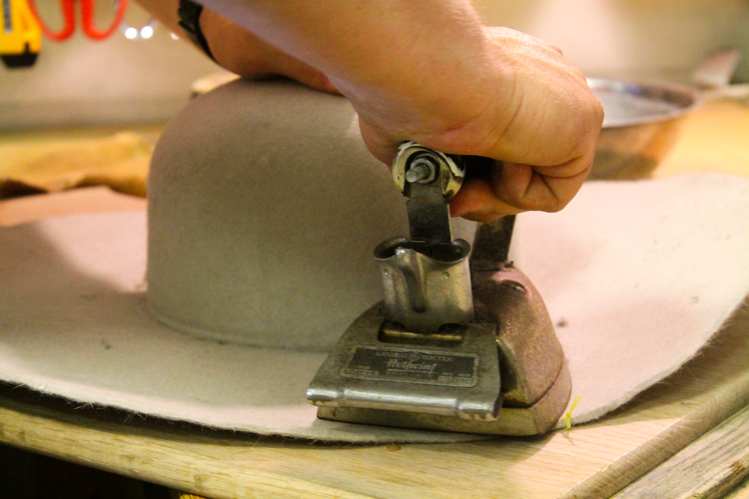 Ironing helps shape the brim, which typically finishes right around 4 inches wide.
Montague starts with the raw hat body, molds it into the crown height he needs by pulling it tight over a hat block, cuts the brim to the desired width, irons out the Dionysian hillbilly lilt and forms a forward-facing Apollonian ellipse — a brim built to unfurl the Plains beneath a gaze like a hot branding iron. Nature renounces chaos beneath the benevolent tyranny of the brim, huddling into ordered bands like branded beeves. Rattles cease abruptly as its power surges over the land like a spinning blade severing serpent heads. Voles hunker. Storm clouds dissipate. Raptors trace its lines with flight.
That this instrument, so crucial to the breaking and taming of nature, itself comes from nature … well, Mother Nature should have seen that one coming. What else could the beaver portend? The beaver — nature's self-intervention, altering ecosystems with its chompers and can-do. The beaver, whose pelt-money would launch wars and help John Jacob Astor build Manhattan, whose tail would make Davy Crockett a living legend. Of course the hat that donned the heads that broke and platted the Plains would be prized above all for how much of it was beaver.
Montague moved to Rapid City in the 1990s. He'd been working construction in the summers and took a winter job at the since-closed Western Way Work Warehouse. "Once they figured out I knew how to shape a hat, they paid me enough to keep me on."
A couple years later, previous Star of the West owner Todd Christenson called him and offered him job. The plan was to take six months to apprentice Montague in hat making, then eventually sell him the store. "I'm one of those, if I can watch you do something, I can pick it up," he says. "So I'd get ahead of what I was doing, and I'd watch [Christensen] finishing the hats. He was gone one Saturday, so I went to finishing hats. He came in that Monday and said, 'Well, you got it figured out. Holler if you need anything.'" Montague was running the store within a month, and bought it out four years later.

Six days a week he takes felt hat bodies from Winchester — made up of more or less beaver depending on the X-quality the customer wants and is willing to pay for — shaves the excess felt down to an impervious surface, shapes the crown to the bespoke needs of the buyer, cuts, embosses and sews in the goat skin sweatband ("they cost a little bit more, but in the long run they're more durable"), and makes hats out of them. He shoots for three per day on average.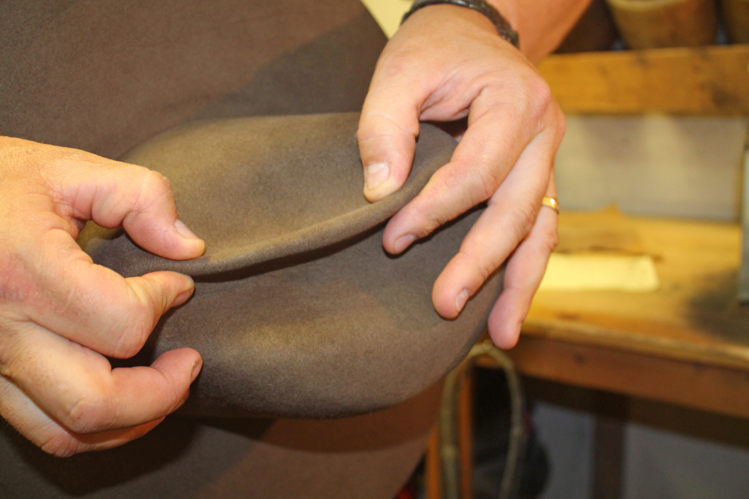 A hat's crease says a lot about its wearer. High and narrow creases are popular on the horse show circuit, while cattlemen often prefer a wider crease.
His shop is a like an enclosed fumarole. Most steps in the process involve plenty of steam. Steam, shape, steam, cut, steam some more. Gradually the union of heat, moisture and fur spawns something obdurate and supple.
"There are a lot of tools that take the hands-on thing out of it, but the more machines you get involved, the less custom-made it is."
And a truly custom-made hat is getting harder to find. Since the 1990s, Western wear retail options have been steadily diminished, in Rapid City and the region. Even Pete's Clothing in Belle Fourche — the local shop Montague grew up with — will close in the next few months. Consolidation means it's harder to find something unique. And custom craftspersons with their own storefront are more rare than the shrinking number of Western wear outlets. He estimates there might be 50 makers of custom Western-style hats in the country. That's why people come from far and wide to Star of the West.
"If you're wanting anything different than what the shelf hats are," says Montague, "you've got to come to me."
Cowboys and cowgirls have noticed, including some noteworthy athletes.
"There was a year I think I had 10 of the top 15 bare back riders in the world wearing my hats."
The walls of his store are lined with pictures of rodeo stars and country musicians wearing his hats. The most star struck he ever felt was when country artist Bobby Bare walked in. Outside of American ranch country, he ships hats to Japan, Australia, Russia and the UK. He's even been commissioned to hat the casts of TV series like Fargo and Hell on Wheels.
Western styles are his bread and butter, but not a bridle on his powers of expression.
"I actually built a steampunk [fedora] here not too long ago."
Still, the only trade show he does is the Black Hills Stock Show. Winter is his busiest time. Once calving season starts, some people might not make it to the shop for a while. "Hats will start to pile up on the floor."
"A lot of my customers are people like me, people that I grew up with, that are interested in a lot of the same things. And the ones that aren't cowboys, ranchers and all that — you get to learn."
Michael Zimny is the social media engagement specialist for South Dakota Public Broadcasting in Vermillion. He blogs for SDPB and contributes arts columns to the South Dakota Magazine website.