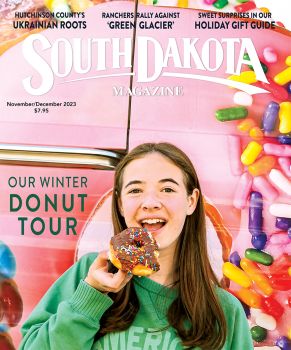 Subscriptions to South Dakota Magazine make great gifts!
Subscribe today — 1 year (6 issues) is just $29!

Grabbing Life By The Horns
Story by John Andrews
Photography by Doug Jorgensen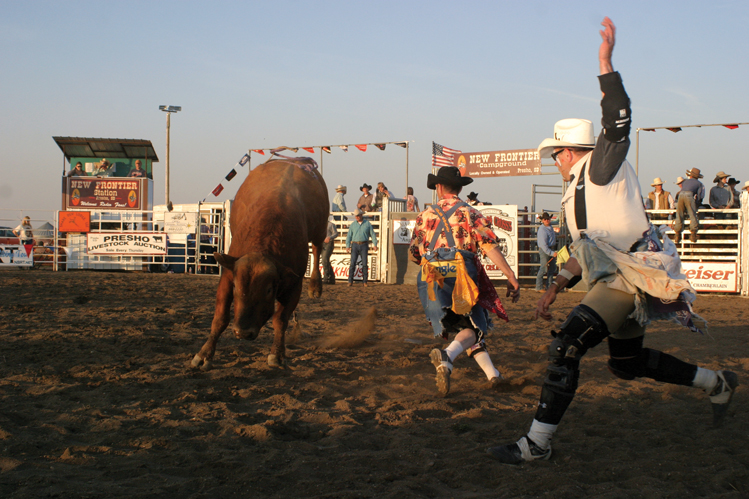 Bull fighter Jerry Norton (right) divert's a bull's attention so the rider can escape during a Northern Bull Riding Tour rodeo at Presho. He relies on touch, sound and motion to do his job effectively.
Jerry Norton was 17 the first time he fought a bull. Two friends, working a 4-H rodeo in Highmore in 1985, slapped some paint on his face and dropped him in a barrel. "I tried it, pretty willingly," Norton recalls. "I had my head up out of the barrel and this bull drops his head. I ducked down and braced myself. I was expecting to get my world rocked. The excitement, the thrill, the scare was just building like crazy."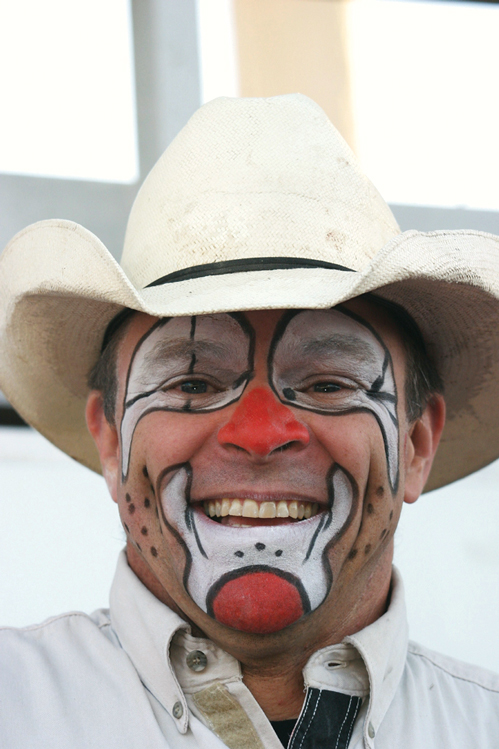 Norton, in full bull fighting makeup.
It didn't turn out to be much of a fight. The beast was long gone when Norton popped up after a few tense seconds, but fighting them was in his blood. "That was the thrill I was looking for, and I had to have more," he says.
He studied psychology and sociology at Dakota Wesleyan University in Mitchell, but he was already planning a rodeo career. For 14 years he was a full time bullfighter, working rodeos across the country. Winning the World Freestyle Bullfighting Championship in 1998 is the highlight of his career.
Norton says he gradually became more comfortable but bullfighters always enter the arena with a certain degree of fear. "If you're not scared there's something wrong with you," he says. "You have to respect the bulls because they can do anything they want with you. They're 10 times your size and they've got baseball bats sticking out both sides of their head."
Studying with skilled bullfighters like Steve Mowry of Presho and bullfighting champion Rob Smets, Norton learned basic moves like rounds, step-throughs and reverses. He also learned to control bulls by using touch, sound and motion.
"Sometimes I'll grab a bull by the horn, sometimes I'll slap him in the face," he says. "Depending on the situation I'll grab his tail, or I'll use my voice. With some bulls, that's all you need. With others you have to stand there and make them think they're going to go through you, and you just slip out of there at the last second."
Sometimes, though, you don't just slip away. There was the time in California when he took a horn to the face. It split his lips, tore his gum line and broke his nose, cheek, eye socket and upper jaw. And a few years later, at a rodeo in Ipswich, he was gored in the backside. A bull threw its rider on top of Norton, and as he struggled to get up he took eight inches of horn that luckily only broke his tailbone and coccyx.
"They were both pretty devastating," he says.
But it would take a lot more than a horn through his body to keep him away, and that's something people outside the bull fighting world have a hard time understanding. Norton tries to explain: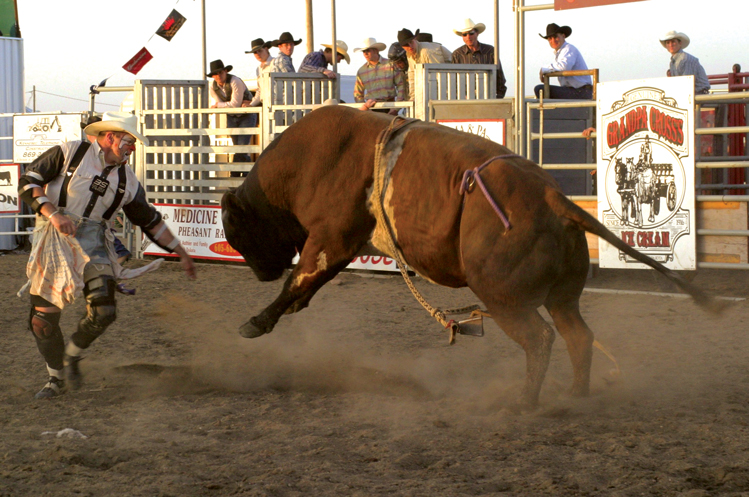 Norton's job is to protect cowboys, but sometimes the bull wins. "If you had the chance to do something and didn't, then you should think about changing your attitude or getting out of the business," he says.
"You drive a car, right?"
Sure.
"What makes you drive a car?"
To get places.
"Well you've had accidents, haven't you?"
Yeah.
"Well why did you go back to driving?"
I've still got to go places.
"That's just what you do. You accept the risk. It's the same mentality being a bull fighter."
Norton has slowed down. He still fights bulls, but he also works as a therapist out of his home near Mitchell, where he lives with his wife and two children. He also travels the country as a motivational speaker.
"I talk about living life with a mad-dog mentality," he says.
Editor's Note: This story is revised from the March/April 2009 issue of South Dakota Magazine. To order a copy or to subscribe, call (800) 456-5117.