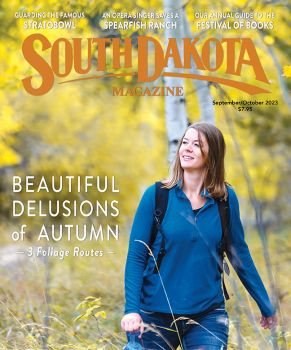 Subscriptions to South Dakota Magazine make great gifts!
Subscribe today — 1 year (6 issues) is just $29!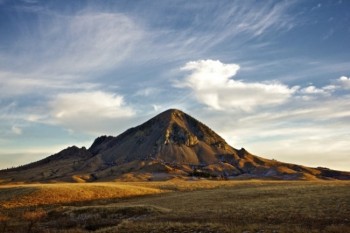 Butte Country
Jan 23, 2012
There is something poetic about a lone butte rising from western South Dakota's grassy seas of rolling plains. These lonely landforms not only break up the horizon, but are important landmarks and points of reference to local residents. Often a person will tell you where his ranch or land is based on the proximity of the nearest butte.
Buttes also play an interesting role in the history of the area. Bear Butte, near Sturgis, is still considered a sacred religious site for both the Lakota and Cheyenne tribes. Thunder Butte was famously used as a landmark for mountain man Hugh Glass on his crawl across the prairies after being mauled by a grizzly bear on the Grand River. The Slim Buttes bear sad memory of a brutal battle fought a few months after the Battle of the Little Bighorn in 1876.
Besides the history, I also find the names of the buttes quite interesting. To me they have a touch of romanticism to them. For example, it doesn't take much to imagine riding herd at Blackhorse Butte or surveying the plains with the keen eye of a majestic Golden Eagle perched on Eagle Butte. Many times, the names of buttes were derived by what the butte looks like. Haystack Butte and Castle Rock Butte along Highway 79 north of Newell are good examples of this. Other buttes have interesting stories and legends that the names come from. In a history of Ziebach County, the Native American name for Thunder Butte is given as "Wakanganhotan." The meaning is said to be "place of holy thunder." I've heard people say that the Lakota thought that all thunder or thunderstorms originated from Thunder Butte. However I'm pretty sure that this hand-me-down story is more legend and corrupted speculation than the real origin of the name. Regardless, the butte holds a lot of meaning to me as I grew up within sight of it on the western horizon.
One of my favorite older photos is of the sun setting on top of Thunder Butte on a late August day in 1994. It was a high overcast afternoon, and I could tell it was going to be a good sunset. I grabbed my camera and hurriedly got into my dad's old blue Chevy work pick-up and headed west. As I was driving I got the idea to line up the photo so the sun would appear to set on the butte. In order to do this, I had to cover a lot of ground in a short time as well as veer off the trail. I'm sure my dad would not have approved if he saw me cruising over the open prairie at a speed that caused the toolboxes and fencing gear to bounce quite vigorously. The good news is that he never knew — well that is, until he reads this article. I think the photo was worth it though.
This December, I finally really saw the "bear" in Bear Butte. I was shooting an old barn and sunset just southwest of the butte and in the fading light I began to make out the slumbering bear. It was actually quite a magical moment. Someday I plan to climb that butte. When I do, I'm sure I'll feel very small in a very large world. I've felt it before while on the top of Thunder Butte. To be on a high place looking down on the beauty of creation is a humbling yet wonderful thing. I suppose "sacred" is another very good word for it.
Christian Begeman grew up in Isabel and now lives in Sioux Falls. When he's not working at Midcontinent Communications he is often on the road photographing our prettiest spots around the state. Follow Begeman on his blog.